Sorry, your request has been denied.
This website uses cookies. By using this website you agree to our Privacy Policy .
Case Studies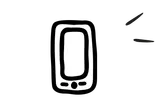 Organic Social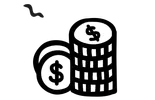 Paid Social

Creative & Content Production
Influencer Marketing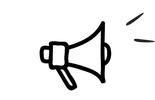 Google Ads & PPC

TikTok Growth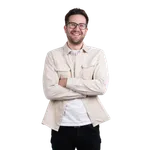 Top 17 Creative Agencies in the UK (2023)
So you're looking for the right creative agency for you and your brand?
With over 2,820,000,000 results in Google for creative agencies, it's a seriously time-consuming task to find the right fit for you and what you're looking to achieve!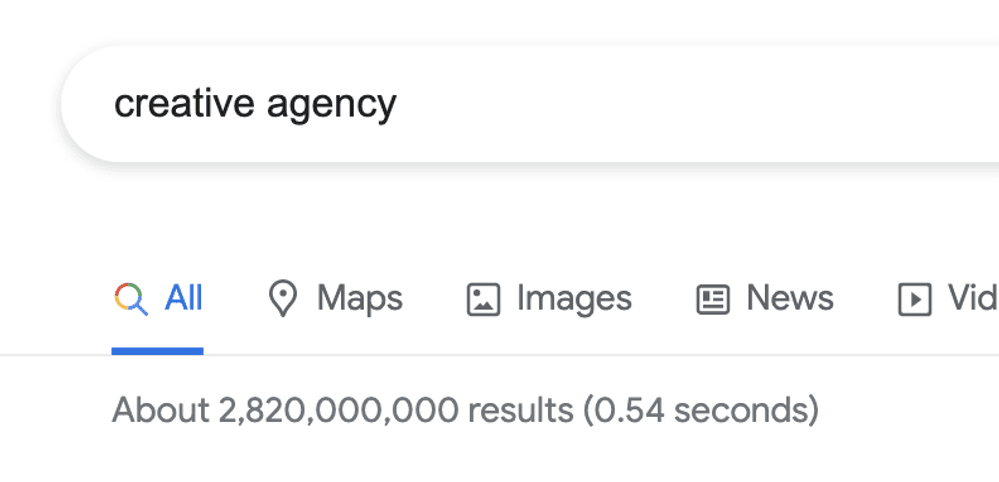 Not only that but there are agencies that best serve different types of business & offer individual services within the creative industry.
This is why we've created this article, to ensure you have a list of the most trusted and respected creative agencies in the UK that can take your brand to the next level.
Ready? Let's dive in.
What makes a Top Creative Agency?
You might be thinking, what criteria are we using to select the agencies in this list?
As you know, a lot of agencies are all talk and no action. They can often be seen selling you the dream, but when you start with them, they're unable to provide the results you were looking for.
Here are 3 key areas you should be considering before choosing an agency to work with:
Experience & Results
It's important they know about your industry and have case studies within a similar sector, as this will allow them to implement the right strategy to deliver results from the offset.
They might be great at B2C businesses, but if you're a B2B, that won't guarantee they'll know how to help you succeed.
Finding an agency in a similar growth or maturity stage to yours is worth looking for. Otherwise, there can be many challenges in the ways of working and team structure.
Values & Cultural Fit
Do their values line up with yours?
Working with an agency isn't just about seeing good results. It's important that you genuinely get on with their team, and there's natural chemistry to build upon for a strong working relationship.
This also goes both ways. As an agency ourselves, we only look to work with brands we feel are a cultural fit.
We aren't just a service provider. We're looking to work with brands for the long run, and this only happens when we love working with their team!
Communication & Transparency
A trusting relationship comes from both communication and transparency from your agency.
Are they quick to respond, upfront, honest & transparent with how they've communicated with you in the initial stages of the pitch?
The agency should feel like an extension of your team, where you feel comfortable being able to raise any concerns or thoughts and can reach out at any time to have a chat.
Now that you know what to look for when considering an agency let's jump into the Top Creative Agencies in the UK.
Top Social Creative Agencies
1. the social shepherd.

Yep, that's us! We're one of the leading Social creative & content agencies in the UK. Producing content for the likes of EasyJet Holidays, Premier Inn, 19 Crimes, and Glasses Direct - plus many others.
It may seem biased, but we're able to back it up with the extensive case studies we have & the results we've driven for all types of brands.
Our creative team has two sections to it. Creative Production and Creative Strategy.
You might be thinking, how exactly does The Social Shepherd help brands with Social Creative. So here's a list of various ways:
Video Production - Promotional Videos, Instagram Reels, TikTok's
Organic Social Content - Graphic Design, Lifestyle Photography, Video Content
Creative for Paid Social - Focusing on both direct-response and brand-led creative for Paid Social.
Brand development on Social Media - Our creative team can build an aesthetic & brand positioning for you on social. Whether that's from a design perspective or TOV.
Motion Graphics & Animation - Our talented team of editors can deliver incredible motion graphics & animation content for your socials & website.
Want to see some of the recent work we've done?
Promotional Videos & Paid Social Assets: We recently produced 2x videos for Glasses Direct Paid Social activity, for different product categories. We edited them in multiple dimensions (1:1, 9:16 and 4:5) as well edit with/without subtitles and voiceovers. On top of the videos, we also captured a number of stills so their campaign could be accompanied with image assets too.
TikTok: We manage all of Premier Inn's social content, and with this, we produce all of their TikTok output. Here's a sample of what we've been up to!
Animation: We've produced a number of videos for Beebombs over the last few years, but this animation project
And not only do we produce a lot of social-first video content, but our team regularly produces photography & stills for brands' social accounts!
So, if you're looking for a Social-first creative agency, then we're the right people for you!
You can see even more of our video & creative examples here .
But if you'd like to speak to our team straight away, then click the button below, and we'll be in touch.
Top Creative Branding & Design Agencies
2. love creative.
Love Creative is a Creative Advertising, Packaging Design & Branding agency based in Manchester. Within that, they offer multiple core services such as:
Brand Strategy & Design
Activations
Spaces & Experiences
Identity Design
Packaging Design
They've worked with brands such as Guinness, Brewdog, Adidas, Botanic Lab, Johnnie Walker, and KitKat, amongst others. But they work with small and large businesses so that they could be a fit for all companies looking for a creative branding agency.
3. Chaos Design
Based in London and Guildford, Chaos Design is a Creative Branding Agency focused on helping ambitious leaders who are determined to make their brand different, disruptive & distinctive.
Their expertise in creative lies within branding, brand strategy, internal comms, marketing comms, advertising and digital. They have experience in both B2C and B2B across many different industries.
Chaos by name, but not chaotic by nature. They have a process & methodology that takes each brand through a series of steps to ensure the success of their work.
Investigation - understanding your market and business to get a 360 point of view.
Insight - looking at observations, considerations, recommendations & audits that allow for creative development.
Inspiration - this is where the brainstorming & workshops take place to start bringing ideas to life.
Integration - they'll look at the best distribution methods across their six communication disciplines to see where best the campaign should be integrated.
Implementation - everything then comes to life.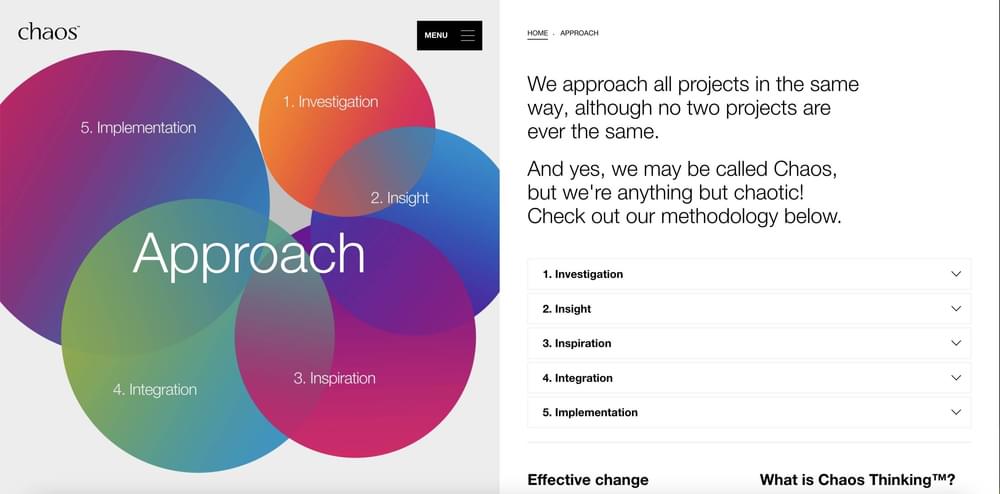 4. Pearlfisher
Pearlfisher is an award-winning Creative Design & Branding agency based in London & New York founded in 1992.
They have recently won awards at the Cannes Lion International Festival of Creativity, The DBA Design Effectiveness Award, Sunday Times Best Companies To Work For, the D&D Awards and many others.
Describing themselves as a 'visionary group of futurists, strategists, designers & realisers', their core focus is within seven areas of human living: Taste, Body, Luxury, Mobility, Leisure, Community and Nature.
Their client portfolio includes the likes of McDonalds, Seedlip, Bang & Olufsen, BYOMA, Wagamama and more.

Deep is a London based design agency that produces effective brand, digital & print communications for brands with a global audience. Their design services help businesses specifically on:
Websites & eCommerce
Design for Print
Digital Campaigns
Film & Photography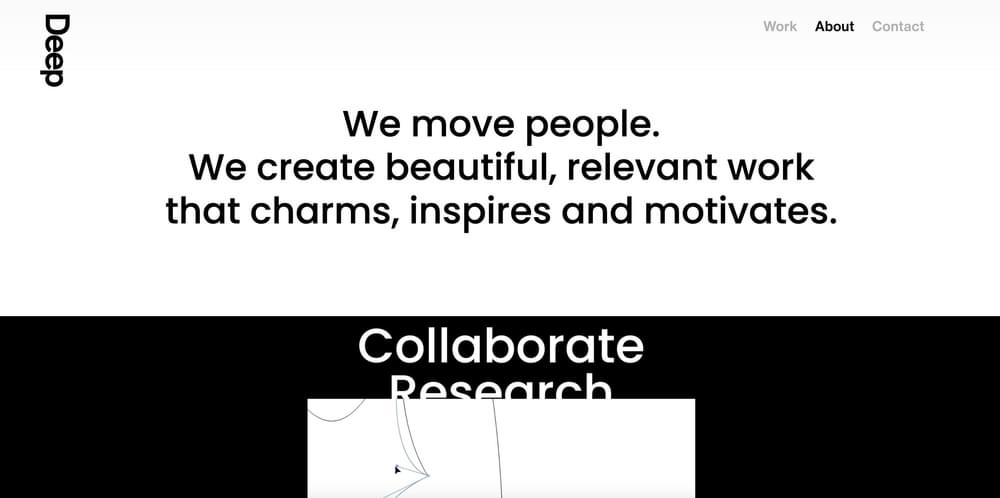 Top Creative Production Agencies
6. happy hour productions.
Happy Hour Productions were established over 15 years ago, making them a safe pair of hands for all creative production projects. Not only that, but they have experience with brands launching into the market, and those who are already market-leading in their industry.
They're known to produce creative for TV Commercials, Corporate Videos, Brand Films and Animation. But, they can do much more than just the production side, as they understand the value of storytelling & scriptwriting to ensure your creative lands with your advertising goals.
As well as production, they help with:
Brand positioning and campaign strategy
Competitor analysis of both brand and product
Profiling customer data to identify target audiences and pen profiles
Defining messaging and tone of voice
Creative conceptualisation (for specific channels or integrated campaigns)
Copywriting and scripting
Storyboarding and directors' treatments
Seeding content in social channels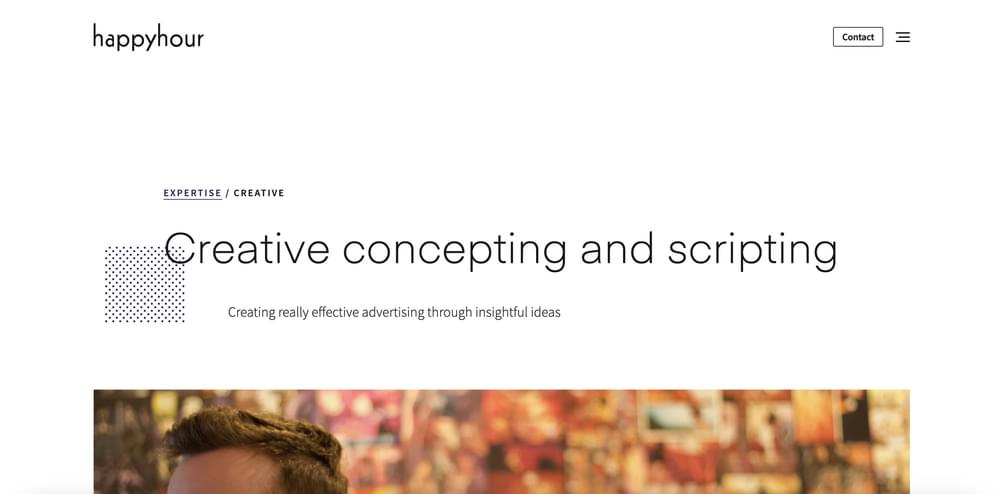 7. Create London
Create London is a creative production studio that specialises in event production & brand activations. Having worked with the likes of Coca-Cola and Tiffany & Co, they understand how to propel brands to another level.
They work with other agencies & brands to deliver on:
Experiential, Stunts & Social Experiments
Pop-up Shops & Retail Management
Festivals & Outdoor Events
Press and Product Launches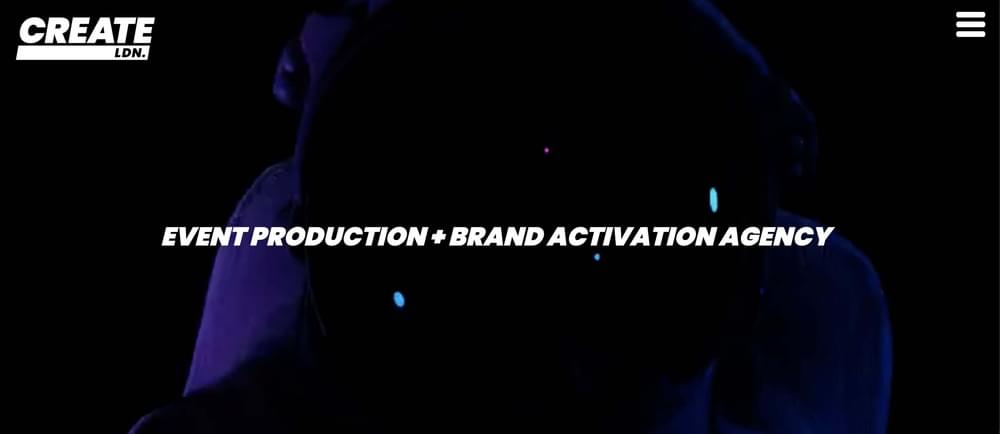 8. Lobster Creative
Lobster produce creative for content-hungry brands. Focusing their production across TV, Social, OOH, Stills, Films, Print, Rich Media, Banners & In-Store.
Their aim is to deliver a number of creative assets from all shoots, as they understand a singular 30-second video just doesn't cut it.
Clients include Dove, Nutella, Flora, Tanqueray, Glenfiddich, Standard Chartered and others.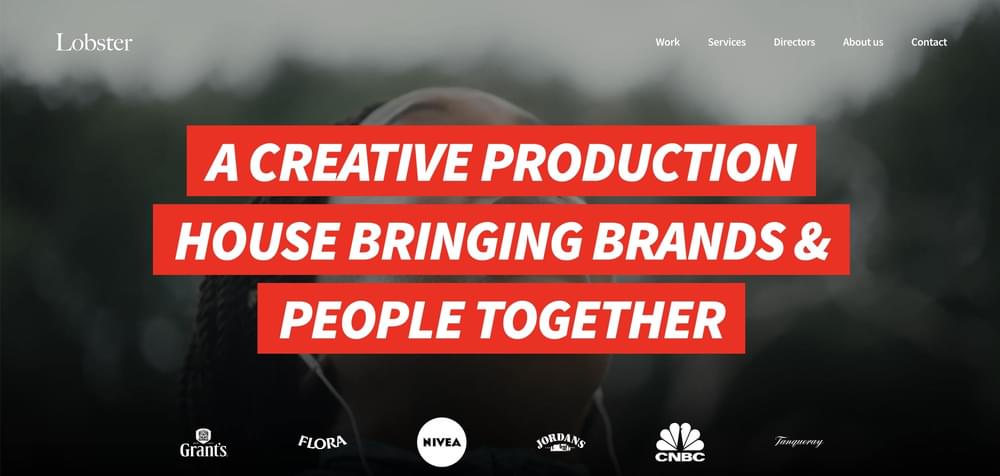 Top Creative Advertising Agencies
Based in Birmingham, Big Cat , is a group of talented strategists, advertising creatives and communications experts.
Their creative advertising campaigns aim to interrupt, influence, make people laugh and create action using social, digital & PR to distribute that content.
With more than 20 years since they were founded, they've evolved into a multi-disciplinary creative agency focused on working with hospitality, leisure, retail, public service and not-for-profit businesses.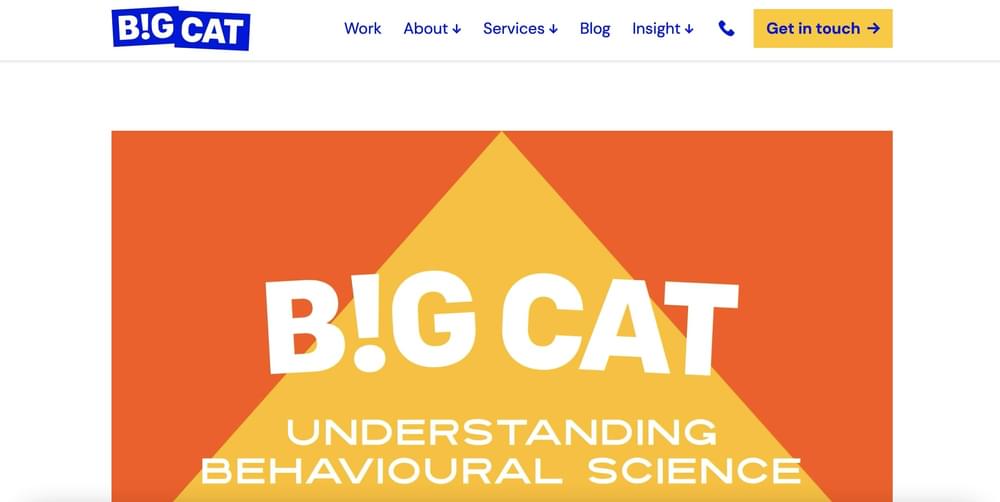 Rascal is a digital-first creative marketing agency based in Leeds. Their team is split between creative and strategic talent who work closely with brands to develop effective creative content for paid & organic social.
Their services range from:
Creative Content - Conceptualisation, Motion Graphics, Video Production, Design and Artworking, Photoshoots and Live Streaming.
Strategy - Digital, Social, Activation and Creator Management.
Digital PR - Link Building, Product PR, Newsjacking.
Paid Media - Paid Social and PPC.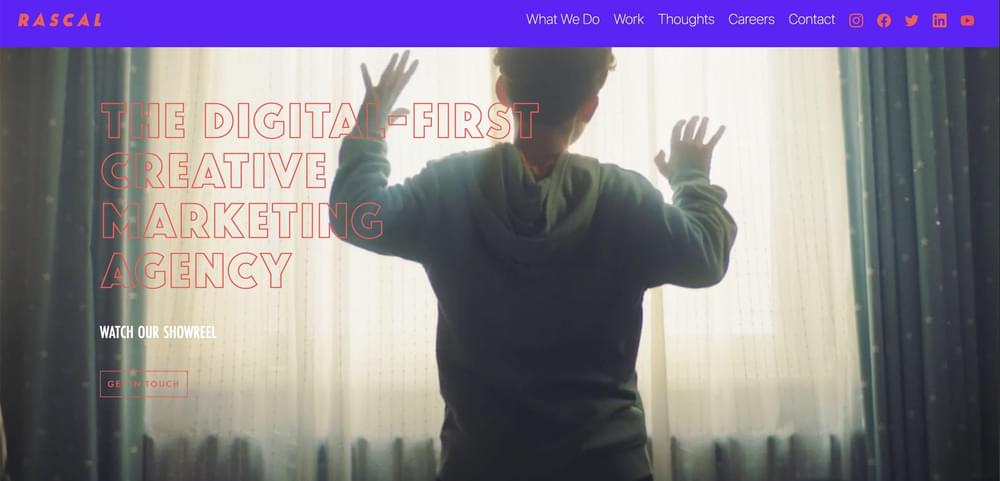 11. Aura Ads
Aura Ads is a creative agency that focused on producing assets designed to convert users using Paid Social for DTC brands.
Based in Cardiff, their agile team produces short-form videos, UGC, statics & video for a variety of clients including Huel, Wild, Freddies Flowers and more.
Their core offering is retained creative, so you can keep your Paid Social creatives fresh every single month, with packages starting from £1,999 per month.

Top Creative Communication Agencies
12. top banana.
Top Banana believe in creating tight-knit relationships with their clients to truly understand their business challenges and how they want their audiences to feel upon seeing their brand and creative.
With over 40 employees and 20+ years since their existence, they're recognised as one of the UK's most trusted & reputable creative communication agencies.
Their services include:
Live and Virtual Events
Venue Finding
Strategy and Insight
Incentive Travel
Design and Creative
Digital Solutions
Campaign and Activation
Strata is a brand experience & creative communications agency.
They believe in creating true engagement through brand experiences that connect and captivate, focused on driving "Return on Experience".
Working as an extension of your brand, their team helps you manage every aspect of your projects, including strategy and planning, creative services, content, technical production, logistics, storage and asset management.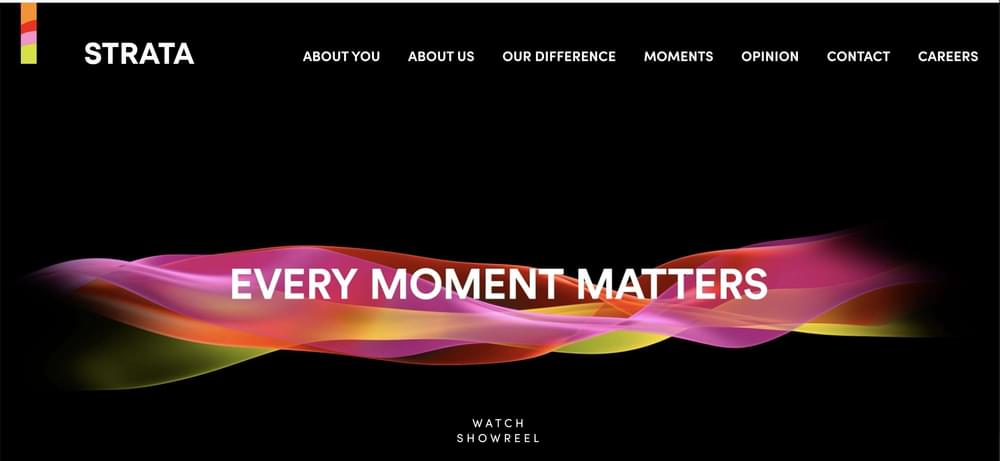 14. Stripe Communications
Stripe is one of the leading integrated creative communications agencies delivering on brand, social, PR and digital.
But what do they actually do? Here are their service areas:
Comms, Brand & Digital Strategy
Creative Content Generation
Sponsorship & Events
Social Media
Employee Engagement
Influencer Relations
Measuring Success
With offices in Edinburgh & London, they're a great choice for any brand looking for a creative communications agency in the UK.

Top Creative Agencies (General)
15. rise at seven.
Rise at Seven is a young agency, having only just turned 3, but has had some of the fastest growth seen in any agency across the UK in the most recent years.
They label themselves as the Search-first Creative Agency that helps brands rank #1 on Google, by facilitating & driving search activity from their creative activations & digital PR.
With offices in Sheffield, London, Manchester and now New York, their team of 90+ employees sit across Campaigns, Technical SEO, Digital PR, Creative Content, Reactive Marketing, Social Media & Paid Media Marketing.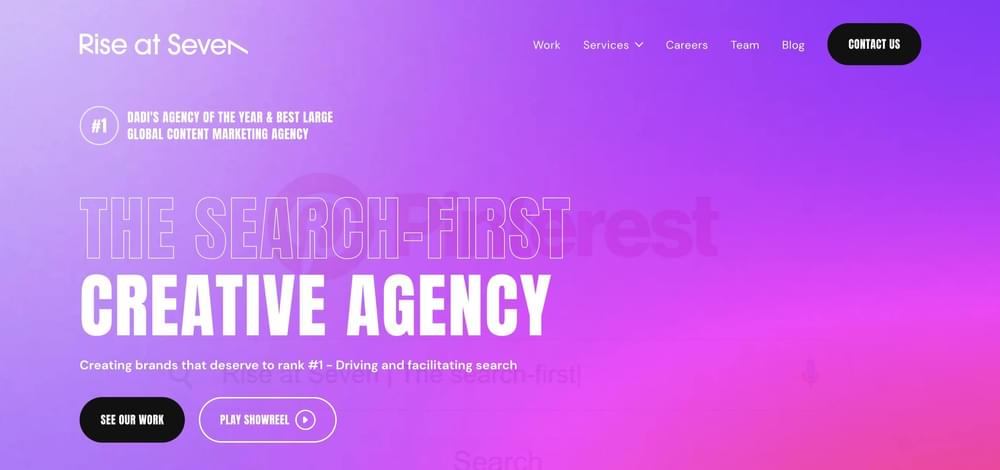 16. Huddle Creative
Huddle Creative is a London based branding, digital & content agency that helps businesses become meaningful brands.
Their creative services are centred around transforming brands that have closer relationships with their customers, split across:
Branding Services - find your brand's proposition, realign your positioning and redesign your visual identity.
Digital Services - design and define your UX, UI and overall web design.
Content Services - captivating copy that engages and informs your audience.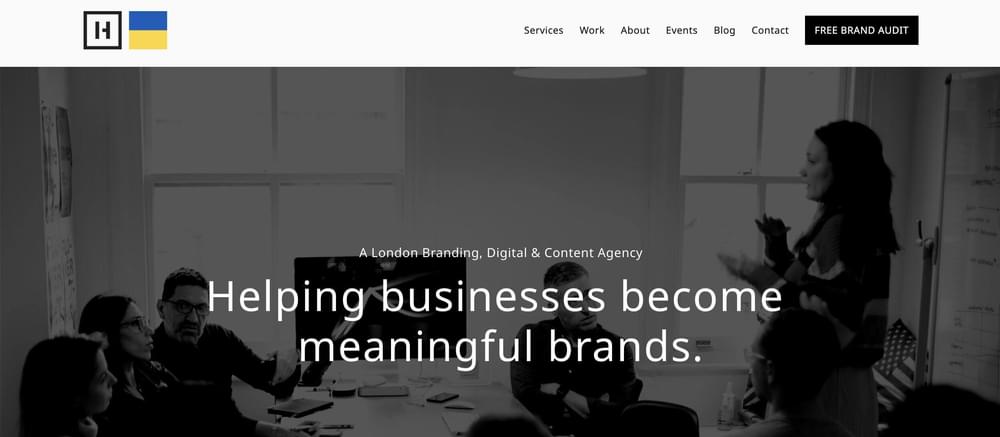 17. Engine Creative
The final agency on our list is no less than award-winning Engine Creative .
Based in Northampton, they create innovative digitally-led creative campaigns for large and small brands in the UK that entertains, informs, delights and inspires your customers.
Their services have been crafted to build brand engagement, and have worked with the likes of Camelot, Coca Cola, BBC, Tesco, Disney and more.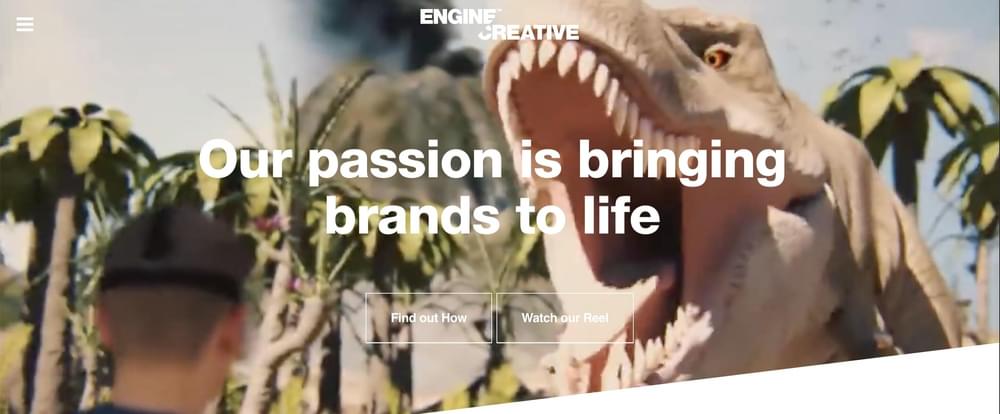 Why Hire One Of The Best Creative Agencies?
With any creative campaign or project, the investment is typically a considerable amount, so you want to make sure you get the right people for the job to deliver the results you're looking to achieve.
Hiring one of the top agencies will result in a seamless working relationship, creative delivered as you'd expected and on time, and leaving you satisfied with the outcome of your decision in that agency to propel the growth of your brand across social, digital, PR, events & comms.
So, hopefully you've now found the right agency for you! And if you're looking for a Social Creative Agency, then our team at The Social Shepherd are the right team for you.
Get in touch today, and see how we can help!
Want to see other top marketing agencies from the UK? See from our list below to find yours:
DTC (Direct To Consumer) Agencies
PR Agencies
Influencer Marketing Agencies
Social Media Agencies
PPC Agencies
Digital Marketing Agencies
Fashion Marketing Agencies
Performance Marketing Agencies
eCommerce Marketing Agencies
Video Production Marketing Agencies
FMCG Marketing Agencies
Video Marketing Agencies
Facebook Ads Agencies
Google Ads Agencies
Shopify Agencies
TikTok Agencies
Paid Media Agencies
Advertising Agencies
Creative Agencies
DTC (Direct-to-Consumer) Agencies
SEO Agencies
Travel & Tourism Marketing Agencies
Hospitality, Leisure & Hotel Marketing Agencies
Share this article
Jack shepherd, continue reading, top 35 gardening influencers in the uk, top 17 facebook ads agencies in the u.s. (2023), social media industry round-up #52: instagram broadcast channels, q4 ad optimisation tools, tiktok attribution analytics and youtube clip insights, top 17 digital marketing agencies in the u.s. (2023), top 17 social media marketing agencies in the u.s. (2023), social media industry round-up #51: tiktok ads attribution, pinterest presents 2023, following reels tab & google video ad performance.
The Creative Writing Company
Online fiction writing courses for adults
Our online self-paced courses will help inspire and develop your fiction writing skills, and they are suitable for complete beginners or those who need to kick-start their writing habit.
We provide expert teaching videos, motivating exercises and personalised feedback. Knowing how busy life can be, we've designed courses that fit around you, meaning that they can be taken at a time that's convenient and from the comfort of your own home.
There's no time limit either, so you can take as much time as you need.
We know, from experience, that learning a new skill can be daunting, but believe us when we say that
creative writing has benefits well beyond the page.
Online Writing Courses
Creative Writing - self-paced
The Second Chapter
Creating Characters
Additional Feedback
"The writing course was a great inspiration,
from the stimuli materials, bite-sized tasks, excellent feedback. My writing, and confidence have certainly improved as a result."
(WB, Kingston Upon Thames)
"I felt so welcomed, encouraged and enabled. Whether you're new to writing or a rusty enthusiast
like me, jump right in and get going.
Highly recommended."
(SB, The Lake District)
We've taught creative writing for many years and seen its transformative effect in boosting confidence and well-being.
The Creative Writing Company hopes to encourage you to write inspiring stories, by giving you the opportunity and support to do so.
We believe everyone has a story to tell.
Quick Links
We've detected unusual activity from your computer network
To continue, please click the box below to let us know you're not a robot.
Why did this happen?
Please make sure your browser supports JavaScript and cookies and that you are not blocking them from loading. For more information you can review our Terms of Service and Cookie Policy .
For inquiries related to this message please contact our support team and provide the reference ID below.
Top 10 Digital Marketing Courses in Armidale With Placements
IIM SKILLS Investment Banking Course Review – A Detailed Exposition
IIM SKILLS Data Analytics Course – A Detailed Review
Top 10 Digital Marketing Courses in Wagga Wagga
Top 10 Digital Marketing Courses in Rockhampton With Placements

Top 5 Creative Writing Courses in The UK With Certificates
Apart from corporate writing and hard journalism, there is a whole universe of creative writing. creative writing allows you to stretch your storytelling skills and broaden your horizon of imagination to create good work. exceptional creative writing skills ensure great success in your writing career, particularly in countries like the uk, where the need for creative writers is growing rapidly. this post entails the best creative writing courses in the uk..

If you're a non-fiction writer, a first-time writer, or a casual creative writer longing to become a published author, then refining your creative writing skills is inevitable to get success. In the courses, you will learn the art of creating stories in the most appealing, suitable, and compelling way possible. Alternatively, creative writing is something that comes from your imagination.
In other words, it is about creating something from scratch, that is creative, beautiful, and different from regular writing. It can be anything like characters, creatures, organisms, or a parallel universe. It also includes Scriptwriting and Poetry Writing. We are going to discuss some of the best creative writing courses in the UK in this blog so keep reading.
What is Creative Writing ?
As the name indicates, creative writing is a form of writing that goes beyond the traditional writing style. Creative writing is used to express one's creativity, imagination, and expressions through images and meaningful words to create impact. It includes both fictional and non-fictional writing such as poetry, short stories, novel writing, journaling, and other forms of writing.
Other writing provides information and facts whereas creative writing gives words to feelings and imagination to create pictures in readers' minds.
Elements of Creative Writing
You must know the components that distinguish a great novel to develop your creative writing abilities and explore new writing topics. Here are the important elements of creative writing.
Character development is the foremost and important element of creative writing. For writing any story or novel you'll need a character to connect with the audience. Readers love those stories that revolve around the main character, and they eagerly read to know the development in the character's life and attach their own feelings to that character. Writers use their creativity for developing the character to engage readers by creating real-life situations to make the story relatable and interesting.
Although there are no set rules for creative writing, it is still a good idea to have a better plot for every literary work you create. Story plots provide direction and purpose to your story which is crucial.  They also make it easier to compose the entire article quickly and efficiently without adding any unnecessary information or "nonsense." Maintaining a strong structure, pace, and direction in your writing can keep your readers more interested.
A good story with a better visual description can get you the best result for your writing work. A story with proper graphic description creates interest in the reader's mind and takes them to the world of imagination. Readers feel connected with the story and characters with the help of visuals. It's always better to put some visuals while describing the surroundings, location, and characters of the plot.
Stories with messages or themes create a great impact. Always try to give some good message at the end of the stories so the readers have some takeaways. The theme helps in writing creatively and giving a message through various angles. With an interesting plot, good characters, and meaningful theme your works become appealing.
What makes creative writing so creative is how you decide to construct the vision in your mind. Creative writing makes use of myths, tales, metaphors, similes, figures of speech, and other analogies to create a vivid image in the reader's mind.
Types of Creative Writing:
Before we dive into the creative writing courses in the UK, let's understand the types of creative writing. When we talk about creative writing, the first thing that comes in a mind is Fiction and poetry which often take the spotlight, but there are several types of creative writing that we can look at.
Developing a preference for one form and genre is the best way to horn your skills to become proficient in that form & genre. However, sometimes changing your form of writing and trying other types of writing gives variety to your work, and using techniques that are unusual in your desired form and genre can be used to improve it.
Let's explore different types of creative writing. Note the types of writing as you read through the list, you've tried and the types you'd like to experience.
Free Writing: Free writing is the act of simply starting to write in a notepad or electronic document. Permit odd words and images to appear on the page. Whatever you want! The highest kind of creative writing is free writing, often known as stream-of-consciousness writing.
Journals: Any type of written log is a journal. You could keep a notebook for your accomplishments, memories, dreams, or gratitude. Many authors keep Omni-journals or idea diaries, which can be used for everything from daily free writing to project planning and brainstorming.
Diaries: A diary is a form of a journal where you record the events of your day. Some diaries begin with "Dear Diary," same as letter format. It's a good idea to start maintaining a diary if you ever intend to write a memoir.
Letters: Writing letters is a crucial skill since being able to communicate clearly is becoming more and more valuable. Take caution when sending emails to friends, relatives, and coworkers because there is a long record of releasing correspondence. Hot tip: writing letters to the editor of a news publication is one strategy to get published if you don't have many clips and credits.
Memoirs : Memoirs are publications that include personal recollections (or stories) that concentrate on events. They are a subgenre of creative nonfiction. One could, for instance, compose a travelogue.
Essays: Essays are often connected to academic writing , although there are several varieties, including personal essays, descriptive essays, and argumentative essays, all of which have the potential to be quite creative (and not especially academic).
Journalism: Different types of journalism require different levels of creativity. Journalism has historically been the unbiased reporting of events, people, and facts. To make their writing more captivating or convincing, journalists now frequently use opinion and narration in their writing.
Poetry: Poetry is the most artistic form of writing and is both well-liked and underappreciated. Formal poetry, free-form poetry, and prose poetry can all be written.
Song Lyrics: Song lyrics merge the artistry of music with the craft of writing. Anyone who can play an instrument should consider composing lyrics because they are akin to writing poetry .
Scripts: Make your mark on film, television, theatre, or video games by writing scripts for them. Movies have the capacity to connect with people who do not read though it's a director's medium still good story plays an important role in the success of any film.
Storytelling : The most interesting type of creative writing, storytelling may be found in both fiction and nonfiction. There are many different genres to pick from, and popular fiction formats include flash fiction, short stories, novellas, and full-length novels. Essays, diaries, memoirs, speeches, and other writings that contain true stories, which are typically first-hand or second-hand accounts of real people and events. As it appears in all other genres of writing, from poetry to speeches, storytelling is a highly valuable ability.
Speeches: Where persuasive, inspirational, or educational, writing speeches can open exciting professional prospects in every field or industry. Additionally, knowing the art of speech writing will help you if ever required to deliver a speech at a significant occasion, like a wedding, graduation, or award ceremony.
Vignettes: A "short evocative description, account, or episode" is what is meant by the term "vignette." Vignettes can be poetry, stories, descriptions, personal accounts…anything goes really. A vignette's crucial feature is its extreme briefness—just a brief clip.
Blogs : A blog is a publishing platform, not a genre of writing, that allows users to view web material on mobile devices. Any kind of writing can be published on a blog. Most blogs contain articles and essays, but you can also discover blogs with journals, poetry, fiction, journalism, and other content .
Scope & Career Options in Creative Writing:
Getting a certificate or degree in creative writing is not mandatory to enter this rewarding field. In today's world, English is the major language to focus on as it is already the most established out of all the other languages, especially in the globalized business world. Anyone with a solid command of a certain language can enter this appealing but highly challenging field of creative writing.
Still, if you are looking for the best creative writing courses in the UK, we are giving information about some of the best UK universities. There are various job opportunities available for creative authors. Specialized creative authors are involved in developing all types of innovative works, including those in a wide range of genres like memoirs, fiction, nonfiction, romance, science fiction, travelogues, and more.
All these writing forms can be combined for writing TV and movie scripts. There are also opportunities for writing feature news, reviewing and blogging about food, and working for online periodicals. Aside from various sorts of freelancing, creative writers may also serve as consultants to create content for corporate websites and portfolios.
Must check out other rewarding courses in the UK
Content Writing Courses in the UK
Digital Marketing Courses in the UK
Technical Writing Courses in the UK
SEO Courses in the UK
Job Prospects For Innovative Writers:
Copywriters – Works majorly in the advertising and marketing field, copywriter's responsibility is to produce text that highlights the benefits of a specific commodity or service for the consumer. The catalogs, marketing letters, product pamphlets, circulars, etc. must be written by these individuals .
Article Writers – Can choose to write for different newspapers, magazines, websites, and a variety of other publications. They can write on fashion, food, travel, health, business, entertainment, sports, and politics, among other topics.
Book Writer (Author) – By telling a tale or discussing a subject of interest, one might become an author. Depending on the type of tale you intend to tell and the target audience, it may fall under the fiction or non-fiction category.
After you finish authoring the book, you must make extensive marketing efforts. Writing a book and expecting readers would love your work is not that simple. It takes a lot of effort to promote a book. You can connect with a good publishing house or self-publish the book.
Scriptwriters – People who enjoy crafting dialogue may pursue this career. The dialogue and plots for films, plays, television programs, etc. are written by scriptwriters. To develop a plot and a storyline for a certain theme or topic, they do extensive study and put in a lot of effort. Writing original and well-crafted dialogue could be a challenge for screenwriters but then this is the work that scriptwriters do.
In addition to these options, one can start their own freelance creative writing portfolios or decide to write articles, stories, reviews, etc. for media houses or a digital platform. After earning a master's degree in creative writing, they can enter the training industry. Finding work at companies that specialize in providing specialized content is another option. The quality of your work and the professionalism you bring to the table are crucial to your success in this industry.
Required Experience:
Setting up your reputation as a professional writer requires creating a portfolio of your most significant writing, with an emphasis on published work that you have produced. You can continue honing your writing talents by consistently penning articles for your school's publications. Simply do your best to read and write frequently.
There is no upper bound to how far you can advance. Additionally, try to share your work with the world. Don't be intimidated by receiving criticism. Try to submit it to as many places as you can. Engage in contests. Ask if the local drama clubs can use your scripts. It's crucial to gain as much exposure as you can.
To increase your employability, search for opportunities to gain some quality work experience. Instead of solely developing your résumé, put your energy into mastering new skills and acquiring more knowledge. You could decide to volunteer for your dream organization. Additionally, you may affiliate yourself with a non-profit organization and work to secure endorsements or grant letters for them. Let's explore the best creative writing courses in the UK.
Also Check: Online Creative Writing Courses
Institutions that Provide Creative Writing Courses in The UK
1. iim skills.
IIM Skills, one of the top institutions in Asia that offers a variety of professional courses online, also provides creative writing courses in the UK. In this course, you'll discover how to create unique content for your fiction and nonfiction books, poems, video scripts, conversations, and more. You'll thoroughly grasp the ways in which copywriting and content writing are different from creative writing.
In addition to giving, you a sizable platform on which to promote your books, the extraordinarily gifted and skilled mentors help you with the creation, publication, and marketing of books of any genre. The best practices for using programs like Kindle Direct Publishers and Google Books to publish your book online will also be discussed. Looking at its benefits, the IIM Skills content writing course is considered one of the best creative writing courses in the UK.
You Will Work On
Write Your First Book (Fiction – Nonfiction.)
Write articles for various platforms.
Write a short story.
Content Writing Course Covers
Introduction to content writing
WordPress web development
Digital content
Copywriting
Marketing collaterals
Email writing
Social media writing
Video scripts
Creative writing
Business listing
Legal writing
Technical 101
Content marketing
Affiliate marketing
Freelance writing
Resume writing
2. The University of Oxford
When mentioning some of the top creative writing courses in the UK, the University of Oxford is also mentioned. The course here focuses on cross-cultural and cross-genre concerns, emphasizing the demands and difficulties of contemporary writers who produce work in the context of other writers from across the world and the critical community.
They provide a clustered learning structure over a two-year period that consists of five residences, two led retreats, and one research placement. The first year concentrates equally on writing styles fiction, drama writing, poetry, and narrative non-fiction. There is a considerable analytical reading and assessment component, which is linked to the writing factors discovered in each of the genres. In your second year you will choose one of the following as your specialization:
        Novel
        short fiction
        Radio drama
        TV drama
        Screenwriting
        Stage drama
        Poetry
        Narrative non-fiction.
Course Title :  MSt in Creative Writing
Duration – 2 Years
These are the best Creative Writing Courses in Canada
3. The University of Cambridge
For those who seek to hone their literary creativity in both fiction and non-fiction, the University of Cambridge offers a Master of Studies (MSt) in Creative Writing. Over the course of two years, students are taught the MSt in condensed, intense study sessions. It was designed with full-time, part-time, and international students in mind and it is one of the best creative writing courses in the UK.
The objective of the Program
Students should develop appended skills by the end of the course:
Acquired their own writing and self-editing talents in a variety of fiction and non-fiction genres
Acquired a substantial and significant knowledge of fiction and non-fiction writing and of crucial, rational, and narrative theory
Course Title : MSt in Creative Writing
Duration : 2 Years
Also Read: Creative Writing Courses in Singapore
4. The University of St. Andrews
When we talk about some of the top creative writing courses in the UK, The University of St. Andrews comes out on top. The MLitt in Creative Writing develops original work while providing analytical and creative study, whether it be poetry or prose. Through practice-based, technically driven, and creatively-driven tuition from eminent contemporary authors, the MLitt program focuses on the development of individual style and the quest for literary greatness. It is one of the best creative writing courses in the UK.
Can study with leading contemporary authors
Gain a strong foundation in style and technique
understanding analytical thinking and the capability to be your own best editor discover the significance of wide and well-informed reading in the progress of a unique 'voice'
Understand and develop an awareness of innovative industry standards in publication and networking
Course Title : Postgraduate, leading to a Master of Letters (MLitt)
5. University College, London
Students in this University College London course will be introduced to some of the most fascinating and difficult literary works written in English between 1900 and the present, as well as significant works of art in popular culture, film, and music. Connecting these works to historical, social, intellectual, and technological advancements of the day, provides the context. They have the best creative writing courses in the UK.
Course Title : MA English
Duration: 2 Yrs
Must Check: Creative Writing Courses in New Zealand
FAQs About Creative Writing Courses in the UK
Q1. how to start writing.
Start reading to become a proficient writer, you must read a lot. It is far more challenging to learn the discipline of creative writing when there are no examples to refer to. Always try to write; have a viewpoint; utilize literary tools; be aware of your audience, and put at least 100 words down each day. Become a part of a writing group, start writing, and allow editing. If you take these actions, I'm sure it will be beneficial.
Q2. What is creative writing?
A variety of genres and literary styles are incorporated into creative writing. It is distinct from academic or technical writing. Focusing on themes like character development, narrative, and storyline, creative writing infuses its framework with creativity and narrative.
Q3. What is the main objective of creative writing?
Creative writing aims to enthrall a reader and provide an emotional or thoughtful appeal, but how it accomplishes this depends on the type of writing used.
Q4. What are the important types of writing ?
There are only five main writing categories: descriptive, expository, narrative, persuasive, and journal or letter writing. Each writing genre has its own exclusive purpose and requires diverse skills.
Q5. How to improve your writing skills?
You must learn from the best, but don't copy them. To generate ideas, use the snowflake approach to create a character based on someone you know. In an environment that encourages the flow of creativity, try freewriting.  
A person's imagination and creative thoughts are summed up in their creative writing, it also includes their unique ideas in form of stories. Depending on one's writing style there may be speeches, books, articles, or poetry. You need to read a lot to be an excellent writer. With efforts, hard work, and a unique perspective you can create outstanding content to connect with your audience. You can explore the best creative writing courses in the UK.
The best, most-awarded instructors will assist you in every technical area so you may hone your skills. You will be in a stimulating environment with like-minded people, which is in and of itself a terrific way to experiment with different styles of recording your ideas. Some institutions give scholarships in addition to an active internship program that is driven by assignments. I'm hoping that this essay will help you choose wisely. I sincerely hope that this article aids in your decision-making to choose the best creative writing courses in the UK. Happy Learning. Top 9 Institutes With The Investment Banking Course Fees
IIM SKILLS vs NPTEL Data Analytics Course Review
You May Also Like
Iim skills vs. ivy professional school data analytics course review, top 5 data analytics courses in australia with placements, top 6 creative writing courses in chandigarh, leave a reply cancel reply.
Your email address will not be published. Required fields are marked *
Save my name, email, and website in this browser for the next time I comment.
Customer Reviews
Sorry, your request has been denied.
Laura V. Svendsen
Our team of paper writers consists only of native speakers coming from countries such as the US or Canada. But being proficient in English isn't the only requirement we have for an essay writer. All professionals working for us have a higher degree from a top institution or are current university professors. They go through a challenging hiring process which includes a diploma check, a successful mock-task completion, and two interviews. Once the writer passes all of the above, they begin their training, and only after its successful completion do they begin taking "write an essay for me" orders.
offers three types of essay writers: the best available writer aka. standard, a top-level writer, and a premium essay expert. Every class, or type, of an essay writer has its own pros and cons. Depending on the difficulty of your assignment and the deadline, you can choose the desired type of writer to fit in your schedule and budget. We guarantee that every writer will be a subject-matter expert with proper writing skills and background knowledge across all high school, college, and university subjects. Also, we don't work with undergraduates or dropouts, focusing more on Bachelor, Master, and Doctoral level writers (yes, we offer writers with Ph.D. degrees!)
Sorry, your request has been denied.
How does this work
We hire a huge amount of professional essay writers to make sure that our essay service can deal with any subject, regardless of complexity. Place your order by filling in the form on our site, or contact our customer support agent requesting someone write my essay, and you'll get a quote.
The first step in making your write my essay request is filling out a 10-minute order form. Submit the instructions, desired sources, and deadline. If you want us to mimic your writing style, feel free to send us your works. In case you need assistance, reach out to our 24/7 support team.
Human Resource
Business Strategy
Operations Management
Project Management
Business Management
Supply Chain Management
Scholarship Essay
Narrative Essay
Descriptive Essay
Buy Essay Online
College Essay Help
Help To Write Essay Online
Free essays categories
I work with the same writer every time. He knows my preferences and always delivers as promised. It's like having a 24/7 tutor who is willing to help you no matter what. My grades improved thanks to him. That's the story.
The narration in my narrative work needs to be smooth and appealing to the readers while writing my essay. Our writers enhance the elements in the writing as per the demand of such a narrative piece that interests the readers and urges them to read along with the entire writing.
Finished Papers
The experts well detail out the effect relationship between the two given subjects and underline the importance of such a relationship in your writing. Our cheap essay writer service is a lot helpful in making such a write-up a brilliant one.
Andre Cardoso
Sharing Educational Goals
Our cheap essay service is a helping hand for those who want to reach academic success and have the perfect 4.0 GPA. Whatever kind of help you need, we will give it to you.
Free essays categories
Do my essay with us and meet all your requirements..
We give maximum priority to customer satisfaction and thus, we are completely dedicated to catering to your requirements related to the essay. The given topic can be effectively unfolded by our experts but at the same time, you may have some exclusive things to be included in your writing too. Keeping that in mind, we take both your ideas and our data together to make a brilliant draft for you, which is sure to get you good grades.
Customer Reviews
What is the native language of the person who will write my essay for me?
We hire a huge amount of professional essay writers to make sure that our essay service can deal with any subject, regardless of complexity. Place your order by filling in the form on our site, or contact our customer support agent requesting someone write my essay, and you'll get a quote.
We use cookies. By browsing the site, you agree to it. Read more »
Plagiarism report. .99
High priority status .90
Full text of sources +15%
1-Page summary .99
Initial draft +20%
Premium writer +.91
On-schedule delivery
Compliance with the provided brief
Chat with your helper
Ongoing 24/7 support
Real-time alerts
Free revisions
Free quality check
Free title page
Free bibliography
Any citation style
Gustavo Almeida Correia
Sophia Melo Gomes
Customer Reviews
Professional essay writing services
Alumni & Giving
Annual report 2021 - 2022.
Learn how the Scanlan Center for School Mental Health is improving outcomes for Iowa's youth and educators and how our students, faculty, staff, and alumni are making a positive impact and improving lives in the 2021-22 College of Education Annual Report.
Lander Bearcats
NCAA Division II Teams
Composite Schedule
Recruiting Questionnaire
Bearcat Club
Bearcat Broadcasting Network
Summer Camps
Call (844) 937-8679
Famu developmental research school (drs).