Mecyll Gaspary
6 truths about free web novel apps writers should watch out for.
Whichever reading and writing platforms and free web novel apps you prefer and use, setting up your website is the best option for publishing your work, regardless of whether it's an article, a writing prompt, a short story, a novel, or a novel non-fiction book.
If this is your cup of tea or this topic interests you, stay throughout the post to learn about my experience as a self-published author when I relied on free web novel apps.
Consider this as your beginner's guide to publishing stories using free web novel platforms.
Toward the end, you will find alternative self-publishing solutions I propose for your books to ensure you're on the right path to achieving your publishing goals.
Table of Contents
Popular free web novel apps, why do free web novel apps gain popularity, my experience with free web novel apps, 1. build an author website., 2. be careful when signing up for the contracts they offer you., 3. don't sign up for exclusive contracts., 4. be a self-publisher., 5. don't rush it. great stories take time to create., 6. be consistent in your publishing schedules., how do writers benefit from free web novel apps, should you write & publish stories on free web novel apps my final thoughts.
What are Free Web Novel Apps?
First, how do these applications work for all writers, regardless of their chosen genre or industry?
Web novel apps are typically mobile applications designed to create a massive online library of stories while inviting aspiring authors to share their work.
Platforms like Wattpad , Webnovel, Inkitt, and Goodnovel are just a few examples of these applications available on various app stores across devices worldwide.
You can check out the list of popular web novel apps below.
Scribble Hub
Wuxia World
Ranobes.net
Novelfull.com
MTLnovel.com
BoxNovel.com
NovelHall.com
ReadNovelFull.com
According to Quora users who tried using these platforms for reading and writing, this web novel system helps authors build their online presence while earning legitimate returns, such as gifts, prices from sporadic contests, and more.
To understand how the system works and better understand the behind-the-scenes process, allow me to share my experience using free web novel apps over the last nine years.
A new book publishing algorithm challenges the traditional view of book publishing.
Authors receive credits and concrete progress from readers' increase and engagement before the book publishing process.
Audiences from Japanese manga readers and Korean comic readers, as well as others, come together and enjoy Chinese Wuxia web novels and light novels to kill time.
Since Wattpad existed around ten years ago, I have been writing and uploading stories, even though many still needed to be completed.
However, in 2020, my younger sister told me to look at other free web novel apps widely available for authors like me. So, I did.
In 2022, I uploaded two of my works on Webnovel , Inkitt, and Tapas, to name a few. I thought this would likely increase my book's audience reach at that time, consequently bringing more avid readers and fans.
As a writer, I want to know whether sharing my work through this approach is worth my while.
Well, this is what they promise. But is it like that? Do these free web novel apps fulfill their promises to their target audiences—aspiring authors, traditionally published or self-published?
This is the point of writing this article. It isn't to discriminate or invalidate platforms' vision and mission statements but to evaluate whether writers earn positive Returns of Investment (ROI) using them including me.
As a writer, I want to know whether sharing my work through this approach is worth my while and find alternative solutions or ways to move forward in case this doesn't work.
Here's What I Learned After Uploading Books on Free Web Novel Apps
It's better to have an author website to showcase your writing expertise and publish your work. This option is beneficial for book marketing, whether you're traditionally published or self-published.
Additionally, you can exercise complete control of your entire writing business, which isn't possible if you rely on platforms like these. If you want to learn more about other reasons to set up your author website, click here .
Once you sign up for these free web novel apps, you're expected to sign a contract and write a specific number of words within a timeframe, which isn't suited for intuitive writers who rely on intuition when creating great stories.
For instance, you had around 50,000 words when you submitted the manuscript (because they'll ask you to submit one). When it's ongoing work, they may ask you to write more if your book gets popular.
They may ask you to write 100,000 words within a specific period, and if you fail, you're breaching the contract. That may get you into trouble even when you don't want to.
To avoid these dire situations as much as possible, you must carefully read the terms of use and conditions before publishing stories on a platform/signing stories for a contract.
You don't have complete control of your story because their editorial teams demand you to please your readers rather than follow your plot as you imagined.
For instance, I received an email from one of their editorial members asking me to change the book's setting from "leading male character" to "leading female character" to fit the requirement of a competition or an opportunity.
When I refused, she wrote, "It doesn't take a lot of effort to change a setting. So, why can't you do it?"
I said, "I know my book, so I know I don't have to change anything."
And then she stopped replying. No follow-up emails anymore. Nothing. It was as if she had vanished into thin air.
As a self-publisher, you can ask for a non-exclusive contract before the agent convinces you to sign up for an account and provide further instructions to complete and validate.
Stay away if you encounter any publishing platform or company that says you must finish this and that chapter within this time. Better run, and never look back again!
Ideally, publishing once a week is excellent. If you like to post more than one chapter weekly, you must ensure you can sustain it in the long run.
However, daily posting isn't recommended. Take it from my experience. I tried posting new chapters almost every single day, only to find myself beyond exhausted. Don't do this.
Do you remember what I said before? Don't rush it.
Building author brand and loyal fans from Day 1
Potential contract signing deals (Exclusive vs. Non-Exclusive contracts)
Gaining massive book exposure to readers worldwide without any cost.
Earning a legit passive income from paid chapters, fan gifts, etc.
Yes, it's the future of publishing, and no, especially if you have no completed work before you sign up for a contract.
Once you have a manuscript of a fleshed-out novel beforehand, they can't say about your story or demand you to add more chapters because it's finished.
If not, you have to read each platform's terms and conditions, as well as the pros and cons, before uploading your book.
For instance, there are free novel apps like Webnovel, wherein you can't delete anything once you upload your manuscript, unlike Wattpad.
Signing up for exclusive agreements with them could be your worst nightmare.
Consequently, I was forced to hide the book by changing its reader settings because I couldn't. Nevertheless, this option remains attractive for aspiring authors worldwide.
On the other hand, stay away from exclusive contracts. Signing up for exclusive agreements with them could be your worst nightmare.
Despite the known risks, it can be worth your time and effort if you stay a non-exclusive talent.
This provides you with more publishing opportunities outside their platforms as soon as you decide to self-publish your novel anytime you want.
If you rely on free web novel apps to distribute your books, feel free to share your first-hand experiences. Let me know your thoughts about this topic in the comment section below.
Did you enjoy what you've read? Pls Share
Click to share on Twitter (Opens in new window)
Click to share on Facebook (Opens in new window)
Click to share on LinkedIn (Opens in new window)
Click to share on Pinterest (Opens in new window)
Click to share on WhatsApp (Opens in new window)
Click to print (Opens in new window)
Click to email a link to a friend (Opens in new window)
LIKE WHAT YOU READ?
If you love my work, your support will help me continue writing great content like this.
Leave a reply cancel reply.
Your email address will not be published. Required fields are marked *
This site uses Akismet to reduce spam. Learn how your comment data is processed .
Write novels, Get paid!
Webnovel has officially released its content creation functionality!
Intro Promotions Benefits
Write Novels, Get Paid! HOW
Back in April 10, 2018, Webnovel.com released the content creation functionality for all users! It's time to let your creativity create wealth for you!
Are you aware that it is lucrative writing web novels on the Internet?
Perhaps you have read 'Coiling Dragon', 'Battle Through the Heavens', or 'Bringing the Nation's Husband Home' but do you know that the authors of such novels have become multi-millionaires just from writing web novels? You might think that these people that changed their lives writing web novels are exceptional cases, but in fact, they are not in the minority! Making a living from writing web novels has become a common phenomenon most recently. Many authors fulfill their dreams of writing while earning royalties that are higher than the average job.
Nearly 90% of web novelists, a number exceeding 6 million individuals, choose Webnovel (Yuewen)!
Nearly 90% of web novelists work with Yuewen. Nearly 7 MILLION authors have published online literary works under Yuewen's platforms. They range from students to white-collar workers to teachers… Many of them are ordinary people fulfilling their dreams of writing. Their success proves one thing—anyone can write!
As a pioneer of online literature and the world's only listed company that focuses on online literature, Yuewen has successfully proven the immense potential of the online literature market! Now, we are bringing this successful model internationally with Webnovel. We wish to create an illustrious future together with you for English web novels!
The value of your work is completely determined by your readers!
Webnovel has zero barriers of entry. It is a completely transparent web novel writing platform! All you need to do is create an account and upload your content, and your work will be available for reading to millions of passionate readers across the world!
We Support You!
Webnovel will accompany you as you pursue your dreams!
No readers? No worries!
Webnovel has millions of loyal users. With various platforms such as the app, mobile website, and desktop website, all works will gain immense exposure.
If your work is enjoyed by readers, they can vote with Power Stones. This will allow you to enjoy an increase in ranking, allowing you to attract more readers.
At the same time, excellent pieces of works will be introduced on Amazon and other online platforms. You will also gain the chance to publish hard-copy books with a publishing firm, as well as participate in book conventions, attracting more readers to your works.
How is a work's value realized? No worries!
We will do our best to enhance the commercial value of authors around the world. We also have rich experience at adapting works for other media. Authors will not only gain the pleasure of writing while earning a sizable writing income to uplift their standards of living, they will also have a chance to participate in the commercialization of their works. They can bring their characters and stories onto the silver screen.
Your story will not only be presented in the form of text. It might very well be adapted into animations, television drama serials, and/or movies, winning attention all around the world and gaining influence.
I'm not a professional author and have no experience writing novels? No worries!
Most authors do not have a professional writing background. Writing is not as hard as you imagine. As long as you are willing to write, you can develop yourself rapidly with our help.
Professional Developmental Editorial Team
The Webnovel's Editorial team will provide professional and writing advice to authors of contracted works. Authors can interact with us at their convenience and we will strive to resolve their concerns.
Book Of Authors
We will invite famous editors and excellent authors in the industry to share their experience in writing web novels. A Book of Authors will be shared with all authors!
Contract & Benefits
Contract with Webnovel, nurture your dreams of being an author!
Royalty Contract— Yours is yours
Authors sign a royalty contract with Webnovel. Authors will share the revenue earned from subscriptions on the website, direct sales from other platforms, and other monetization of the copyright. With the advantage of a continual stream of revenue, the standard royalty sharing is also the best choice to ensure an author's long-term earnings.
Contracted Works Guarantee System
We understand that an excellent author isn't created in a day. Before many of our top authors created their popular works, they were once in an exploratory phase. Webnovel deeply understands the predicament that new authors face. In 2015, We established a Contracted Works Guarantee System that saved the dreams of many aspiring authors, and the system has been developing in recent years. Paying for your development is the underlying core of guaranteeing your continual creation of content.
New Minimum Guarantee System
Here comes the New Contracted Works Minimum Guarantee System (MGS)!
If your book income for the month is between $60 and $200, we make it up to $200; if the book income exceeds $200, we offer extra $200.
To meet that requirement, authors will need to release a minimum of 1,500 words daily for the entire calendar month, and we offer LOA (leave of absence) for those can't update daily.
At least 1,500 Premium words/day: US$200/month.
Requirements:
- You need to go both contracted and premium.
- Books eligible for MGS are those that have gone premium for 4 calendar months or less (counted from the next month it goes premium).
- Update with >=1.5k words per day for a month from first of the month, and we offer LOA (leave of absence) for those can't update daily.
- If the book income for the month is between $60 and $200, we make it up to $200; if the book income exceeds $200, we offer extra $200.
- 1 book can claim for 4 continuous months.
- Word count is based on UTC +8 daily.
- Apply for Premium by end January 2023.
- Enter Premium in February 2023, Premium takes effect in March, April, May, June 2023.
- Publish at least 1,500 Premium words per day (31 days in total for March, 30 days in total for April, etc.), for the entire month:
- Get US$200/month Minimum Guarantee if the revenue you earn is between $60 to $200; and get an extra $200 if the revenue you earn exceeds $200.
- Win-win is a monthly held contest. During win-win, authors should release a minimum of 1,500 words daily for the entire calendar year.
- Rewards are given once the number of privilege chapter unlocked reaches the target.
- For new works that went premium for <=4 months. the enter new book entries, and go for $50/$200/$400 bonus once chapters unlocked hit the target.
- One new work can win at most 3 continuous win-win.
- For classic works that went premium for >4 months. they enter classic book entries, and go for exposure bonus once chapters unlocked hit the target.
- Rewards are disbursed on the 1st of the following month.
- Basically speaking, privilege s a function for authors to make money from their stockpile. You can give your reader a sneak peek at your advance chapters. in return for coins.
- Priv is a tiered system. Readers have to pay coins to reach each priv tiers. Authors can set priv tiers/costs/discounts by themselves monthly.
- For those failed to update daily, and need to make up for MGS/Win-win, please apply for LOA to Author Support Team (through discord or your CE). We will prove based on your situation: for those daily updated for 2 months. vou will get 1 LOA ticket automatically.
- 1 LOA ticket can make up for 1-day absence, and will expire by the end of the month.
- All MGS/Win-win/Extra Bonus/ Writing Contest Bonus can add-up.
About this app
Data safety.
Ratings and reviews
What's new
App support, more by cloudary.
Similar apps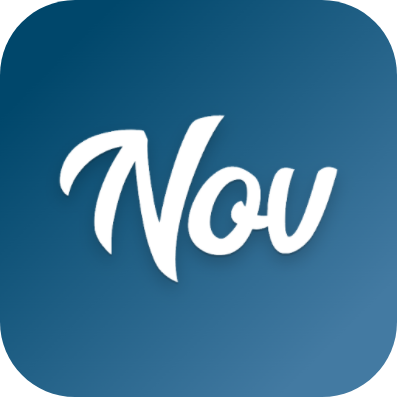 Novelist - Write your novels
Still looking for the perfect app to write your novel? Novelist might just be the perfect tool for the job!
This is the best app if you are composing a story. This deserve five stars!
Tanya Villafuerte
I. Am. In. LOVE. With this app. Simply the best app I've found on the store or, really, about anywhere.
Truly a wonderful app. I used a similar program, but this is easier and it's nice to have it on the go!
Marian Klatt
This app is amazing, it helps a lot for book writing and I love how it helps me plan and plot the story.
This app is exactly what I needed to keep my stories organised. It's a great tool!
Wihan Hendrikz
Love how I could manage all these thoughts in my head and put it down.
Faris Salleh
Advanced features, output compilation.
Output your book in many different formats according to your needs, suitable for ebook readers or word processors
Rich Text Editor
Novelist provides a Rich Text Editor to edit your texts, with advanced formatting, comments, autosave, counters and revision history
Backup and Restore
Save your work with our backup/restore system on any available storage provider: internal, external or cloud
Goal Setting
Set your desired word count or due date and Novelist will track your chapter-by-chapter progress up to completion
Integrated Preview
Preview your book's final output without leaving Novelist, and enjoy the result without distractions
Use one of the provided templates or create your custom one, including categories, statuses, items and metadata
Actual Facts
It's very easy to find and install Novelist on your smartphone. Just follow the above link or search in the Android marketplace. Click on Install App and you're done.
Novelist is completely free: no buying costs, in-app purchases or hidden charges. And no ads too, so you can concentrate only on what matters to you: writing!
Novelist sports a complete tutorial and an in-app help section. Non enough? Just use our email or the provided contact form to get in touch, and we'll answer as soon as possible.
Always At Hand
Have you ever had that brilliant idea and no place to mark it? Novelist is like a structured notebook that is always with you on your favorite device: your smartphone.
Save the traits of your characters and places
Write scenes and structure chapters on the go
Monitor Your Progresses
Do you think you'll never be able to finish writing your book? Track your progress and set goals to increase focus on the final result.
Frequently Asked Questions
How many books can I write with Novelist?
There is no maximum number of books you can write using Novelist. The only limit is your imagination!
Will there ever be a cloud version?
Yes, probably. A web based cloud version is already in development, but there's no timing schedule or pricing information at the moment.
How are the features to be added established?
Every feature is carefully planned and introduced only after extensive testing. If you have feedbacks, suggestions, critics, feature requests or anything else please contact us.
Additional Details
Plot is when you list all the elements of your story, like on a board. Items can be edited, moved, merged, splitted, reordered and deleted. You can even set a status, write notes and texts or add tags, metadata and pictures to each item. Categories are completely customizable, as are metadata and statuses.
Outline is when you put all the items together to compose scenes. Each scene is a piece of your story and can be annotated or written directly in our app!
Organize is when you structure your scenes in acts, parts, chapters and so on. Your imagination is the limit.
Schedule is when you set your goals: word count or due date.
Video Showcase
Check out below Novelist's video from YouYube, for a brief showcase of its screens and features.
Average Rating
Our goal is to make sure that every Novelist user can meet his needs and expectations. You should also check out our Terms & Conditions and Privacy Policy .
More Reviews
Some reviews of our application found online. Here's what they say about us...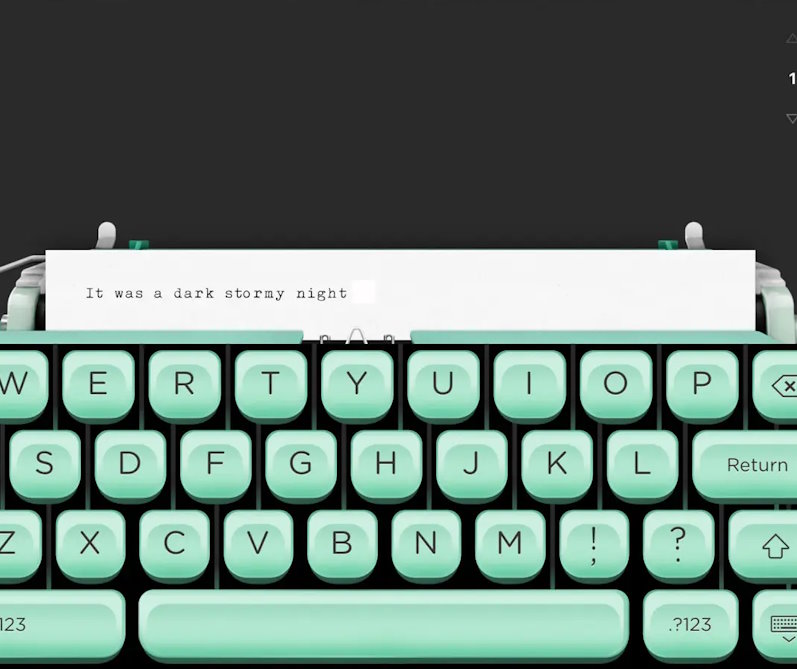 New York Times
" Check your app store for software like Novelist which has a text editor function and templates for organizing… "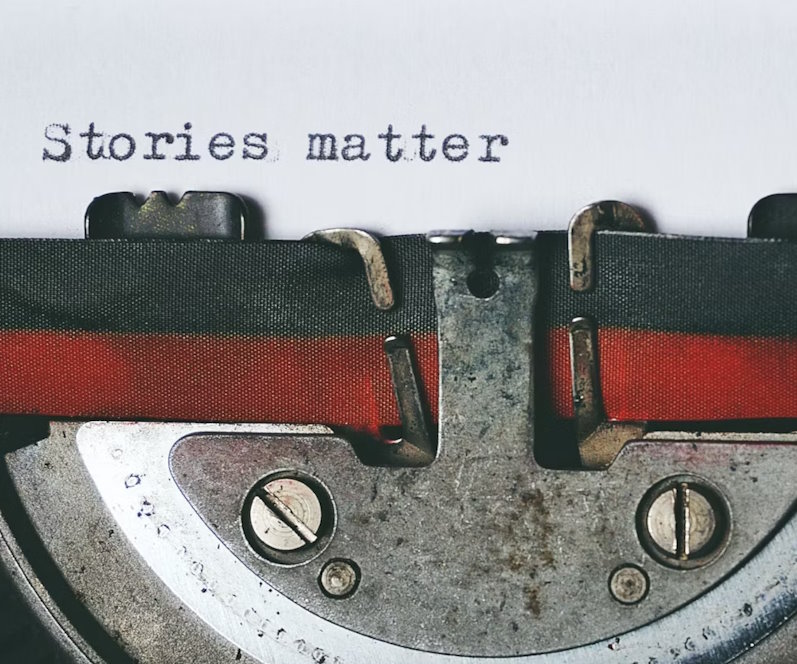 Make Use Of
" Novelist has every tool you could need to plan and write every detail of your book from scratch. "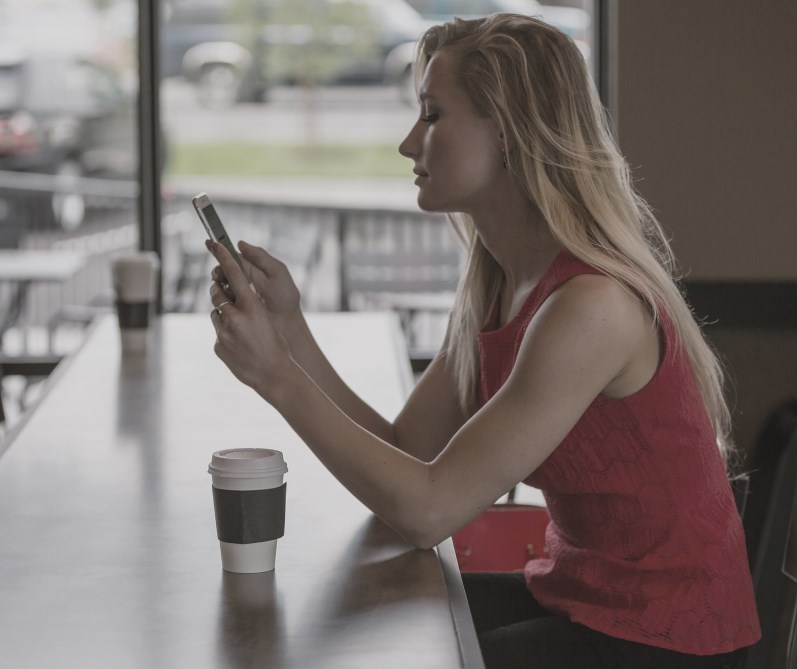 Penstricken
" If you own an Android device and are looking for a way to develop an idea, this app is definitely worth a look . "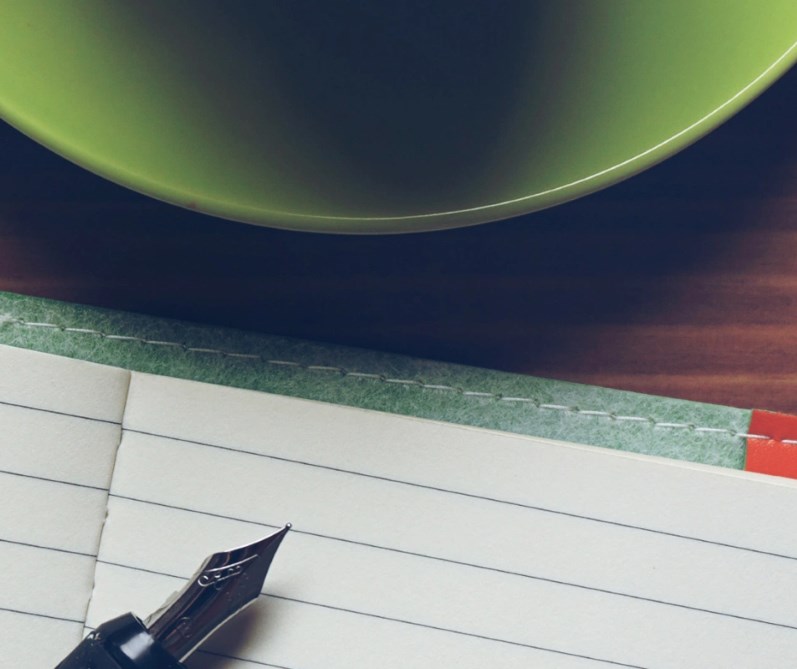 Lord of Things
" When I found this app it looked great but was still immature, but now I must say it has become my favorite . "
Get In Touch
Use the contact form to send us your message, feedback, feature request, or anything else.
We will use these contact details only for following up on any request. We will not use your contact details for anything else. Accept the terms if you agree. Read the full Privacy Policy here .
Copyright © Novelist by Return True
The Best Writing App for Authors and Screenwriters
Start your book, plot your screenplay, write your papers, organize your manuscripts, and export it for publishing - all in one place.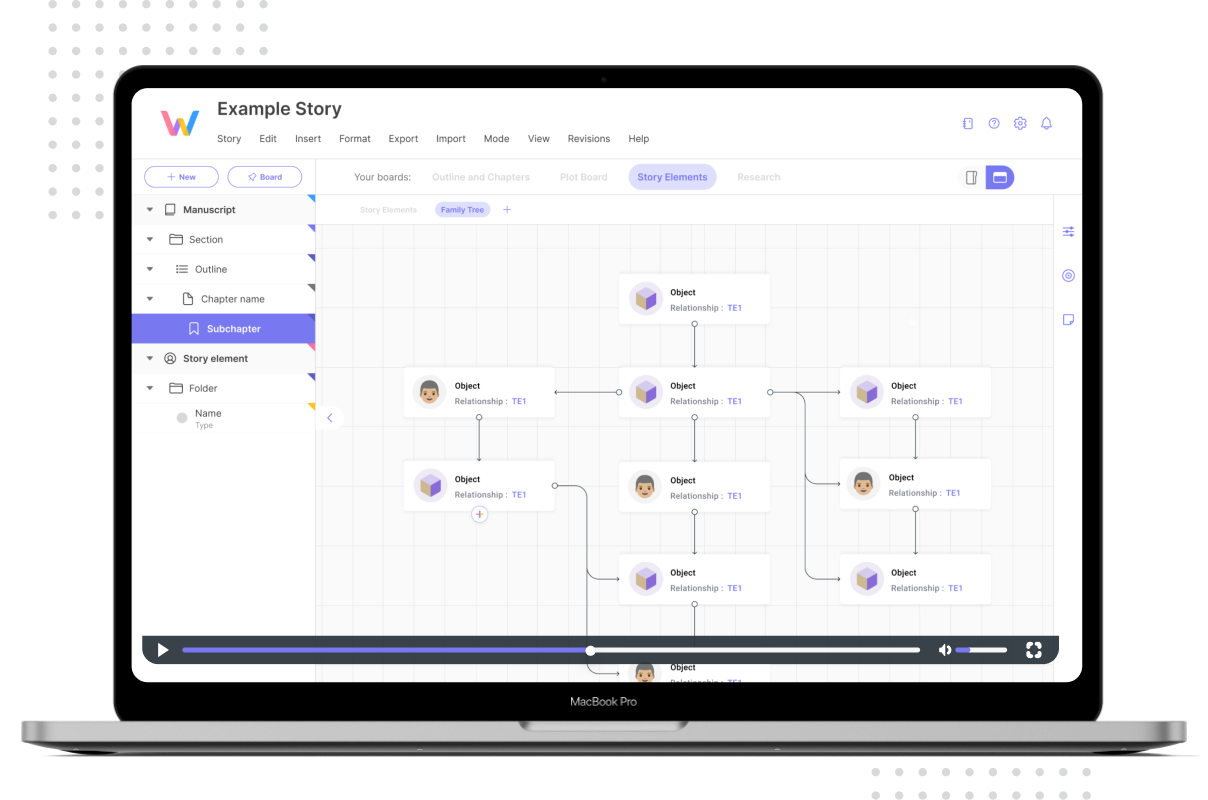 No Credit Card Required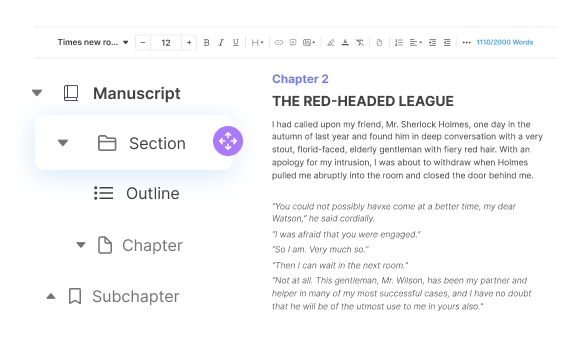 LivingWriter provided just the right amount of guidance to keep me focused and in the zone when crafting the manuscript for my book. The tracking and stats were helpful and encouraging. I'm looking forward to finishing my series...
Eric Jason Martin - Author of the New Arcadia Series
Leaving your word processor in the dust
Organizing made simple.
Simple drag and drop organization for all your chapters, subchapters and elements.
Smart Text / Elements
LivingWriter stores your elements and suggests them as you type.
Plot Easier With Outlines
Organize your manuscript with time-tested outlines used by best-selling authors.
Organize and Plot Your Manuscripts Easily
Spend less time organizing and planning. Spend more time growing your ideas into books.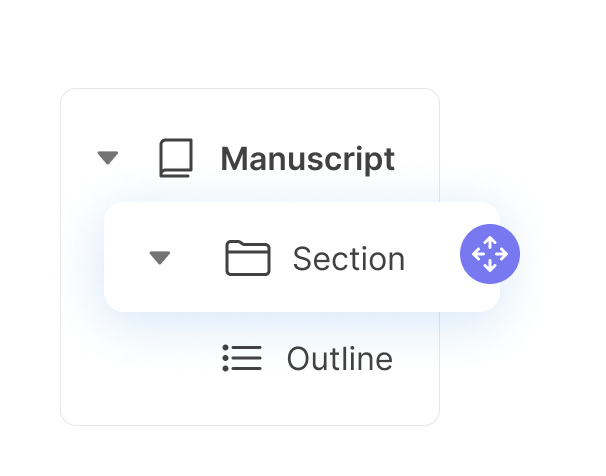 Drag and Drop
Order and reorder your chapters and elements without the hassle of copying and pasting.
On Screen Sidebar
Jot down your chapter notes quickly on the sidebar. Everything on one screen means never leaving your manuscript.
Get a god's-eye view of your writing. Intuitively drag and drop to plot and rearrange your manuscript.
Plot Quickly with Time-Tested Manuscript Outlines
We don't believe in reinventing the wheel, but we're fans of greasing it a bit. You can now use the same outlines used in world famous stories and movies right in LivingWriter. We'll lead you through each step with detailed.
No other writing app out there will do that for you.
The outlines include, the Three Act Structure, 27 Beat Chapter Plotting, The Hero's Journey, Dan Harmon's Story Circle, and many more!
No more moving files and text around to organize your manuscripts.
With the board feature, you get an intuitive, modern way to view your manuscript. Simply drag and drop anything inside the board to rearrange your book, change up your plot or just marvel at how much you've written so far.
Embracing the Dark Side
LivingWriter comes in both light and dark modes. You can easily switch between them with one click. This will come in handy when you're on a writing binge at night and your eyes start to hurt. You can keep using the best writing app in the world straight through to sunrise.
Smart Text and Auto-suggest
Store all your elements and LivingWriter will make them work for you. As you type a character name, location, etc. our editor will auto-suggest your elements. Clicking on your elements will allow you to quickly access notes and other info for each element.
You won't find this in any other fiction writing app!
Intuitive Writing Goals
Writing goals helps you create a vision for your manuscripts.
Visually seeing your goals will make a difference in your writing pace. There's no novel writing software that shows you your goals as beautifully as we do. Goals and deadlines can be motivating!
Chapter Goals
Manuscript goals, cloud based so your creativity doesn't have to stop.
Many writing apps out there don't link to the cloud, so you're stuck working on just one device.
But we know that writing novels online, and on any device is the future.
LivingWriter doesn't lock your imagination to one place. With completely iOS/Android apps completely synced, write wherever and whenever.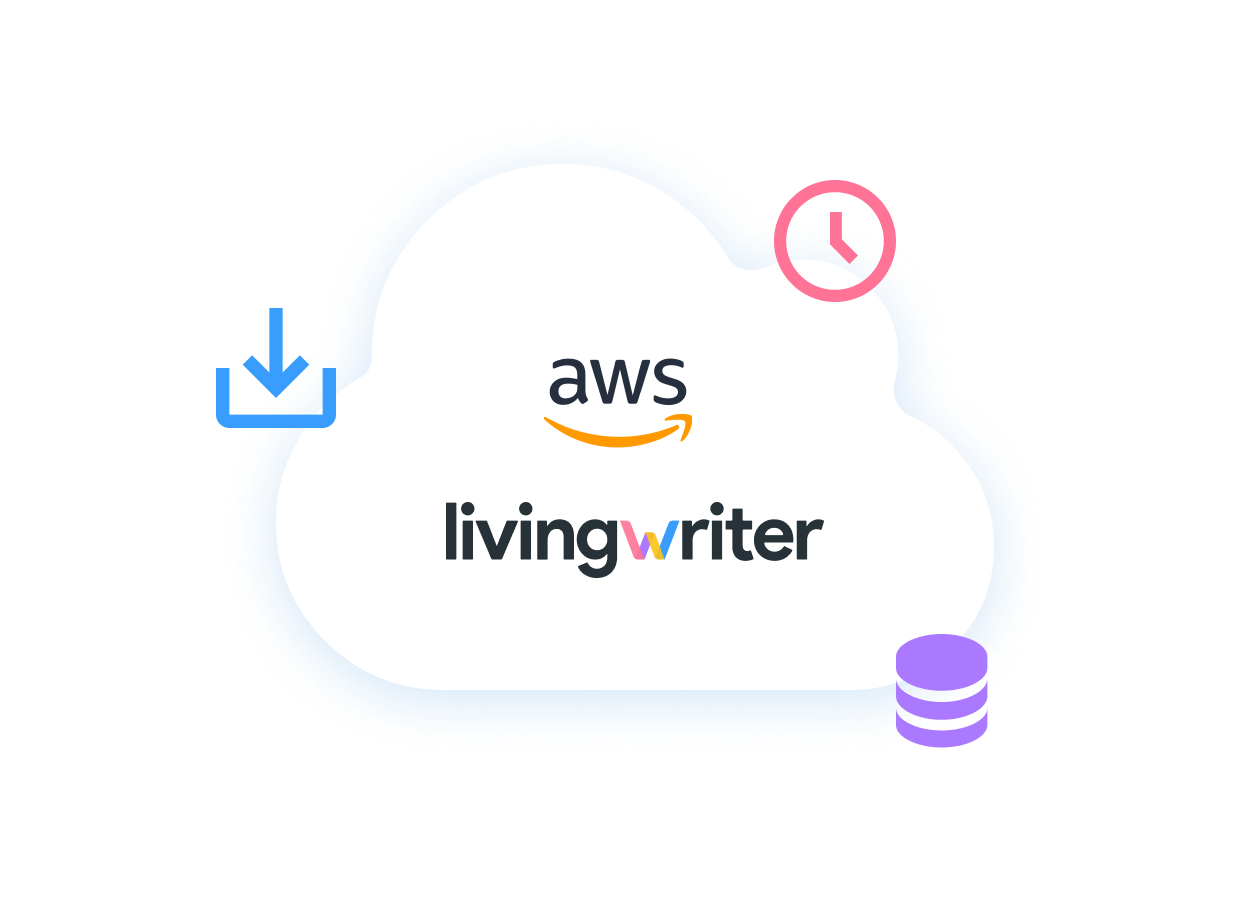 No need to hit " Save "
Even if your laptop decides to have a meltdown, rest assured that your work is safe
LivingWriter automatically saves every letter you type. Writing software that's cloud-based is the future!
Your work gets saved constantly, safely, into our Amazon Cloud Infrastructure and then we back it up for you every 10 minutes.
Get it all out there or Share it in pieces
You're midway through your thrilling murder mystery, but you get the feeling it's not suspenseful enough. Don't worry. LivingWriter is the only novel writing software with easy sharing and co-authoring features.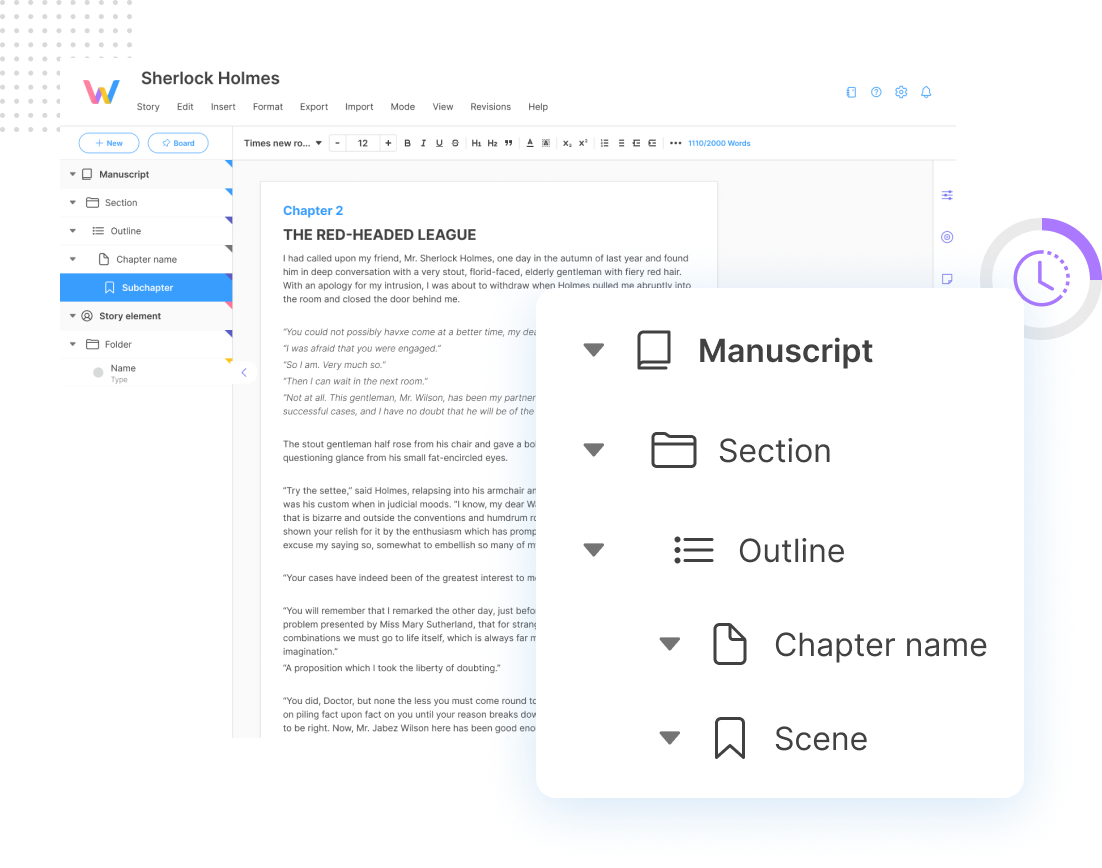 No Lagging , No Matter The Length
Other writing programs weren't meant to hold your 100,000 word masterpiece. You'd have to split your book up into separate docs to keep it from loading forever. With LivingWriter, each chapter and subchapter is self-contained, meaning a speedy load of your whole manuscript every time.
Seamless Imports Of Your Existing Work
Wrote half of your book already?
All good. Import your existing manuscripts from other programs with a couple of clicks, and see how much easier it is to finish your second half on LivingWriter.
If you're coming from other writing apps like Scrivener, don't worry. You'll be able to pick up on LivingWriter right where you left off.
You've Found The Best Writing App !
Your work is safe.
LivingWriter works on an infinitely scalable Amazon AWS structure. No downtime or data loss ever. We're constantly backing up your data and holding to the industry standards of data security. This is online writing software done right.
Amazing Customer Service
Our staff are dedicated to improving your writing experience. Get in touch with us 24-7 to let us know how we can make your life easier. There is no online writing platform that caters to you like we do.
Constantly Evolving
We've got a roadmap, but we're also always implementing new features suggested directly by our loyal writers. We're dedicated to your success. Our goal is to be the best writing app for you.
Our Writers Love

LivingWriter feels like the iPhone of writing tools.
Casey Kerbs , Author of How To Lose Weight Without Losing Your Mind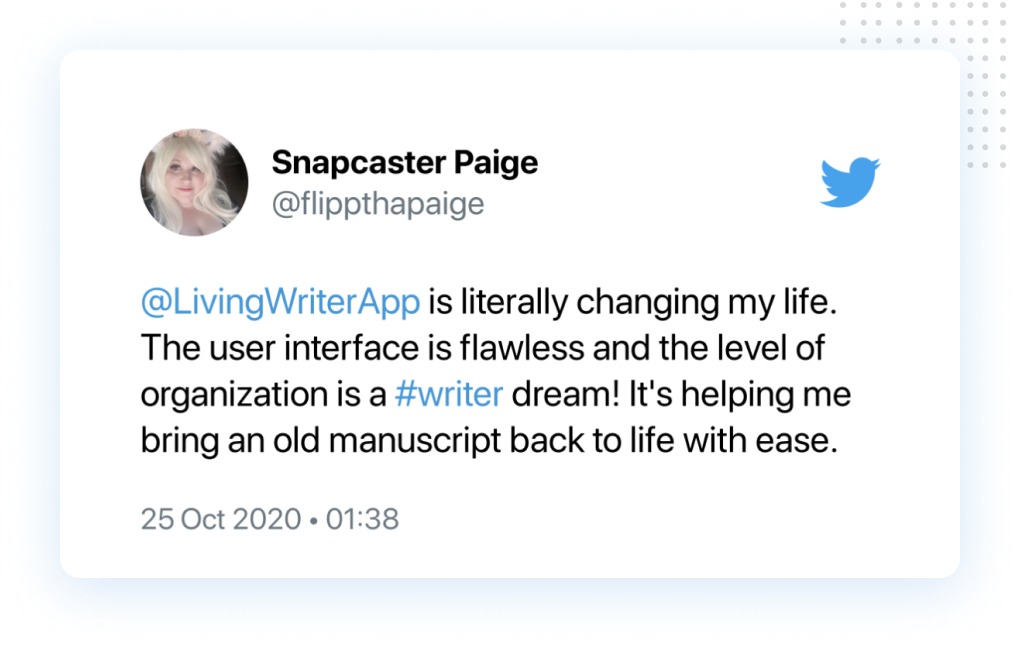 Writing software for fiction, non-fiction and beyond!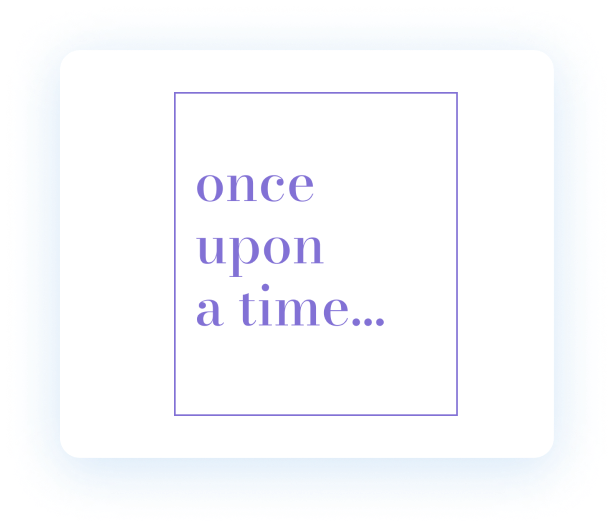 The best writing app for fiction
Most of our writers are spinning up fantasy, romance and science fiction stories. We've made it easy to get all your creativity and fictional elements into LivingWriter. No writing app does this better than we do.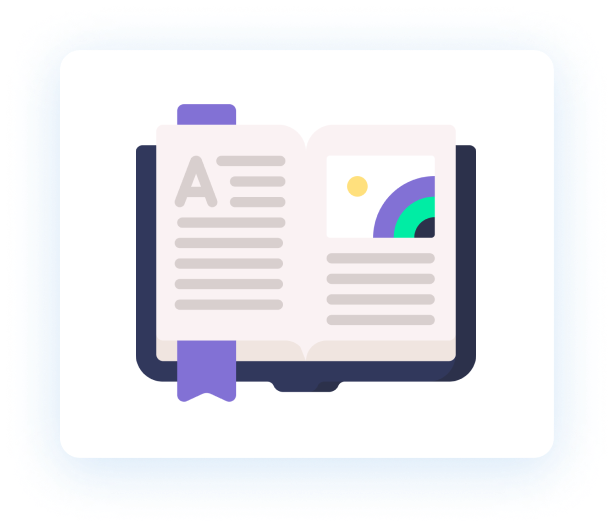 The best writing app for non-fiction
When it comes to non-fiction we have templates for memoirs, biographies, self-help books and more. We've already had six (that we know about) self-help books published after being written on our platform!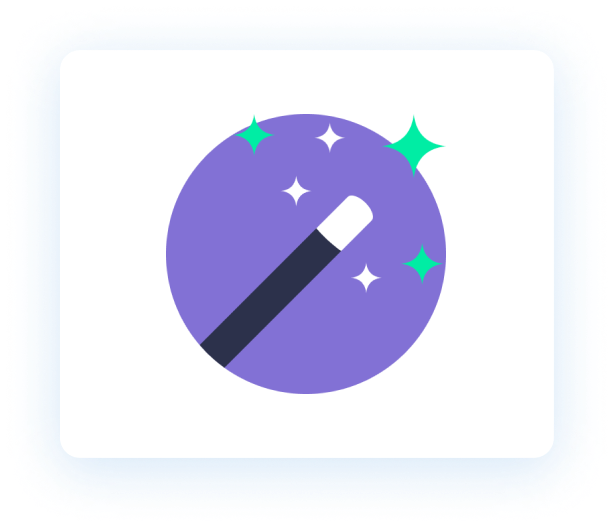 Best writing app for world-builders
No other writing app or novel plotting software gives you the freedom that LivingWriter does. With our smart elements, beautiful board and intuitive organization, you can have your entire world built before putting down your first word.
Try Free For 14 Days
LivingWriter is free to start, so you've got nothing to lose.
It will come as little surprise that we think the Novel Factory is the best writing software. That's because we've spent the last ten years trying to work out what makes novel writing software great, and then building it.
Nonetheless, we are aware that writers' needs vary, and that there are apps out there that are more established or have a different focus or a development team with different areas of expertise.
So we have genuinely done our best in this review to give an honest rundown of some of the best novel writing software options, analysing their strengths and weaknesses. But we'll start with the one we know best.
The main strengths of Novel Factory are its intuitive, clean design and the wealth and detail of the novel writing resources.
As well as providing a word processor, features for creating plots and managing subplots, and areas for keeping notes on characters, locations and items – the software integrates what some have described as 'an MA in writing'.
As well as the Roadmap, which is a step-by-step guide to writing a novel, it includes detailed character development questionnaires, world building guides and plot templates based on popular genres.
So it's not just the car, but the engine and map as well.
The software has a section for setting your writing targets, and then automatically updates colour-coded graphs so you can track your progress towards them.
It also autosaves your manuscript and has version history, so you can access previous drafts of your writing.
And as the data is centrally stored, it's easy for writers to collaborate on a single novel, always able to access the latest changes.
If we have to focus on the weaknesses of the Novel Factory, then we have to admit it's not the cheapest option out there. Writers on a tight budget may not be able to stretch to $7.50 per month. We hate the idea of anyone being priced out, so we do run promos a few times a year which bring the price down, and we offer educational discounts and occasionally free licences on a hardship basis (get in touch with us for more info).
Is the Novel Factory the best novel writing software for me?
The Novel Factory is perfect for new writers, who want to learn their craft while writing their first novel.
It's great for planners, who want to use established structures to make their story skeleton bullet-proof and develop complex characters with desires, flaws and internal conflicts.
It's the right fit if you want somewhere to keep track of all supporting data, as well as writing the novel itself, and if you want options to work Online and Offline, as it suits you.
It's good for visual learners, who appreciate being able to add a lot of images, who like to see how different aspects of the novel link together and who like everything clearly categorised and aesthetically appealing.
It's less useful for writers who want something more freeform, or something where they can set up and rearrange the categories themselves. And discovery writers may prefer something a bit more streamlined and simple, as they may not need the additional sections for supporting data.
Click here to find out more about the features included in the Novel Factory 3.0, or click here for a free 30 day trial .
No novel writing software list would be complete without Scrivener – the Goliath of the writing software world.
Scrivener was one of the first apps to appear on the market, and is by far the most well-known program today.
The main strengths of Scrivener are its flexibility and richness of features. It has had a long time to mature, and take into account feedback from its huge community, so it is packed full of features, from index cards to name generators. It offers goal tracking, word counts and places to keep your notes.
Plus, because the community is so huge, you can take advantage of freely shared resources, such as character and plot templates.
Scrivener is very reasonably priced at £47, and is available for Mac, PC and even IOS (though the licences for each of these are sold separately), though there isn't a web-based version.
The widely accepted main weakness of Scrivener is the other side of the coin of its strength – it's complexity.
The 'steep learning curve' is cited by many as a real issue, and while there are dozens of courses to help you get to grips with the intricacies of the program, people who are trying to write a novel are usually already struggling to find enough time just to write their manuscript. And it's quite a big ask to require someone to invest dozens of hours learning a program before they're even sure it's the right one for them.
Is Scrivener the best creative writing software for me?
Scrivener is a great app, with tons of fantastic features, and there's a reason it's used by so many writers.
As they state on their website, they, 'won't tell you how to write', so this it's best suited to an experienced novelist who has time to learn the features and work out how to use them to plan and write their novel.
It offers a lot of flexibility and customisation so, you can use the tools in lots of different ways, to suit your style.
But for a newer novelist, who is just learning their craft and might want a little more guidance, it can be a bit overwhelming, while not offering guidance on how to actually write a novel.
And having so many choices can also lead to decision paralysis, or not really knowing the best way to proceed, so it probably won't suit people who are less comfortable with advanced technology and customisation.
Click here to find out more about Scrivener and get a free trial.
YWriter is another veteran piece of software which is widely respected and loved.
YWriter contains all the key features you'd expect from novel writing software, including clearly defined places to keep track of your characters , locations, scenes, chapters and somewhere to write your novel.
A big strength is that it allows you to link everything together and handily cross-reference, and it has lots of tools to keep track of your word counts and progress.
The main weakness of yWriter is that it's not clear where to start when you first open it, and the word processor takes a while to find. Also, some sections of the interface are a bit primitive, requiring you to enter code syntax, rather than offering a proper graphic user interface where you can simply, click, drag and drop.
The characters, locations and tools tabs are all fairly straightforward, but the interface is all table-based, which can get a bit monotonous. While you can add images to characters, locations and items, they're not displayed in the main interface for quick reference.
Like Scrivener, it doesn't give you any guidance on how to actually write a novel.
Is yWriter the best free novel writing software for me?
While yWriter isn't the most intuitive software to use, or the most fully featured, it has one major advantage which, for many writers, will rocket it above all the competitors.
That is that it is completely free.
For a free product, yWriter is quite phenomenal and it is extremely generous of the developer to give away such a great app with no charge at all. Of course, you can donate to help support future development, but even the suggested donations are only up to $24.95 as a one off.
So if you are looking for dedicated software to keep track of the key aspects of your novel but you're on a tight budget, then yWriter is a fantastic option.
Click here to find out more about yWriter.
Fictionary is an online creative writing software that approaches the process from a different point of view. Instead of starting with an idea and helping the writer grow it into a full novel, Fictionary has a stronger focus on improving your manuscript after you've written it.
The main strength of Fictionary is its analytical capabilities once you import your manuscript. It can help you get an overarching view of your story arc.
It has an attractive interface and a sidebar with lots of useful prompts to help you think about various aspects of each scene.
The 'Plot' section of the sidebar gives useful prompts to encourage you to consider the type, role and goals of each scene.
Likewise, the 'settings' section offers useful prompts to help you think not only about the practical details of your setting, but also how it impacts the story.
The main weakness of Fictionary is that the data is only as good as what you enter, and the analysis relies a lot on your own understanding of story and character.
It offers a lot of numerical analysis and helps you identify tangible things such as chapters or scenes which are excessively long, or which contain excessive numbers of characters, but whether those things are actually an issue or not depends a lot on context and your own choices, and at the end of the day, the quality of a novel can't be boiled down to statistics.
Also, everything is viewed by scenes, so you can't get much of an overview of your plot, apart from the quite limited Story Arc.
Also, like Novlr, it doesn't have much support for plot structure development or developing your characters, which isn't that surprising, since its focus is on after you've written the novel. You can enter your characters, but the data is limited to name and whether that character is POV. You can't add any further information, or images. You can add information about locations to each scene, but there's no database of locations that stands alone.
It's also the most expensive option on our list, at $20 per month or $200 per year.
Is Fictionary the best novel editing software for me?
Fictionary is useful if you've already written a manuscript and you want to analyse it to find out where the inconsistencies or weak areas are.
It's great if you love obsessing over data, and it can help you think about aspects of scenes to make them stronger and more compelling.
It's not very useful for new novelists who want to learn how to write their first novel, or for planners who are looking for tools to structure, outline and develop characters before writing their novel.
Click here to find out more about Fictionary and get a free trial.
Atticus is a newcomer to the market, created by established self-publishing marketing guru, Dave Chesson.
The key unique strength of Atticus is its formatting and publishing functions. As a self-published author, Dave rightly recognised that there were few options on the market that allowed you to easily ready your manuscript for self-publishing – and even fewer if you weren't on a Mac.
Atticus allows you to easily select between various formatting styles, and export your novel to a ready-to-go ebook format for all the major self-publishing platforms.
In conjunction with that, Atticus includes dedicated spaces for front matter and back matter, and it allows you to set writing goals, and even select which days of the week you plan to write, which is a nice touch.
It works in a browser, and you can also download apps for Windows and Mac, making it one of the most cross-platform options out there.
It's got a slick, attractive, highly intuitive interface. It even features a cute cartoon dog – what's not to like?
The weakness of Atticus compared to other novel writing software, is that it doesn't offer any areas for keeping track of characters or locations, managing your plot. Of course if you don't need those features, then that's not a problem at all.
It also doesn't get into the business of teaching you how to write a novel, so if you're a beginner looking for more craft guidance, you'll need to find that info somewhere else.
It doesn't offer any free trial, which could be quite off-putting to some people, and the price isn't that cheap, at $147, though that is a one-off cost. Asking people to pay that much without having been able to poke at the software first demands quite a lot of trust, though there is a no-quibble 30 day money back guarantee.
Is Atticus the best novel formatting software for me?
Atticus is almost certainly the best option for actively self-publishing authors who have a reasonable budget available and prefer to just get on with writing their novels without doing a lot of additional work creating character profiles, locations sheets or planning documents.
It offers a clean interface for writing, and easy formatting and publishing to all the major platforms, something very few of the other options offer.
On the other hand, if you're looking for more comprehensive novel writing software which includes features and functions to help you keep track of characters, manage your plot and subplots and give novel writing advice, then Atticus is not that sort of one-stop-shop.
Click here to check out Atticus.
Write It Now
Write it Now is a desktop based novel writing software app available for both Windows and Mac, with a wide range of features, but quite a cluttered, dated interface.
The main strength of Write It Now is the wide range of features it includes.
As well as having sections to keep your characters, locations, events, props, notes and research, it has some cool tools which are rare in other programs, such as character relationship charts.
There are some prompts and guidance with regards to characters, such as including their birth and death date, and their relationship to other characters, but 'personality' is limited to sliders on different personality traits, such as 'health' or 'aggression'.
Another strength is that it includes places for front and back matter, and offers a wide range of export options.
By far the biggest weakness of the software is its interface. Balance, style and consistency are lacking and it's cluttered with fussy icons. And while at the top level the sections are quite intuitive, many of the buttons within the sections are quite confusing and it's unclear what the intent behind them is, even after you've clicked them.
Finally, it doesn't appear to offer many overview options, so apart from the tree list on the left hand side, you can't view all of your characters at a glance. There also doesn't seem to be a way to get an overview of your plot structure.
Is Write It Now the best novel planning software for me?
Write It Now is good for writers who are comfortable with technology and like to have lots of detailed features and functions, and who want to be able to drill down into lots of detail, and customise the software to suit themselves. And who aren't that fussed about aesthetics.
It's also a good option for users who prefer Desktop software, as many of the novel writing apps out there now are solely web-based.
It's not good for people who value an aesthetically pleasing, intuitive interface. It's also not good for people who want to keep things simple.
It doesn't include any guidance on how to write a novel, so it's less useful for new novel writers.
Click here to check out Write It Now.
FocusWriter
FocusWriter is a super-simple, free app to help writers focus and avoid distractions.
It's biggest strength is exactly what it says – its focus. Its main objective is to minimise distractions, so you can get on with writing your novel.
It also has some customisation options, so you can change the background image to something you like and it's available in multiple languages.
Its weakness is that it doesn't offer anything else.
There is nowhere to keep track of any supporting information, such as that of characters, locations, items, research or notes. Of course, it doesn't intend to offer those things, but if you want them – that's a problem.
There's no support on how to write a novel, and despite its simplicity, the interface still manages to look slightly dated.
Is FocusWriter the best novel writing software for me?
FocusWriter is perfect for authors who just want to get on and write a manuscript and not faff around with lots of planning and research. So it's far better suited to discovery writers, rather than planners.
People who like to have a completely clear desk, and who find clutter impacts on their train of thought, will find FocusWriter the perfect solution.
If you're looking for a more fully featured program, which will help keep track of supporting information, as well as the manuscript itself, then this is not the app for you.
Likewise, if you're a new writer who wants a program that integrates guidance, templates and novel writing advice, then this is not a good option.
Click here to download FocusWriter.
Bibisco is a desktop based app with a clean, uncluttered layout and a good range of features.
It's main strengths are the simplicity of its interface and the fact it has sections for all the major aspects of novel writing.
It's nicely laid out, with the option to add images to things such as characters and locations. It has graphs to visualise things such as chapter lengths and character and object distribution. Another great feature is the character relationships tool.
It includes quite a few character development prompts, though how you fill them in is a little confusing at first, and it's not possible to easily see all the information at a glance, you have to keep clicking to drill down, and then clicking to go back up to the top level again.
Another nice touch is the popup help boxes that appear as you move through the app, giving you extra hints and tips without making you grind to a halt to complete a lengthy tutorial.
The biggest weaknesses of the software are the fact that it has no free trial, and the lack of clear flow of overarching structure to the software.
This is one of the only programs that doesn't offer a free trial. The price is very low (only $18, though you can pay more if you feel inclined to), so you could just take a punt on it, but it seems a big ask to require people to fork out before they've ever had a chance to take it for a test drive and see if it suits them.
The other issue is that it's not always clear the best way to use the software. For many this is fine, as they'll use it how they please – but if you're looking for something that will guide you through the novel writing process, you'll be disappointed.
Is Bibisco the best novel writing software for me?
If you're looking for a low-cost desktop app to keep track of key information relating to your novel, then Bibisco is a great choice. It has a nice clean interface, contains all the key sections you could require with a few nice extras, and is very modestly priced.
However, if you're a discovery writer who just wants to get writing, it's unlikely to suit you, as the emphasis is on supporting data, rather than the manuscript. It actually takes a while to find the word processor.
And if you're a planner looking for a way to shuffle around plot points and get a bird's eye view of your structure, Bibisco doesn't provide that.
It also isn't designed for new writers who are looking for guidance on how to actually write their novel, as it doesn't contain that sort of information.
Click here to find out more about Bibisco.
Wavemaker is a smart novel writing app which contains a range of useful features for novelists.
Like yWriter, it is a labour of love by a single developer who wanted to create software for his own writing, and like yWriter it is also available for free, with a gentle encouragement for you to donate money so he can spend more time on it.
It's a progressive web app, which means it runs in a browser, but continues to work if you go offline, syncing as soon as it gets a connection back.
Our favourite Wavemaker strengths are its range of elegant planning features and its beautiful interface.
Wavemaker contains several different ways to plan your novel and gather your notes, each slightly different to take into account different ways of processing information, but allowing you to drag and drop items, and link ideas and notes in different ways.
It includes tagging, which can be very useful for cross-referencing and sorting, and it has a sidebar so you can view some of your notes while writing your manuscript.
It is very clean and pleasing to look at, and using the tools is very intuitive.
The main weakness of Wavemaker is that while it is a great selection of tools, they don't integrate in any coherent way. You can't enter info in one and then view it in one of the other sections to get a different perspective. There's no flow, where you start in one section, then when that's complete, move to the next. Then again, the freeform way will work better for many people.
Also, the tools mostly stop at the top level functionality, so they do what they say, but there's not a lot more below the surface.
It doesn't have any novel writing teaching resources, so people who are looking to write their first novel will need to find that information somewhere else, and there's little in the way of prompts, to show you how to develop characters or settings, or structure a plot.
Is Wavemaker the best free novel writing software for me?
Wavemaker is great if you want a flexible, intuitive and aesthetically pleasing toolbox for working out the plot of your novel.
It will also be good for discovery writers who want a clean interface which works online and offline.
It's less useful for new writers who are looking for writing craft guidance, or for those who like to see how all their data links together across the different sections.
Click here to check out Wavemaker.
Novlr is a web-based novel writing app with a beautiful interface, a bunch of great features and plenty of resources to help teach you how to write a novel.
One of the biggest strengths of Novlr is how attractive and pleasing it is to look at, with its slick layout. For some people, this may be considered unimportant compared to the features available, but for many of us a clear, uncluttered interface helps our thoughts flow more clearly.
It also offers spelling and grammar suggestions, in the same way Word does, which not many novel writing apps do.
It autosaves and creates a version history, which gives great peace of mind.
It includes word count info and even motivational messages when you achieve your goals.
One of its weaknesses is the price – it is among the higher priced apps at $100 per year.
Another potential weakness (though could be a strength, depending on your point of view), is that it doesn't have any features relating to characters, plotting or locations. The focus of Novlr is solely on the manuscript, so any related research or development you want to do has to be done elsewhere.
Is Novlr the right story writing software for me?
Novlr is perfect for discovery writers (also known as pantsers), with its beautiful, clean interface, proofreading tools and version history.
It's also good for new writers as, like the Novel Factory, it has an integrated course to help you write your novel.
It's not so useful for writers who are looking for a more all round software, which will give them somewhere to keep track of their cast of characters, offer plotting tools and world building resources.
Click here to find out more about Novlr and get a free trial.
In summary – what is the best novel writing software for you? Our top three recommendations, for planners, pantsers, and those on a budget.
As we've seen, if you're looking for novel writing software, you're spoiled for choice. You can find software that will take care of all your supporting novel data, such as characters and locations, or you can find absolute minimalist apps to help you avoid distractions.
There is software that teaches you how to write a novel, and there's software that gives you imaginative ways to view your data, such as index cards, mind maps and relationship charts.
Some of the software is perfect for discovery writers, while others are a dream come true for planners. You may also want to consider using Papertyper, a free AI essay writer tool that can help you organize your thoughts and ideas. This is also worth your attention.
Some are aesthetically pleasing and calming to look at and use, while others prioritise highly customisable detail.
The right software for you will depend on your personal preferences and priorities, but here's a summary of our top three favourites, for the most diverse requirements:
Here are our top recommendations:
Best all round novel writing software: The Novel Factory
Best minimalist writing software: FocusWriter
Best free novel writing software: Wavemaker
Whatever your needs, we hope you find the tool that's a perfect partner for your novel writing future!
Unlock your writing potential
If you liked this article by the Novel Factory, then why not try the Novel Factory app for writers?
It includes:
Plot Templates
Character Questionnaires
Writing Guides
Drag & Drop Plotting Tools
World Building resources
Much, much more
10 of The Best Apps For Writing a Book in 2023
This post may contains affiliate links. If you click and buy we may make a commission, at no additional charge to you. Please see our disclosure policy for more details.
Do you have a great idea for writing a novel but need help knowing where to start? I am here for you!
Gathering the courage to write a book on your own seems daunting and scary, right? I know this feeling. I was there once.
The first thing to do is to find a book-writing platform with all the benefits so you can put your thoughts into words chapter by chapter.
I have explored many writing apps, and a few have stuck with me, which are good with all the essential features available. In this article, I will mention the 10 best apps for writing a book and also discuss free book-writing apps for beginners.
Have a look at the new generation of book-writing apps.
Table of Contents
How Can an App Help Me Write a Book?
There are a seemingly endless array of apps for writing a book, and they each help you solve a different writing-related problem.
Many book writing apps are designed with the physical writing process in mind. While many writers are perfectly happy sticking with Microsoft Word, Google Docs, or other standard word processors, these apps offer a more substantial alternative.
They provide tools specifically geared towards writing a book. For example, drag and drop chapter and scene options and character profile tabs.
Some even offer features that allow you to compare your current manuscript sections to previous versions of your work.
Then there's a whole host of editing apps that go much further than your standard spell checker.
They help you with every aspect of the editing process, from checking sentence structure and grammar to improving your writing tone and flow and checking for plagiarism.
Goal Setting and Focus
Some apps which are geared towards writers also focus on time management and goal setting. When you're in the process of writing a book, it's so easy to get derailed and let your writing practice slip.
These apps are designed specifically to help you stay on track and keep you focused, so you can reach your goals of writing a book.
In this blog post, we'll be reviewing the best apps for writing a book in 2023. So if you're a writer who needs a little extra help (who doesn't?), then read on; these apps can help take your writing to the next level.
Best Apps for Writing a Book
Let's look at the best apps you can choose to write a book. Whether you are a beginner or a pro author, these apps will provide a better writing experience.
1. Scrivener
Scrivener is one of the biggest writing apps out there right now. It works for all kinds of writing, from something as small as an email, to a full on screenplay or novel. But it's these long form types of writing where this app really excels.
When you log into Scrivener, you'll first choose a template that suits your project (for example, a fiction or non-fiction book). You can either begin writing directly into the interface or import your text from elsewhere.
The sidebar on the left of the screen has tabs for a variety of elements that help you organize your writing. The best part is, you can personalize these tabs to show exactly what you need, and omit everything that you don't.
There's an endless array of helpful tools to choose from. There're tabs for individual scenes within chapters of your book, as well as character tabs to help with individual character building throughout the story. There's also a handy research tracking tool to keep your research focused and applicable.
If you struggle with organization and you value attention to detail, then Scrivener could be a massive help to you when you're writing a book.
Work on: Mac, iOS, and Windows.
Cost: Free for the first 30 days, after which there's a one time license fee of $40.84
Perfect for long-form book writing
Personalize the interface for your specific needs
One-time fee rather than a monthly subscription
Takes a while to learn how to use
If you work between 2 different operating systems, (eg. Work laptop and home laptops), it can be hard to transfer work between them.
For writers who use a Windows operating system, yWriter is a fantastic app that works in many of the same ways as Scrivener.
When you're writing a book, the sheer amount of words to write ahead of you can feel pretty overwhelming. yWriter helps you to break down your writing into scenes or sections, making the whole process feel more manageable.
You can set targets and goals for yourself, such as a daily word count, and also track your character development and narrative arc using the storyboard tool.
yWriter has a huge selection of useful features and it's reassuringly easy to use, even for new writers and people who aren't particularly tech savvy.
Unlike Scrivener, there's no option for story templates, but aside from that, this free app really holds it's own, and is a great way to stay on track with your writing.
Works on : Windows
Cost: Free
Beaks down writing into manageable sections
Great for goal setting
Free of charge
No story template options
Currently only available on Windows operating systems.
3. iA Writer
iA Writer is another app geared explicitly towards book and other long form writers. It's great for people who hate clutter and don't want to spend a long time learning how a new app works before they get started using it.
The user interface is refreshingly sleek and simple, but it still offers plenty of tools to help you organize your writing.
There's a syntax highlighting system that can pick out various parts of speech such as adjectives or nouns, etc. This is great for the editing process.
You can also break down your book into manageable chapters and separate them into smaller sections, which helps to keep the writing process from feeling overwhelming.
There's also a handy dark mode to preserve your battery life and give your eyes a break after a long day staring at a screen.
Works on: Mac, iOS, and Windows
Cost: Free for Android users. $8.99 for iPad and iPhone, $19.99 for Windows and $29.99 for Mac
Simple and easy to use
Sleek, clutter-free design
Dark mode for tired eyes and battery preservation
No automatic storage
More expensive for Mac users
Ulysses is another top dog in the writing app world. It's comparable to Scrivener, but with some important key differences.
While Scrivener requires a little extra time to learn how the interface works, Ulysses is much simpler to use. Many features offer short tutorials so it's easy to get to grips with the various writing tools.
Another key difference in Ulysess is the use of "Markdown" formatting. For those uninitiated, this is a simple plain text language that makes writing and editing online much easier. It's quick to pick up, and once you're familiar with it, it will save you time in the long run.
This app also has all the standard writing app features you'd expect, including organization tools like keyword labels, daily and weekly progress trackers and daily word counters and stats.
Works on : iOS and Mac
Cost: Free trial, followed by either $5.99 per month or $49.99 per year
Quick and straightforward to get started
Markdown formatting simplifies the user experience
Currently not available on Windows or Android operating systems.
5. Reedsy Book Editor
Reedsy Book Editor is one of the easiest to use writing apps available right now. The interface is incredibly sleek, and there's no messy clutter to contend with; just a super simple, minimalist design that lets you focus on one thing; writing.
This book editor has great potential, especially when it comes to formatting your work. You can insert images within the body of text, drag and drop chapters and scenes, and create a professional and polished front and back matter.
It's also particularly useful if you're writing an ebook . You can format and export your work into an instantly uploadable file that is ready to submit to a publisher or print on-demand service. In fact, this is the perfect tool for anyone planning to self-publish their work.
Another stand out feature is the ability to compare your current draft to previous versions, so you can examine the contrasting versions in real time.
Works on: Web-only
Sleek, clutter-free interface
Great for formatting to publisher ready levels
Web-only program means you'll need an active internet connection to use Reedsy.
6. Grammarly
Even if you're new to the world of writing apps, you've probably heard of Grammarly. This supremely popular grammar tool is used by writers everywhere. From something as short and simple as an email, to full-length novels and screenplays, Grammarly is a powerful editing tool.
Grammarly has a surprising amount of features for a free app, but it's the spell checker and grammar editor that writers tend to use the most.
Spelling errors, incorrect grammar and sentence structure are highlighted on the screen, with helpful suggestions for replacing words and phrases. The corrector also explains exactly why the highlighted text is incorrect, so you can pick up some extra grammar knowledge along the way.
Grammarly Premium lets you set specific goals for your writing when using the paid version of the app. Tell Grammarly your audience, desired tone and level of formality and it will analyze your text based on these markers. It also assesses how clear and easy to understand your text is, and scores your delivery and reader engagement levels.
While Grammarly doesn't provide all of the additional book writing features found in some of the other apps on our list, it's a great additional tool for editing your work. It's also super handy to keep installed on your device for writing emails and other short-form documents.
Works on: Web and most major browser extensions
Cost: Basic Grammarly is Free. Grammarly Premium costs $29.95 per month, $59.95 per quarter, or $139.95 per year. Watch out for regular subscription discount offers.
Simple to use
Improves spelling and grammar
Scores your text on various markers
Web-only program means you'll need a solid internet connection to use Grammarly
No additional book writing tools
7. NaturalReader
Before you send your book to an editor, you're going to want to do some thorough editing yourself.
One great way to approach the final editing process is to read the text out loud. While this is a great way to check your text's sentence structure, flow, and readability, you can often miss key issues.
That's where NaturalReader comes in. This editing app acts as a text-to-speech reader that reads your book right back to you.
You can choose from a variety of voices and adjust the reading speed as you wish. As the human-like voice reads your work back to you, the text is highlighted along the bottom of the screen so you can follow along and pinpoint any mistakes.
While running a whole full-length novel through NaturalReader might be too long a task, it can be a great way of checking shorter sections or running your daily writing through to check for issues with sentence structure and flow.
Works on : Mac, Windows and Web
Cost: Basic version is free. One time payment premium packages vary from $99.50 to $199.50
Reads your own text back to you
Gives your eyes a break from looking at the screen
Free package available
Premium version is more expensive than many other apps on our list
Atticus is a software that allows writers to write and format a book at a lesser price than other platforms but with almost the same features.
It is a word processor and book formatting software where users can write, edit, and export their books very easily. On the dashboard, there is an option to create a new book or upload an existing one.
It is an alternative to Scrivener, where you create and reorder chapters, add images, front and back matter, and more.
Atticus has features such as cross-platform use, pre-built theme templates, create your own templates, device and print previewer, etc. It has a lot more user-friendly tools and export options such as EPUB format, PDF file, and DOCX file.
Work On : Mac, Windows, Linux, Chromebooks, Internet Browser, iOS device, Android
Cost: It costs $147 for a lifetime purchase. With this price, users can avail unlimited books and ebooks.
Available on all conceivable platforms
Affordable than other leading platforms with major features
Dynamic theme builder and easy to use
There's no free trial option. Only 30-day money-back guarantee
Not all features are available as of now
Dabble is a simple and powerful writing tool to produce quality books. It is a place where you plan, plot, and write with the story's notes in hand for a seamless writing experience.
It helps you with plotting and editing after you have written your first draft. It also has an organized feature that rearranges your work.
It has wide availability, which means it can be used on any system, automatically updates a plot section for reference, and also has a goal-setting feature that allows you to stay on track and complete your daily word count limit.
It has a 14-day free trial and does not require initial credit card details with a minimum payment amount. You can just sign up and start.
Work On : Windows, MAC, Android, iOS, or on any browser Cost : It has 3 different subscription tiers:
Basic: $10/month or $96/annually
Standard: $15/month or $144/annually
Premium: $20/month or $192/annually
Simple Interface
Good Plot Grid
Focus Mode
No Import Options
No Book Formatting Options
A Bit Pricey
10. Squibler
Squibler is specifically designed to help people write whatever they want by using its features. It is a digital writing platform that is for fiction writers, nonfiction writers, content writers, screenwriters, journal writers, and more.
It is a centralized platform that allows drafting, organizing, managing, editing, and collaboration for your writing projects. It has built-in writing templates and export options such as TXT, DOCX, PDF, and Kindle.
One of the unique features of the platform is that it comes with an AI writing assistant called Smart Writer that can help you write a scene, a dialogue, etc. if you get stuck in between with just a few prompts.
The free version offers almost all the major features that authors need to write a good-quality book, but it limits the usage of word count and projects.
Cost : The Pro plan charges $16 (billed annually).
Pros :
Smart Writer
Robust Free Version
It can be used by any type of writers
Limited Formatting
Not Fast Enough
Pricey
Free Book Writing App For Beginners
For authors who are just starting out, exploring free book-writing apps is a better option. Through this, they can understand the concept better without paying fees.
There are good free writing tools available that are easy to use. I have listed a few, have a look!
Google Docs
Google Docs is a great book-writing software that is free to use. It does not have many features but is more than enough to produce a book.
It is easy to use, and beginners can explore it easily without any hassle. It is great for writing and editing and has handy tools for designing manuscripts. Google Docs is best for the writing process; you need to use other software for further steps.
Microsoft Word
Microsoft Word is another good writing tool for beginners. It is not dedicated to only book writing; there are templates available for writing novels.
It is available for free and also has a subscription option. Beginners can use the free version to write books, and if you want, you can purchase it as well, but it is not cheap.
It is great for writing and editing your work and also has other features that will help enhance the write-ups.
Novlr is a free writing app with essential writing and editing features. It helps you stay organized, take notes, set daily and monthly goals, etc.
It also has a subscription plan, but the free version is also good, with all the basic features available to start writing your book.
It has a distraction-free mode and allows you to export written resources, a simple yet better software for beginners.
Manuskript is another free book-writing tool that has features for beginners to use. It has word count, outliners, and a novel assistant to get you started.
It does not have any major extraordinary features, but the basic ones can be good for writers who are just starting their journey.
While the authors of yesteryear had to go it alone, in 2023, there's a whole new world of apps that can help you when you're writing a book.
From basic spelling and grammar checkers to intricate book writing assistants that keep you focused, organized and motivated; there's a book writing app to help make the process much easier.
Don't let writer's block and procrastination stand in your way. Try out these apps for writing a book today and see how your writing and focus improves.
Leave a Comment Cancel reply
CAREER GUIDES
Writing tools, screenwriting software, novel writing software, book writing software, writing training, medical writing certification courses, grant writing classes, technical writing certifications, grant writing certification programs, hr training, human resources (hr) certifications online, how to get hr certification, entry-level hr certifications, hr management certifications, hr analyst certifications, hr generalist certifications, hr business partner certifications, people analytics certification course, human resources (hr) degrees, human resources (hr) training courses, dei training, diversity and inclusion certifications, diversity and inclusion training programs, best sensitivity training programs, best discrimination training programs, knowledge management certifications, product training, product management certifications, product owner certifications, product management training courses, scrum master certifications, go-to-market (gtm) strategy examples, the customer onboarding process, saas marketing strategy examples, the customer acquisition cost, saas metrics for saas business growth, customer lifecycle marketing strategies, product strategy, types of customer satisfaction metrics, value based pricing examples.
Home » 9 Best Novel Writing Software in 2023: Reviews and Pricing
9 Best Novel Writing Software in 2023: Reviews and Pricing
TABLE OF CONTENTS
If you have ever written a novel, you'll know it isn't a straightforward task. It isn't just about writing, rather you have to deal with a lot of related and even unrelated things. You need to organize your ideas and thoughts in the form of notes and outlines, you'll need a stable internet connection, and you need a comfortable and cozy working environment.
One important part of the novel writing process is novel writing software. A decent, reliable novel writing software will help you with a lot of things including smooth novel outline, note-taking, collaboration, distraction-free writing, novel section management, storage and backup, formatting, and more.
Gone are the days when the typewriter was the only tool that an author needed. Times have changed, and you need to change and upgrade yourself too.
Check out the following list of the best novel writing software in 2023 with reviews and pricing details and pick the one that's right for you.
1. Squibler
Squibler is the world's best writing platform that simplifies the writing process for novel writers. It is an easy-to-use writing app that comes with a simple yet effective text editor and word processor. It doesn't just help you in writing, but it has ready-to-use templates and plot generator with over 500 story ideas for novel writers.
Squibler Features
Squibler offers some of the best features and tools for novel writers:
An easy-to-use and intuitive dashboard, text editor, and interface
A drag-and-drop user interface for arranging and organizing chapters, sections, and notes
First line generator tool for novel writers with more than 500 first line suggestions and ideas
Story prompt generator and plot generator for novel writers of all genres
A note-taking feature that helps you organize and manage your ideas
More than 30 plot outlines for writers
Distraction-free writing mode to write your novel with complete focus and attention
An on-screen sidebar gives you quick access to all the essential elements and different novel sections
Arrange different sections of your novel by dragging and dropping on the board
Built-in grammar checking and editing tool to improve your novel and its readability in real-time
Auto-save feature with version control that lets you access older versions of your novel
Import feature that lets you import your novel from other another app
Integrates and sync with Google Drive and Dropbox allowing you to save your work on the cloud
Get your novel in publish-ready format for Kindle
It works online and on Mac, Windows, iPad, and other devices. Your work is synced in real-time across all devices where you use Squibler.
Squibler Pricing
Squibler only costs $9.99 per month. You can try it for 14 days and check all the amazing features. Click here to start your free 14 days trial now.
Key Takeaways
Squibler is a cost-effective all-in-one novel writing software that comes loaded with all the features that you want to see in a top book writing software. 
2. AutoCrit
AutoCrit is an editing tool for novel writers that help you improve readability without getting help from a professional editor or proofreader. It compares your manuscript with the best-seller novels and books in your genre and gives you recommendations on how to improve dialogue, word selection, repetition, etc.
AutoCrit Features
The main features include:
Easy-to-use word processor
Up to 30 editing reports to improve your novel
Built-in editing and grammar checking tool
Specific guidance related to your genre
Progress tracker and goal setting
Online storage space
Readability analysis
AutoCrit Pricing
AutoCrit has a free forever plan that gives you access to limited features. The premium plan is priced at $30 per month (or $297/year).
AutoCrit helps you write better and improve readability. It isn't a feature-rich novel writing tool and it only covers one area (editing and readability).
3. Scrivener
Scrivener is a decent novel writing software that simplifies writing and organizing your novel, its chapters, and your ideas. It works on both mobile and desktop making it easier for you to access your manuscript from multiple devices.
Scrivener Features
Here is an overview of the core Scrivener features:
A word processor designed specifically for writers
Distraction-free writing mode
Corkboard for managing your ideas and novel elements
Outliner tool and templates to choose from
Set up writing goals and monitor progress
Autosave feature
Scrivener Pricing
Scrivener for desktop is priced at $49 (either Mac or Windows) and the iOS app is priced at $19.99. There isn't any online version available.
Scrivener is a nice novel writing software, but it doesn't work on Android devices and doesn't have any online version. You'll have to keep your device with you all the time.
Ulysses is a writing app for Mac, iPad, and iPhone for novel writers. If you are a proud Apple user and need a novel writing app that works on all Apple devices, Ulysses is the writing software for you. It has a lot of handy features that help you write better novels.
Ulysses Features
Here is what this novel writing software offers you with:
Clean and simple user-interface
Set and track writing goals
Autosave and backup feature
Supports multiple file formats
Sync your data in real-time
Create and manage your library with a single tap or click
Organize your novel with a group feature
Integrates with Dropbox and iCloud.
Ulysses Pricing
Ulysses is priced at $5.99 per month or $49.99 per year. It offers a free trial letting you explore it before you decide to pay.
Ulysses is a novel writing software for Apple devices with no online version. The features are good but lack some of the much-needed ones like corkboard and collaboration.
5. ProWritingAid
ProWritingAid is a grammar, style, and readability checking software that helps you edit the content of your novel and make it reader-friendly. It improves your writing to a great extent with its amazing and helpful features.
ProWritingAid Features
Here is what ProWritingAid offers you:
Simple user-interface with powerful features
Over 20 detailed writing reports for improvement
Auto-suggestion feature that highlights grammar and style issues as you write
Find and fix style issues automatically with a single click
Use the most appropriate words by selecting the best synonym from the list
It integrates with several leading tools and apps e.g. Microsoft Word, Medium, Gmail, and others
It has a browser extension, Microsoft Word add-on, desktop app, and an online version.
ProWritingAid Pricing
ProWritingAid has flexible pricing. You can pay monthly ($20 per month) or a one-time payment of $224.25. You get 25% off if you switch to yearly payment ($59.25 per year).
ProWritingAid is a handy cross-device novel writing tool that lets you write better and quickly hassle-free. You can improve your writing style, grammar, and readability with ProWritingAid. However, the interface is a bit slow and there is no library of documents either.
6. Grammarly
Grammarly works like ProWritingAid by improving your writing. It fixes grammatical, style, tone, pronunciation, and readability errors in your manuscript. Grammarly has a writing assistant that automatically finds errors as you type and suggests how to fix them.
Grammarly Features
The leading Grammarly features include:
AI-powered writing tool
It detects a lot of grammatical and non-grammatical writing errors
Write directly in Grammarly interface or copy text from the word processor
Simple and easy-to-use interface
It has a tone detector that helps you set the right tone for your novel
It checks your manuscript for clarity, engagement, correctness, and delivery
Built-in plagiarism detector
A library of your documents to help you manage your novel chapters and sections
Integrates with leading tools like Google Docs, Microsoft Word, Facebook, Slack, Outlook, Gmail, and more
It has browser extensions, web version, desktop software, and mobile apps for both iOS and Android.
Grammarly Pricing
Grammarly has a free for life plan with basic features. As a novel writer, you'll have to switch to the premium plan that costs $11.66 per month and has all the necessary features you need.
Grammarly is a powerful novel editing and writing software that offers you a lot of features that help you improve your writing. Its tone detector is a very helpful feature. 
yWriter is a word processor designed and developed by Simon Haynes who is a full-time novelist. He developed this novel writing software to help the novelist break their novel into sections and chapters, and to make it easier for them to organize and manage their novel. 
yWriter Features
Here is what yWriter has to offer you with:
A simple user-interface that doesn't need any training
Organize your novel and work on multiple novels simultaneously
Add scenes, chapters, items, characters, etc. in your novel and organize them easily
Progress tracker with the word count for each file in your project
Storyboard view of your work
Drag-and-drop chapters, scenes, and characters for arrangement and re-ordering
Autosave and automatic backup
Autonumbering of the chapters
It has desktop software for Mac, Windows, and Linux and mobile app for iOS and Android
Automatic software updates.
yWriter Pricing
yWriter is free to use. However, registering your account donates $11.95 or $24.95 to the developer. It isn't compulsory though.
yWriter offers you multiple features to organize and manage your novel, sections, scenes, and chapters. The features are, however, basic and don't offer something out of the box. 
8. Hemingway Editor
Hemingway Editor is editing software that anyone can use. It is a desktop software for both Windows and Mac and it also has a free online version. You can use it to improve the readability of your novel.
Hemingway Editor Features
Here is an overview of what Hemingway Editor offers you:
Extremely easy-to-use text editor
Highlights errors in different colors for easy identification
It identifies adverbs issues in the text and suggests how to fix them
Highlights passive voice
Highlights sentences that are hard to read and very hard to read
It also suggests simple synonyms to complex words to improve readability
Gives a readability score to your novel
You can format the text easily with its editor
Hemingway Editor Pricing
The online app is free to use. However, the desktop software is priced at $19.99. It is available for Windows and Mac and you have to buy separate licenses.
Hemingway Editor is a nice novel writing software that will fix most of the major readability-related issues. However, you won't be able to write your novel in its editor. You'll have to copy-paste chunks of text in the editor, fix them, and then move them back to your original word processor (e.g. Google Docs or Microsoft Word).
9. Evernote
Evernote is an all-purpose note-taking app. It isn't a tool specifically for novel writers but since it is such a useful tool, you can use it as your novel writing software. If you work in a team or working with multiple authors on one or more novels, Evernote will turn out to be the best app.
Evernote Features
The leading Evernote features are:
An easy-to-use tool for notetaking
Take notes and share them with anyone you like
Organize websites, URLs, articles, files, PDFs, etc. in your Evernote account
Support for voice search
Create a to-do list to keep track of daily writing tasks
Organize and manage your notes easily
Comes with ready-to-use templates
It has a web version, desktop app, mobile app, and browser extension
Integrates with leading tools and apps e.g. Gmail, Outlook, Slack, Google Drive, and more.
Evernote Pricing
It has a free plan that comes with the basic note-taking feature. You can switch to the premium plan ($7.99 per month) to unlock more features.
Evernote is a handy note-taking app that will help you keep your ideas organized. You can manage and organize different sections of your novel with Evernote too.
Choose the Best Novel Writing Software
Tools and software are essential for novel writing. They simplify the writing process, automate repetitive tasks, improve readability, help in editing, and boost your productivity. The software discussed above might have overlapping features, but they help you achieve different things.
Dealing with multiple software turns out to be a separate problem so you have to carefully handpick the one that's the best and meets your requirements. I'd recommend Squibler as it is an all-in-one novel writing software that's specifically developed for writers. It doesn't just focus on one aspect of the writing process (notetaking, outlining, editing, etc.) rather it covers everything. It is an end-to-end novel writing solution. Give it a try and see how it works for you.
Frequently Asked Questions
Here's a list of some of the most common questions about novel writing software:
What is the best software for writing a novel?
The best novel writing software does a lot of the heavy lifting for you including helping you outline, write and publish your novel. If you're looking for something that helps you write and create a book then I suggest a tool like Squibler or Scrivener.
What is novel writing software?
Novel writing software helps writers to organize their novel and to write a novel. They can provide you with tools to help you outline, structure your novel, create an index for research purposes or add subtitles and chapters.
Do you need novel writing software?
You need novel writing software when you have a novel to write and you need help with outlining, structuring or adding subtitles. There are many different types of software available so it's best that you read the reviews for each product before making your decision.
What is the difference between novel writing software?
The number one difference between novel writing software products is their interface: what they look like when you first log in and how they behave after that. Some people prefer Scrivener and some people prefer Squibler because there are slight differences in features such as formatting text, cross-referencing research sources etc. In any case, I suggest reading through all the options carefully before deciding on which type of tool will work best for your particular needs.
Related Posts
Published in Writing Software
Join 5000+ Technical Writers
Get our #1 industry rated weekly technical writing reads newsletter.
Features for Creative Writers
Features for Work
Features for Higher Education
Features for Teachers
Features for Non-Native Speakers
Learn Blog Grammar Guide Community Academy FAQ
Grammar Guide
Best Book Writing Software 2023: Top Tools for Writing a Novel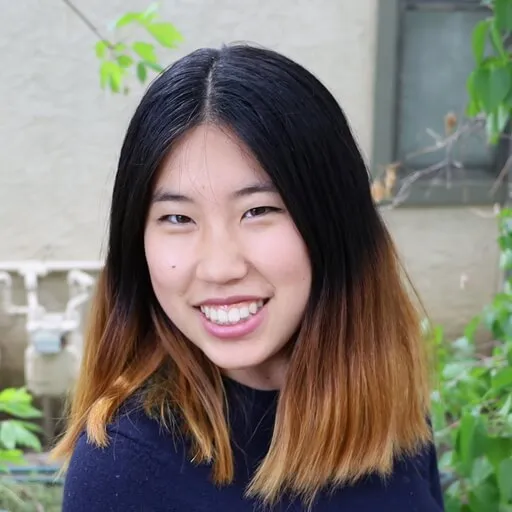 Hannah Yang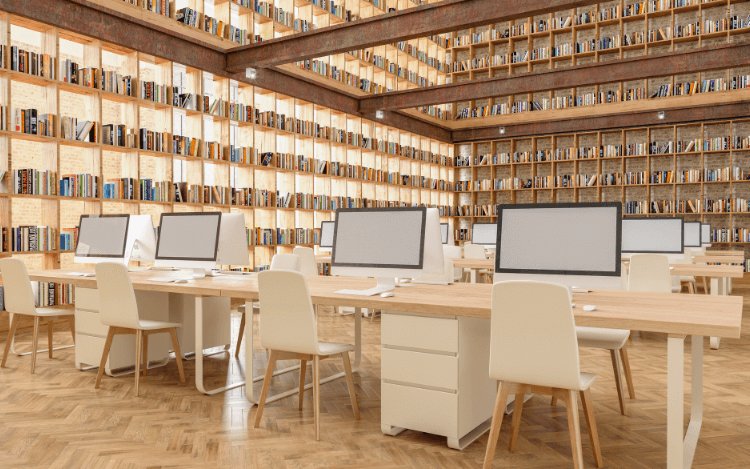 Table of Contents
10 top features to look for in book writing software, best book writing software for writers.
I've been on an epic quest for the last few years to find the perfect book writing software. 
By now, I've tried well over a dozen different novel writing apps . My writing friends laugh and urge me to commit. But I want the best book writing software possible.
One person's perfect writing app might be another person's technology nightmare, so I've rounded up several options for you to choose from. I've also outlined the features I look for when choosing a great book writing app.
What makes a book writing software great? It needs to check several boxes. Here are the ten criteria I consider when choosing a novel app.
1. Online and Offline Capabilities
Sometimes, you need to write on a browser. Other times, you may want to write in a cabin in the woods. A great writing app will allow you to do both.
An app that only has an offline desktop version for one or two devices won't help you if you're writing at a library or borrowing a computer. On the other hand, apps that only work with an internet connection will leave you frustrated when the network is down or you're writing on a cruise ship with a drink in your hand.
So, look for a book writing program that has online and offline capabilities.
You can also look for apps that have mobile versions. This way, you can add a scene on the go with your phone or tablet, and it will sync the next time you're on your computer.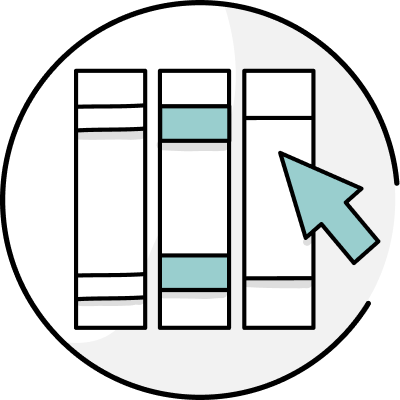 Be confident about grammar
Check every email, essay, or story for grammar mistakes. Fix them before you press send.
2. Easy Organization
What makes a book writing software different from a word processor like Microsoft Word or Google Docs?
You need the ability to quickly organize your scenes and chapters so you can navigate through your manuscript and easily format for a query or for publishing. You can also write nonlinearly if you prefer to skip scenes while you draft.
Sometimes, you may need to add a chapter or scene between two existing chapters, or you might need to move a scene to a different chapter altogether. Great book writing applications will have a drag-and-drop feature for rearranging your scenes.
3. Multiple Functions
The more your writing app can do, the better value it is. The writing process has several steps: notes and research, plotting, writing, editing, and formatting. Look for an app that can help you with multiple steps of the writing process.
The closer you can get to a one-stop program, the better. It will save you time, headaches, and money. 
4. Affordable
Writing isn't a particularly lucrative career. Finding a book writing software that won't break the bank is essential—at least until you strike it big on the bestseller list. 
Pick a book software that's well within your budget. And here's a tip: if you sell books, you can also write off the cost as a business expense on your taxes.
5. Security
A few years ago, I was using a great novel writing software that no longer exists. It was a new, small startup. The servers crashed for five days, and customer support said they didn't know if they could recover all the data they lost—e.g., everyone's stories.
Thankfully, they did, but I jumped ship to find a more secure company. (And I back up my work more frequently.)
Look for an app that will protect your writing and your data. After all, these companies will have your email address, credit card info, and billing address. Companies that have SOC2 and/or GDPR compliance are among the most reliable.
6. Great Customer Support
With any luck, you won't ever have to contact customer service. But sometimes things happen, or you just need a little help understanding the product. Check out reviews to see people's feedback about the software's customer support. 
7. Customizable
Every writer has a different writing process. A great writing app will easily adapt to your needs. This might mean specific character templates, a variety of plotting tools, or different interfaces. Maybe you prefer a focus mode or a dark mode, or you want to upload your own outline template.
Keep in mind that often, the more customizable a book writing software is, the higher the learning curve. Consider how much customization you actually want and need so you don't get overwhelmed.
8. Word Count and Goal Tracking
Setting word count goals is an excellent way to keep yourself motivated. You might even participate in a word count challenge like NaNoWriMo! Or maybe you're a person who would prefer to write every day without setting a minimum word count.
Not every app allows you to set writing goals or track your progress. If you enjoy seeing how often or how much you've written, look for this feature when selecting a novel writing software.
9. Writing Resources
The best writing software isn't one that just lets you write—it also teaches you how to write. Look for a book writing software that has excellent learning resources.
Most apps offer a blog, but some aren't as robust as others. Great software may also include embedded videos, plot templates, and more. Many apps offer webinars and online conferences too.
You want the most value for your money, so be sure to explore the writing resources offered by the software before committing
10. Shareable
A great book writing software will also have methods for sharing with critique partners, beta readers, and editors. Shareability might look like easy exporting to Google Docs or just a public view link. You may prefer a collaboration feature that allows in-line comments directly in the app.
Some writers might want to publish through an app to build an audience. Some book writing software tools include a Wattpad-like platform where readers can read your novel online. This is a great option for authors who don't want to traditionally publish or monetize their novel.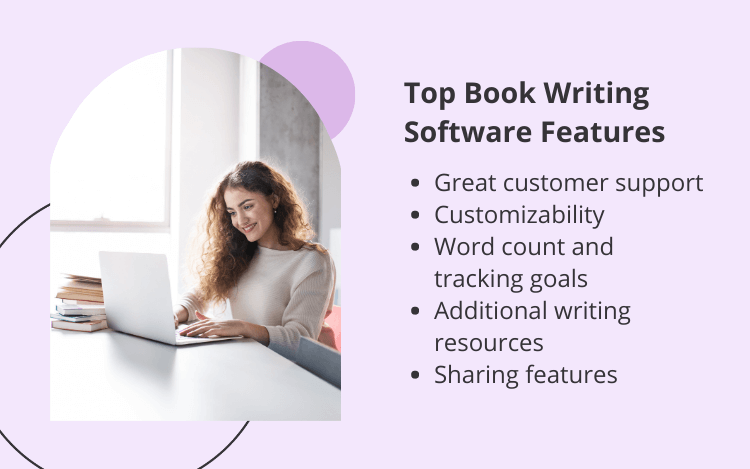 Now you know what to look for, let's check out some of the best book writing software on the market. This list includes both free writing software and paid. Some of the paid book writing software includes limited free versions as well.
1. ProWritingAid
Of course, we're pretty certain ProWritingAid is the best writing software out there. Many people think of ProWritingAid as just a grammar checker, but we're actually so much more.
ProWritingAid offers detailed in-line comments on your writing. This includes style feedback, pacing suggestions, sensory notes, and more. You can customize your writing goals based on genre. We even offer rephrasing suggestions for when you can't figure out how to make that pesky line sound better.
The premium version lets you compare your writing against the style of dozens of bestselling authors. You can get most of our other features on the free version, but you're limited to 500 words at a time.
You can absolutely write a novel in ProWritingAid. You can create multiple documents and folders on our web editor. Or you can integrate ProWritingAid with Google Docs, Microsoft Word, Scrivener, or just about any other website or app.
We also offer robust writing resources. Our blog has in-depth articles on every aspect of the writing process. We also have in-tool articles, videos, and quizzes. And we have incredible online conferences featuring popular bestselling authors.
2. Campfire
Campfire is one of the most in-depth world-building and book writing software out there. It's highly customizable, which means it comes with a learning curve. But if you want a visually pleasing, personalized writing app, it's worth the time to learn.
Campfire comprises several modules for aspects of plotting and world-building. They include things like timelines, maps, religious systems, characters, magic systems, and more. These are all easy to link together in a dynamic world bible.
Recently, they've built up their manuscript module so you can write directly in the app (and export for formatting and publishing). Their mobile app keeps getting better with each update.
One of the best aspects of Campfire is their flexible pricing. You pay for what you need: if all your characters are human, for example, you don't have to buy the species module. Then you can purchase each module monthly, yearly, or for a lifetime. This ends up saving you money.
3. One Stop for Writers
One Stop for Writers is a web app with a treasure trove of resources and tools specifically designed for novelists.
It includes templates and worksheets that can help you develop every aspect of your story. You can create realistic and well-rounded characters with the Character Builder, design fantasy worlds with the World-Building Surveys, and so much more.
There's also a Story Map you can use to develop your plot structure. You can choose one of three arcs to work with: the change arc, the static arc, or the failed arc. Then, you can see the beats you need to include in your story in order to create a satisfying plot.
Their descriptive database gives you access to countless ideas for descriptions, such as emotions, weather, themes and symbols, textures, occupations, and more.
One Stop for Writers requires a monthly or annual subscription, but if you're not ready to invest in a subscription, you can sign up for a two-week free trial first.
4. Scrivener
Scrivener is one of the most useful tools for organizing large, ambitious book projects.
Novels are long and require a lot of organization. You have to keep track of all your different characters, settings, and subplots, and that's before you even start drafting.
Scrivener is a word processing tool that's specifically designed to make writing a book as easy as possible. It organizes all of your writing in a "binder" so you can easily drag and drop scenes and chapters into new locations.
You can also toggle between multiple different views in Scrivener, which is incredibly useful when you're moving between ideation, drafting, and revising. For example, in the corkboard mode, you can see a bird's-eye view of your book as index cards on a corkboard. There's also an outline mode, where you can see your book as a written outline.
Scrivener also helps you track your progress on your novel by letting you set targets so you can make sure you're hitting your deadlines.
There's no free version of Scrivener, but you can buy a license with a small upfront fee, and after that, you can use it for a lifetime.
5. LivingWriter
LivingWriter is a word processor that makes it easy for you to organize your novel and organize it chapter by chapter, similar to Scrivener.
Where LivingWriter shines is in its unique features to help novelists. It makes it easy for you to make a glossary of characters, locations, plot points, and other elements so you can easily refer back to them. The app will even give you a list of the words you've made up for your novel so you can autofill them easily.
LivingWriter also provides several basic templates to give you a starting point if you're not sure where to begin. You can use plot structures, like the hero's journey, to start planning out your novel.
One additional benefit of LivingWriter is that it's a cloud-based app that automatically backs up your project to the cloud using Amazon Cloud Services. If you've ever had your laptop crash without saving your work, you know what a lifesaver it can be to not have to worry about backups.
The drawback to LivingWriter is that it requires an ongoing subscription, which makes it less cost-friendly than Scrivener if you plan to use it for more than a few months. You can try the two-week free trial first if you want to see how it works.
Dabble is a writing software that's sometimes referred to as "Scrivener without the learning curve."
It offers similar organizational features to Scrivener. For example, it makes it easy for you to organize your book into chapters. It also lets you use "cards" to keep track of your plot points in the Plot section.
Like many other writing software options, it also lets you set goals and timelines to keep track of your progress. It also has a focus mode that helps you write without distractions.
The downside is that its features aren't quite as powerful as Scrivener's. You also can't export books in special formats, which means you'll have to use a separate formatting tool to make sure your manuscript is ready for publication.
Dabble offers three subscription tiers that give you access to different features depending on how much you pay. You might be able to find cheaper options if you're simply looking for a great novel writing software.
7. NovelPad
NovelPad is a word processing tool that's specifically designed for novelists.
NovelPad lets you organize your book in a clear and efficient way. You can color code your scenes to help you visually keep track of which ones you're drafting, editing, or planning.
One feature NovelPad offers that I haven't seen anywhere else is the character tracking feature, which lets you easily see all the sections in your book that include a specific character. If you want to make sure all your major characters are getting equal page time, or if you want to check for consistency in a single character's actions, this feature makes that easy.
It's a subscription-based software that only works in a web browser, so this might not be the tool for you if you prefer to write offline in a desktop app.
8. Fictionary StoryTeller
Fictionary Story Editing Software is a must-have for authors looking to improve their story editing skills. The software's systematic approach to developmental editing guides you through an evaluation of your manuscript's structure, character, and plot progression so you can make it as powerful as possible for your reader. 
The Story Arc feature automatically visualises your narrative structure, allowing you to identify instances where your pacing may lose your reader. 
The Story Map feature offers a comprehensive overview of your story, highlighting common problem areas such as story flow, character developments, revelations, tension gaps, or confusing timelines. No more sticky notes or massive spreadsheets to keep track of everything. 
The Synopsis Generator helps you harness your manuscript's pivotal scenes, crafting a synopsis that encapsulates key story elements and the central conflict.
In addition to the software, the Fictionary Team of Certified StoryCoach Editors offers a comprehensive program of training and support to help writers get their manuscripts publish-ready. 
Fictionary StoryTeller is an indispensable tool for authors who want to make sure their story is tight, engaging, and unputdownable. 
Conclusion on Book Writing Software
There you have it—our picks for the best book writing software options on the market.
No two writers have the exact same process, so the writing tools that I love using might not be the same ones that work best for you. The best way to figure out your favorite book software is by experimenting on your own.
So, try some of these options out, and see if they can help you take your novel to the next level.
Good luck, and happy writing!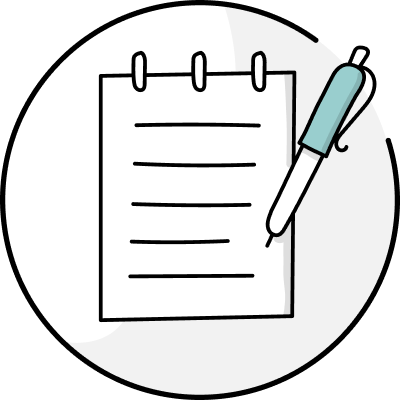 Write like a bestselling author
Love writing? ProWritingAid will help you improve the style, strength, and clarity of your stories.
Hannah is a speculative fiction writer who loves all things strange and surreal. She holds a BA from Yale University and lives in Colorado. When she's not busy writing, you can find her painting watercolors, playing her ukulele, or hiking in the Rockies. Follow her work on hannahyang.com or on Twitter at @hannahxyang.
Get started with ProWritingAid
Drop us a line or let's stay in touch via :