How To Write A Wedding Speech: The Ultimate Guide For Do's, Don'ts, and Delivery PART 1/3: Do's
Holiday Wedding Pros And Cons
How To Write A Wedding Speech: The Ultimate Guide For Do's, Don'ts, and Delivery PART 2/3: Don'ts
best man speech
bridesmaid speech
how to write a wedding speech
wedding planning
wedding speech
how to write a wedding speech dos
Someone you love is getting married, and you've just been asked to give a speech at the wedding. What an honor! But also, if you're not used to giving speeches, what a nightmare! Public speaking can be scary , which is why many people prefer to avoid it. But when your bestie asks you to make a speech at his or her wedding, it's time to rally. But now you're wondering if you even know how to write a wedding speech! What makes some wedding speeches fun and memorable, and what makes others cringy and fall flat? We've got you. We've put together the ultimate guide for how to write a wedding speech, focusing on things you definitely should do, things you definitely should NOT do, and then how to deliver your killer wedding speech like a pro.
If you're wondering how to write a wedding speech, here are a few "Do's" to keep in mind.
Start planning early
Introduce yourself and how you know the bride and groom
Thanks to hosts, guests, and wedding party; congratulate the couple
Make it personal
Think of 3 traits with 3 stories
Talk about the couple
Have a beginning, middle, and end
Consider your audience
Keep it short and sweet
It's okay to be simple and meaningful
1. Start planning early
If you don't know how to write a wedding speech but the bride just asked you to give one, this is not a time to procrastinate. Public speaking is one of the number one fears many people have, so it's likely you've avoided giving too many public speeches before this. And unless you're a performer or a veteran improv comedian, you might not do too well winging this one. If you get nervous in front of an audience (as most of us do), the best defense against freezing up when you take the mic is being prepared. 
As soon as you know you've been asked to give a speech at the wedding, begin jotting down notes immediately. Whenever you're inspired by a thought of the couple or remember an anecdote that might be worth retelling, make note of it. This will help to give you a pool of ideas to draw from when you start writing down the speech.
Begin gathering ideas and writing the speech a couple of weeks to a month before the wedding. You'll need time to edit, fine-tune it, and make it concise. And as wedding showers, bachelorette parties, and other wedding festivities begin, you might find there are entertaining stories from these events you want to add as well. If you want to write it all at once, you can do that too. However, make sure to sleep on it and come back with fresh eyes. You don't want just "okay," you want your speech to be heartfelt and meaningful.
You will also want to begin early to give yourself time to practice and rehearse your speech plenty of times.
2. Introduce yourself and how you know the bride and groom
No matter how large or small the wedding is, it's likely you will not be familiar with many of the guests on one or both sides. And they won't be familiar with you either. So don't leave them guessing! 
Make sure when you start to write a wedding speech to introduce yourself and mention how you know the couple. This will help them understand the context of your speech, which will also help it to be more well-received. 
3. Thank hosts, guests, and wedding party; congratulate the couple
It's also courteous to take this time to thank the hosts and other members of the wedding party for all the hard work that went into the event, and to thank guests for being there to support the newlyweds, especially those who had to travel far. 
It's also a good time to officially congratulate the newlyweds and offer them your personal well-wishes for their future. It is imperative that you don't forget this part, because they are the whole reason you're there and giving a speech!
4. Make it personal
Whether you are the maid of honor, the best man, father of the bride, or just a friend, you were asked to give a speech because of your close connection and relationship with either the bride or groom (or both). 
And since you know your friend as well as you do, you probably have plenty of stories to share; so the next tip for how to write a wedding speech is don't hesitate to make it personal and share those stories! This will also help guests get to know the other half of the couple they might not know as well or are just meeting for the first time. And those guests who do know them will love hearing some entertaining stories they might not have heard yet.
5. Think of 3 traits with 3 stories
If you're finding it difficult to come up with anything, a useful approach for how to write a wedding speech is to think of 3 positive defining traits or qualities of the bride or groom and recount three stories or examples that illuminate a time they exhibited these traits. These stories could be comedic, heartwarming, or both. Just make sure they are relevant and entertaining!
6. Talk about the couple
If you're the maid of honor and have been chatting up the bride for the whole speech, part of how to write a wedding speech is to make sure at some point it circles around to the groom, too, and to the two of them as a couple.  
Recount the time you met him, or how you remember talking about him with the bride in the beginning stages of their relationship. If you don't know the groom all that well, talk about how good they are as a couple and about how happy he makes her. 
And If you're not a fan of the groom, this is not the time to air your grievances. Always keep it positive. 
7. Have a beginning, middle, and end
All good speeches have a good flow and take the audience along with it. 
Don't let your speech fall flat or jumble together in a haphazard confusion of disconnected anecdotes. Give it the structure of an overarching theme, with a beginning, a middle, and an end. 
We are not talking about a novel here, just make sure there is a direction to where the speech is going, and that the destination, end, or sentiment is achieved. It doesn't need to be Charlie Chaplin in The Great Dictator, but a three-act structure does help keep you grounded. Most people also follow a story easier when there is a clear direction for a story or speech. 
8. Consider your audience
The next thing to keep in mind when considering how to write a wedding speech is to make sure you consider who your audience is. 
This is not the bachelor or bachelorette party. There will be a wide range of people present from children to the elderly, and from close friends of the bride and groom to casual acquaintances and coworkers. Make sure your speech is free of any crudeness that might not be fit for such a varied audience. Also, this isn't the time to take a shot at any of the religious cermonies.
Be considerate and keep it positive and use language everyone can relate to. 
9. Keep it short and sweet
You want your speech to be meaningful and memorable; but the wedding is not about you, and yours is not the only speech. 
No one ever complains about a speech being too short, but they do begin to grumble if it runs on too long. A good rule of thumb to keep in mind when figuring out how to write a wedding speech is to keep your speech between 2-5 minutes long. Any longer than 5 minutes and you'll lose everyone to thoughts of cake and whether or not to Cupid Shuffle later. 
10. Add humor
Don't be afraid to be funny! Another tip for how to write a wedding speech is that if you've got a lighthearted, creative, joking side, use it and add humor to your speech! Everyone likes to be entertained. 
This doesn't mean you should scour the internet for generic wedding-themed jokes, but if you've got some good original material to use that helps relate a story about the bride or groom in a comedic way, do it. As long as you're not making fun of the couple but having fun with them, jokes are great. Or you can even poke fun at yourself to illuminate a higher quality in your bestie. It's all about making the newlyweds shine. 
If you're creative and have other talents, use them! If you are musical, bust out your instrument and/or vocal cords and make the speech in the form of a song! Use props, and get the other guests involved! The newlyweds will feel special because you created something for them, and the guests will love joining in the fun.
11. It's okay to be simple and meaningful
If entertaining isn't your thing, that's okay! Don't force it – just be yourself. It's okay to be simple and meaningful with your speech. Always keep in mind when you go to write a wedding speech that what's important is that you are genuine and speak from the heart.
Hopefully, you found these tips for how to write a wedding speech helpful, and can start writing today! And stay tuned to our blog for the next part in this ultimate guide for how to write a wedding speech where we highlight a few things you should definitely avoid.
Love this content and want more? Read more about weddings on our blog ! Involved in the wedding planning process and the bride is still looking for a venue ? Give us a call today and we'll help you find the perfect place!
Jennings Trace
Related posts.
Choose the Perfect Wedding Cake Topper
Wedding Ring Insurance – Why You Need It
Non-Traditional Wedding Rings Make a Statement
Leave a reply cancel reply.
Your email address will not be published. Required fields are marked *
Save my name, email, and website in this browser for the next time I comment.
Take advantage of our special offer! $1000 off all wedding dates through June of 2024! Availability is limited and openings will fill up quickly so please contact us to secure one of our available dates. * Offer valid for new bookings only.
88 years of expert advice and inspiration, for every couple.
Engagement Rings
Wedding Bands
Celebrity Weddings & News
Wedding Planning
Destination Wedding
Invitations & Stationery
Wedding Décor
Flowers & Bouquets
Food & Drink
Wedding Cakes
Photography
Wedding Dresses
Bridesmaid Dresses
Makeup & Hair
Accessories
Groom Style
Wedding Party Attire
Wedding Guest Attire
Bridal Fashion Week
Skincare & Wellness
Engagement Party
Bridal Shower
Bachelorette Party
Rehearsal Dinner
Registry Tips
Anniversary Gifts
Wedding Favors
Friends & Family
Marriage Proposal Ideas
Married Life
Love & Dating
The Brides Team
Editorial Guidelines
Editorial Policy
Terms of Use and Policies
Privacy Policy
By clicking "Accept All Cookies", you agree to the storing of cookies on your device to enhance site navigation, analyze site usage, and assist in our marketing efforts.
Wedding Ideas & Advice
Wedding Reception Ideas
How to Write a Wedding Toast: Examples, Tips, and Advice
Make sure your moment in the spotlight is memorable—in a good way!
Jaimie Mackey was the real weddings editor at Brides from 2013 to 2015. She also worked as a luxury wedding planner and produced over 100 high-end weddings and events in Colorado
Photo by Olivia & Dan Photography
In This Article
Figuring out how to write a wedding toast can be an incredibly intimidating and nerve-inducing task. Wedding toasts can go one of two ways: They're either hilarious, memorable, and totally sweet, or a train wreck waiting to happen. Every couple hopes the speeches at the reception fall into the first category, but there's no guarantee—until now.
To combat those awful speeches, Marisa Polansky and Kristine Keller founded Speech Tank , offering completely custom, one-of-a-kind toasts for any occasion. And what better reason to turn to the experts than for your best friend's wedding? We sat down with Polansky and Keller to get the inside scoop on writing a totally killer speech . With their help, your audience will be begging for an encore!
Meet the Expert
Marisa Polansky is a book editor, author, and co-founder of Speech Tank, a collaborative speech-writing service for any occasion.
Kristine Keller is a writer and the co-founder of Speech Tank.
Wedding Toast Template
Your wedding toast should be meaningful, but not drawn out. Make sure to have a beginning, middle, and end.
While everyone's speech will be unique to them and their relationship with the couple, we put together a general outline to help you get started.
Congratulate the couple. Express how happy you are that the two of them are getting married and what it means to you to witness it.
Introduce yourself. Not everyone will know you met the bride or groom at the fourth-grade space camp, so be sure to let guests know about your relationship with the couple before you dive into your speech.
Tell a (curated) story. When you're writing your speech, "Choose anecdotes that all fit a theme and support your argument," Keller says. The theme will help tie it together, making your toast feel intentional instead of random.
Address both partners. You may not know them both well, but you shouldn't focus all of your attention on your friend and ignore their new spouse. "Even if you've only met your friend's partner once or twice before, find a way to include him or her in your toast," Polansky says. "Tell the story of their engagement or share something your friend told you about them that proves what a great partner he or she is."
Go for the crowd-pleasers. "Anything that's an inside joke may have been funny at the time, but no one else will understand what you're talking about," Keller says. "Run your stories and jokes by a neutral audience to see if they are as funny as you think." And remember, a little humor is fine, but this is a toast, not a roast!
Raise your glass for a toast. To wrap up your speech, invite everyone to raise their glass to the couple, or to love, etc., then cheers glasses together and take a sip.
Don't count on your phone, which may lock or turn off mid-speech. Instead, print out your toast or put it on note cards for reference. "It's your moment to have the floor, so don't risk forgetting your point!" Keller says.
Wedding Toast Tips
Here are Polansky and Keller's best tips for writing and delivering your wedding toast.
Just get started. It's your big moment, but figuring out where to start can be tough. "When we work with our clients, we always start with a stream of consciousness," Keller says. "We ask them to just start telling us stories. You might not think every anecdote is important, but all of a sudden you'll land on a real gem."
Start writing things down. When you're doing this at home on your own, Polansky says to just start writing stuff down. "Put it all down on paper. Don't worry about editing as you're writing, just get it out and then go back and pick and choose details when you're done." This will help you identify a theme, which is what you'll need to make your toast really memorable.
Use examples. "If you're trying to make a point about the bride or groom's personality—say, that she or he's particularly loyal—don't just say that and move on. Pick a specific moment that proves your point. Have something to back it up!" Polansky says. Including some proof will make sure your listeners really buy what you're saying about the couple.
Make it quick. "The best length for a toast is about three minutes," Polansky says. "It's enough time to say what you need to say, but short enough that you'll still have everyone's attention when you ask them to raise their glasses to toast the happy couple."
Practice. Think you know what three minutes feels like? Think again. "Practice reading your speech out loud (not in your head!) and time yourself," Polansky says. "Don't wing it, especially if you're nervous," Polansky continues. "Give yourself time to prepare. Practice with an audience to check your timing, and give yourself time to make edits."
Don't overstuff your speech. "If you're a fast talker, try to slow yourself down so everyone will understand you," Polansky says. Better to cut a few lines than to try to fit a 10-minute toast into a three-minute time frame!
Keep it clean-ish. This may seem like a no-brainer, but it's important to know your audience. "Cursing and stories about exes are totally off-limits," Keller says.
Don't embarrass the couple. "Ask yourself how each story will present the couple. If it sheds any negative light on either person, avoid it." Continues Polansky, "Think about how close you are with the family as well as who you know will be there. Will it make the bride or groom's great aunt uncomfortable?"
Every time you feel nervous, tell yourself you're excited instead.
Get Brainstorming!
Now that you know the basics, here are a few questions to ask yourself to help you get started writing that killer wedding toast.
What is your first memory of the bride/groom?
What is your favorite memory of the bride/groom?
What did they say when they first told you about their partner?
How did you know they were meant to be?
What has the bride/groom or the couple as a whole taught you?
What qualities do you admire in them?
When are times that they displayed these qualities?
Related Stories
How to Write the Perfect Best Man Speech
36 Funny Wedding Toasts and Speeches That'll Get the Whole Room Laughing
How to Write a Father of the Bride Speech
How to Write a Maid of Honor Speech
Everything to Know About Your Groom Speech: Tips, Advice, and Examples
Mother-of-the-Bride Speech Examples and Writing Tips
Public Speaking Experts Share How to Give a Killer Wedding Speech
How to Write an Unforgettable Newlywed Reception Toast
60 Wedding Toast Quotes for Every Speech
How to Write a Timeless Engagement Toast
The Simple, Uncomplicated Approach to Writing Your Wedding Vows
How to Write a Sister-of-the-Groom Speech
How to Write a Father of the Groom Speech
How to Write a Rehearsal Dinner Toast
10 Unique Alternatives to the Traditional First Dance at Your Wedding
Everything You Need to Know About Wedding Champagne Toasts
EXPLORE Coupons Tech Help Pro Random Article About Us Quizzes Request a New Article Community Dashboard This Or That Game Popular Categories Arts and Entertainment Artwork Books Movies Computers and Electronics Computers Phone Skills Technology Hacks Health Men's Health Mental Health Women's Health Relationships Dating Love Relationship Issues Hobbies and Crafts Crafts Drawing Games Education & Communication Communication Skills Personal Development Studying Personal Care and Style Fashion Hair Care Personal Hygiene Youth Personal Care School Stuff Dating All Categories Arts and Entertainment Finance and Business Home and Garden Relationship Quizzes Cars & Other Vehicles Food and Entertaining Personal Care and Style Sports and Fitness Computers and Electronics Health Pets and Animals Travel Education & Communication Hobbies and Crafts Philosophy and Religion Work World Family Life Holidays and Traditions Relationships Youth
EDIT Edit this Article
PRO Courses Guides New Tech Help Pro Expert Videos About wikiHow Pro Upgrade Sign In
Browse Articles
Learn Something New
Quizzes New
This Or That Game New
Train Your Brain
Explore More
Support wikiHow
About wikiHow
H&M Coupons
Hotwire Promo Codes
StubHub Discount Codes
Ashley Furniture Coupons
Blue Nile Promo Codes
NordVPN Coupons
Samsung Promo Codes
Chewy Promo Codes
Ulta Coupons
Vistaprint Promo Codes
Shutterfly Promo Codes
DoorDash Promo Codes
Office Depot Coupons
adidas Promo Codes
Home Depot Coupons
DSW Coupons
Bed Bath and Beyond Coupons
Lowe's Coupons
Surfshark Coupons
Nordstrom Coupons
Walmart Promo Codes
Dick's Sporting Goods Coupons
Fanatics Coupons
Edible Arrangements Coupons
eBay Coupons
Log in / Sign up
Education and Communications
Communication Skills
Public Speaking
How to Write a Wedding Speech
Last Updated: September 23, 2022 References Approved
This article was co-authored by Jenny Yi . Jenny Yi is the Founder of Chloe+Mint, an award-winning full service event planning company that specializes in wedding planning, design and floral design. Jenny has been in the industry for over 5 years, and also works closely with notable brands and celebrities on branding and events. There are 7 references cited in this article, which can be found at the bottom of the page. wikiHow marks an article as reader-approved once it receives enough positive feedback. In this case, several readers have written to tell us that this article was helpful to them, earning it our reader-approved status. This article has been viewed 590,632 times.
For most people, their wedding day will be among the most important days of their lives. As such, it is customary for a close friend or loved one to deliver a speech congratulating the newlyweds on their union. This can be a nerve-wracking prospect if you're the one called upon to give a speech in front of a big, expectant crowd. As the speechwriter, it will pay off to make sure that you're organized, keep it concise and practice extensively beforehand.
Sample Speeches
Writing a Meaningful Speech
The best man and maid of honor are usually each asked to make a short speech on behalf of the wedding party. After that, the microphone is sometimes turned over to whoever would like to say a few words.
Saying your name and briefly summarizing your history with the bride or groom will be enough. Don't talk about yourself too much. Remember, the focus of your speech is the married couple.
Use jokes judiciously to break the initial tension and keep the crowd relaxed. Try not to let your speech turn into a stand up comedy routine.
Keep your humorous stories and remarks appropriate. There will be people of all ages in your audience, including children.
Funny stories might include a funny story about the bride and groom's meeting, or an anecdote about one of them as a child.
Sharing unique memories or stories is much more effective than simply complimenting the bride or groom because it is a more personal touch.
If you decide to use a quote for this segment of the speech, make sure it is short, relevant and not a cliche.
Acknowledging the people who helped make the wedding festivities possible will make you appear humble, as well as making them feel appreciated.
Express your gratitude in a couple sentences. There's no need to go on and on thanking every person individually by name.
Making Sure You're Prepared
Treat your speech like you would a school assignment. Compose several drafts, check it for errors and have a friend proofread it to make sure it sounds good.
Familiarize yourself with the order of presentation if multiple speeches are to be given.
Don't spend the entire ceremony fretting over your speech. If you're sufficiently prepared, you won't need to give it a second thought until it's time for you to deliver it.
Know your speech word for word, but try not to sound like you're simply reciting it from memory. Pace yourself and give every passage emphasis, emotion and clarity.
Put your entire speech on a couple note cards rather than a several large sheets of paper. Not only will this look better, it will help you keep your speech at the appropriate length.
Only look at your notes if you draw a blank or forget the next part. This will allow you to keep your eyes up and engage your audience. Even the most riveting speech will be a bore if the person giving it is reading off a note card the whole time.
Giving the Speech
Take a few slow, deep breaths. Think about what you're saying and shut out all other distractions. Imagine that you're giving your speech to one person instead of a room full of people.
Have a drink or two if it helps your nerves. Just don't have too many—you want to be focused and clear-headed when it's time for you to take the floor.
It's perfectly okay to give a short speech. Simply say a few kind words, raise a toast and hand back the microphone.
Speak slowly and deliberately. It's easy to start chattering too fast when you're nervous. By talking slower than you feel like you need to, you'll probably be going at just the right speed.
People who are underprepared or extremely anxious tend to talk aimlessly. Avoid this by sticking to what you've written and look to the crowd for cues about when their attention is evaporating.
Take a moment to speak to the bride and/or groom directly.
It's normal to get a little choked up! As long as you can finish your speech, there's no need to worry. It may even be flattering, as it will show the people you're talking about how much you truly care.
It's customary for the best man or groomsmen to toast the bride, and the maid of honor to toast the groom.
Expert Q&A
Video . By using this service, some information may be shared with YouTube.
Keep quotes to a minimum, as other people's words can distract from what you're trying to say yourself. Thanks Helpful 2 Not Helpful 1
If you're stumped on how your speech should flow, approach it the way you would a story: give it a beginning, middle and end. Thanks Helpful 0 Not Helpful 1
Ask an honest, objective friend to give you feedback on your speech after you've finished writing it. Thanks Helpful 0 Not Helpful 0
Never use a premade template you find on the internet to write a wedding speech. Your speech should be a product of your own unique thoughts, feelings and experiences. Thanks Helpful 6 Not Helpful 1
Don't drink too much before delivering your speech. Thanks Helpful 5 Not Helpful 1
Leave out especially embarrassing or offensive anecdotes. These are usually considered bad form. You're supposed to be honoring the married couple, not getting a laugh at their expense. Thanks Helpful 6 Not Helpful 3
You Might Also Like
↑ http://www.dailymail.co.uk/femail/article-2110745/Lost-words-Top-tips-write-winning-wedding-speech-deliver-like-pro.html
↑ https://www.theknot.com/content/wedding-toasting-tips-for-the-maid-of-honor
↑ https://www.presentationmagazine.com/the-structure-and-etiquette-of-wedding-speeches-1041.htm
↑ http://www.artofmanliness.com/2008/07/22/how-to-write-deliver-good-best-man-speech/
↑ https://www.theknot.com/content/wedding-toasting-tips-for-the-maid-of-honor/
↑ https://finley-h.schools.nsw.gov.au/content/dam/doe/sws/schools/f/finley-h/localcontent/how_to_write_a_speech.pdf
↑ https://mediacenter.toastmasters.org/2014-07-01-10-Tips-for-the-Perfect-Wedding-Toast
About This Article
To write a wedding speech, start by introducing yourself and explaining how you know the bride and groom. Then, share some fond memories, like stories from when you were kids or how you met. Next, offer well-wishes to the bride and groom, such as wishing them health, happiness, and prosperity. Alternatively, try opening with a joke or funny anecdote, but make sure that your remarks are appropriate for everyone in attendance. Finally, briefly thank everyone for coming and for making the celebration possible. For tips on how to memorize your speech so that it doesn't sound rehearsed, read on! Did this summary help you? Yes No
Reader Success Stories
Brianna Carl
Feb 1, 2017
Did this article help you?
Sep 16, 2016
Mady Schlosser
Jun 22, 2017
Lindsay Hilman
Jun 10, 2017
Oct 28, 2016
Featured Articles
Trending Articles
Watch Articles
Terms of Use
Privacy Policy
Do Not Sell or Share My Info
Not Selling Info
wikiHow Tech Help Pro:
Level up your tech skills and stay ahead of the curve
10 Steps to Writing the Perfect Wedding Speech
Writing the perfect wedding speech is difficult so we spoke to the experts to help you get pen to paper before the big day!
We have included third party products to help you navigate and enjoy life's biggest moments. Purchases made through links on this page may earn us a commission.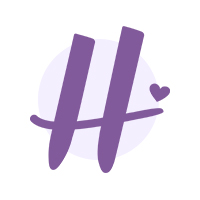 Writing your wedding speech is an important part of the wedding planning process. But, no matter whether you're giving the groom , best man , bride or father of the bride speech , it can be hard to know where to start!
If you're struggling to think of something to say or simply need to know how to structure your speech, our experts can help.
We've rounded up some of the most useful advice which should help you start your wedding speech writing journey feeling confident!
Image: Kerry Ann Duffy Photography
1. Start Planning Early
We all know the old saying 'failing to prepare is preparing to fail' and that is certainly the case when it comes to your speech. As soon as you know you're going to be giving a speech, start writing a few notes every time you think of something interesting.
Adam Cockering from Adaptable Speechwriting suggests: "Prepare your thoughts first. Split each area of the speech into sections and brainstorm each part. For example, if a father of the bride wants to describe an endearing feature of his daughter, start with the feature and think of everything you can say about it and jot it down."
2. Introduce Yourself
It can be easy to forget to introduce yourself when you're already nervous about giving a speech. Of course, if you're the bride or groom, then no introduction is necessary.
But, if you don't know every single guest, it's likely that a few people will be wondering who you are. Start off by saying hello and let everyone know your name and how you know the couple.
Then, crack on to the fun, more interesting aspects of the speech as quickly as possible without having everyone wondering, "Who is this again?"
3. Consider Your Audience
Image: S2 Images 
Chris Dance is a professional speechwriter and says it's really important to think about your audience.
"You might be the funniest person in the pub every night, but the things that make your mates roar may well send elderly relatives rushing to phone a taxi. It's highly likely you won't have met a lot of the guests before, so unless you're being best man to Roy 'Chubby' Brown and the wedding guests are all from his fan club, try to steer clear of sensitive subjects. Smut, filth and politics should be avoided wherever possible. Particularly Brexit. Don't mention Brexit."
If in doubt, always leave it out or run it by someone else to see what they think. Make sure you ask someone trust-worthy. We're thinking a sensible bridesmaid, rather than the guy from the stag do that lost his passport!
4. Include Original Jokes
Image:  Damian Burcher Photography
Whether it's a father of bride sharing a funny tale about his daughter as a child or the best man telling embarrassing stories about the groom, everyone will be waiting for the jokes! You may find the old stories hilarious but how can you make sure that you get some laughs from the wedding guests?
Chris says jokes need to be original and honest: "Try to resist the temptation to scour the internet for jokes. That's fine for a bit of inspiration, but if you lift a joke straight from Google, it'll have been used thousands of times before and heard by millions – including half your audience. They're much less likely to laugh if they heard all of your jokes at another wedding last month."
It can be tempting to share private jokes but they don't always go down well as Chris explains:
"Try to avoid in-jokes. While it may be part of your role to poke fun at a particular member of the wedding party, don't do it in a way that alienates most of the room. If the groom's parsnip phobia is really so crucial that it warrants a mention, tell everyone the story behind it; don't just casually wave a parsnip about and leave a hundred people wondering why the blokes on the table at the front are wetting themselves."
5. Consider Including Props or an Instrument
Image: Humpston and Bull
Are you a talented guitarist? Would you feel more comfortable singing your speech? Don't be afraid to mix it up and think outside the box.
For one of our favourite real weddings , the maid of honour taught herself ukulele to serenade the bride with a song all about their relationship.
The bride said: "She sang so beautifully about how our relationship has transformed and summed us up perfectly."
If you're not someone who can sing, why not include props in your speech instead? Visual aids that are funny and relevant can result in a lot of laughter! Make sure you practise your timings in advance.
6. Make it Personal
Image: Heni Fourie Photography
Whilst it's a good idea to pick up tips from the internet and take inspiration from other speeches you've heard, Adam believes you should ensure your speech is as honest as possible:
"Make it personal. Your guests have probably been to lots of weddings and may have heard your wedding jokes before. Be authentic. Practice it through after you've written it, does it come naturally to you? Would you engage with people that way outside of a wedding reception?"
7. Ask for Help
If you don't feel confident in your speechwriting abilities, then look for inspiration and help online. We have an extensive collection of example wedding speeches which will give you plenty of ideas!
To get a sense of the sort of speeches you like and the style you may like to follow, spend some time exploring many of the weird and wonderful speeches on YouTube. Why not take inspiration from some of the most popular celebrity wedding speeches?
Consider enlisting some help in the form of a professional speechwriter. They can help put together a fantastic speech and fill you with confidence for the big day! We have some fantastic speechwriters in our suppliers directory .
8. Keep It Short and Sweet
Image: Katie Ingram Photography
By writing your speech in advance, you can ensure it's funny, interesting and, most importantly, concise!
You may have a lot to say but Adam says you don't want your audience to get restless: "The longest part is making it short! It can be the best speech in the word but if your message has lost engagement due to its length, you may as well have said nothing!"
9. Write Something You Can Easily Memorise
When delivering a speech, it's important to look at your audience, get the timing of your jokes right, and appear confident!
This often means memorising your speech and having cue cards with helpful hints if you lose your place.
Avoid reading the entertaining aspects of your speech from a piece of paper. However, if you think you'll forget to thank someone important, write their name down!
10. Raise a Toast!
Image: Nick +  Maria
It can be difficult to know how to end your wedding speech. Why not simply say thank you, and raise a toast to the newlyweds? This will make it clear that you've finished talking and get everyone in the mood for the next speech.
Once you're armed with an amazing speech, make sure you can stay calm for the delivery with our article on how to overcome wedding speech nerves .
Related Hitched Articles

wedding blog
Search vendors, wedding planning, wedding inspiration, contests + awards.

photobug community
Wedding blog, the ultimate guide to wedding speeches and toasts.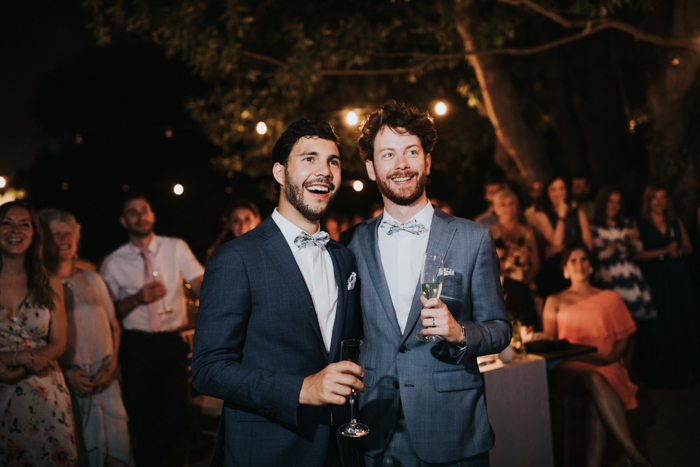 Image by Hugo Coelho . See more of this real wedding here . Read on about nailing wedding speeches and toasts
Wedding speeches and toasts may be the most daunting things to write and deliver, but they're also one of the best parts of any wedding. They give guests a unique perspective on the couple, make you laugh, make you cry, and bring the room together. So, to take some of the pressure off your shoulders, here are some tried-and-true tips for writing a killer wedding speech and toast!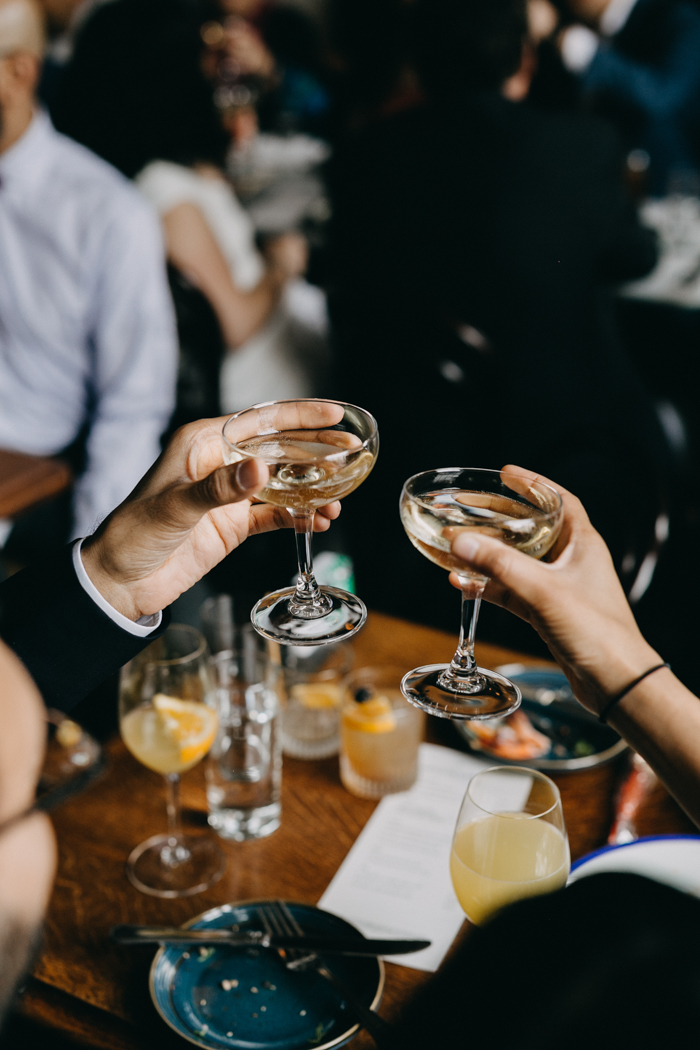 Image by Emily Delamater Photography . See more of this real wedding here
The Basics Of Wedding Speeches and Toasts
Who gives toasts and speeches.
Traditionally, the best man, the maid of honor (MOH), and both sets of parents give speeches for the couple. You'll also find that the couple gives a welcome and gratitude speech. However, here at Junebug , we believe it's entirely up to you and what you want for your special day.
We've seen brides give the newlywed speech, and we've seen best friends give speeches instead of the MOH or best man. If you're going the non-traditional route, we don't recommend an open-mic situation where anyone can speak, and we don't recommend having more than five speeches or guests will start to get restless.
When do speeches and toasts take place?
Most speeches and wedding toasts are given during the wedding reception , either before or after dinner. If you'd rather they be more intimate or you aren't having a traditional reception, you can also have them take place at the rehearsal dinner .
What is the correct order for speeches?
Did you know that wedding speeches have a logistical order that is typically followed? While it may seem like such a minute detail, it actually makes more sense than you'd imagine. It usually starts with the couple. This gives you the opportunity to welcome and thank your guests for coming. From there, it traditionally goes in this order:
The hosts (typically the parents)
Maid of honor
Every couple has their preferences on who they want to speak and the order in which they want them to speak. As we mentioned earlier, it's your wedding. If you have a maid of honor who hates public speaking, or you want your best friend to give the speech rather than your best man, go for it. The same goes for the order we just listed.
How long should wedding speeches and toasts go?
No matter how long you've known each other, try to keep speeches under five minutes. In fact, three minutes is the sweet spot. Even if you have countless things to say, three minutes can feel a lot longer than you'd expect. Keeping it short and sweet will keep everything, including the newlyweds, happy.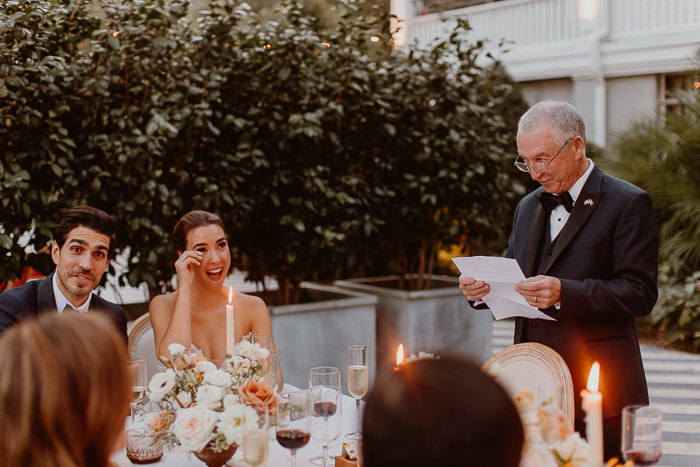 Image by Ana Hinojosa . See more of this real wedding here
Steps For Writing Killer Wedding Speeches and Toasts
The hardest part of writing a speech is knowing where to start. If you're drawing a blank or having difficulty narrowing down the stories you want to tell, start by making a list of your favorite qualities about the newlyweds. Chances are there are many amazing qualities about them, so making a list of your top three favorites will help you craft a personalized speech tailored to them.
To expand beyond that, you can ask yourself these questions as well:
Questions To Ask Yourself
Is there anyone speaking before or after you? If so, how will it affect the content of your speech?
What is the general tone you want to convey in your speech? Emotional? Joy? Funny?
What are some of your favorite memories with the newlyweds? These memories can be based on the individual getting married or them as a couple
What do you see when you envision their future with one another?
Is there any advice that you want to share?
When it's time to start writing, use the following general outline to help create a great speech from beginning to end.
1. Introduce Yourself
Tell everyone your name and a brief explanation of how and when you met the couple or how you're related. Everyone may not already know who you are, so a little context will go a long way.
2. Tell A Relevant Story
Go back to the list you created and choose a story that reflects the qualities you love most about the couple. This should be relatable, endearing, and appropriate. Make sure you have a point to the story so that you can seamlessly tie it into your speech at the end.
3. Reminisce about the day you met their partner
Everyone in that room will likely have seen different pieces of the couple's love story, so tell their story from your perspective. Talk about the day you met their significant other for the first time and the moment you realized this was the person they were going to marry.
4. Talk about what you love about their partner
Although your main responsibility is to talk about one of the newlyweds, every speech should ultimately be about both of them. Tell their partner why they are the best choice for your friend and what qualities you love most about them.
5. Talk about your hopes for their future as a couple
If you're married, this is where you can insert your best piece(s) of advice for a healthy marriage. If you're not married, wish them a long, happy, and healthy life together. Make your wishes and your advice personal to their relationship and end on a positive, optimistic, and heartfelt vision of their future.
6. End with a toast
Ending a speech can be just as challenging as starting it, which is why we recommend ending with a wedding toast. Ask everyone to raise their glass and toast to the wonderful couple—and, in your own mind, to the killer speech you just gave!
Junebug Tip:
The Art of Etiquette's wedding guest books include ten speech sheets that will give a beautiful space for your loved ones to write the perfect speech that is short, sweet, and sentimental. We love that they've included these thoughtful speech sheets that will double as a wedding keepsake in your guest book.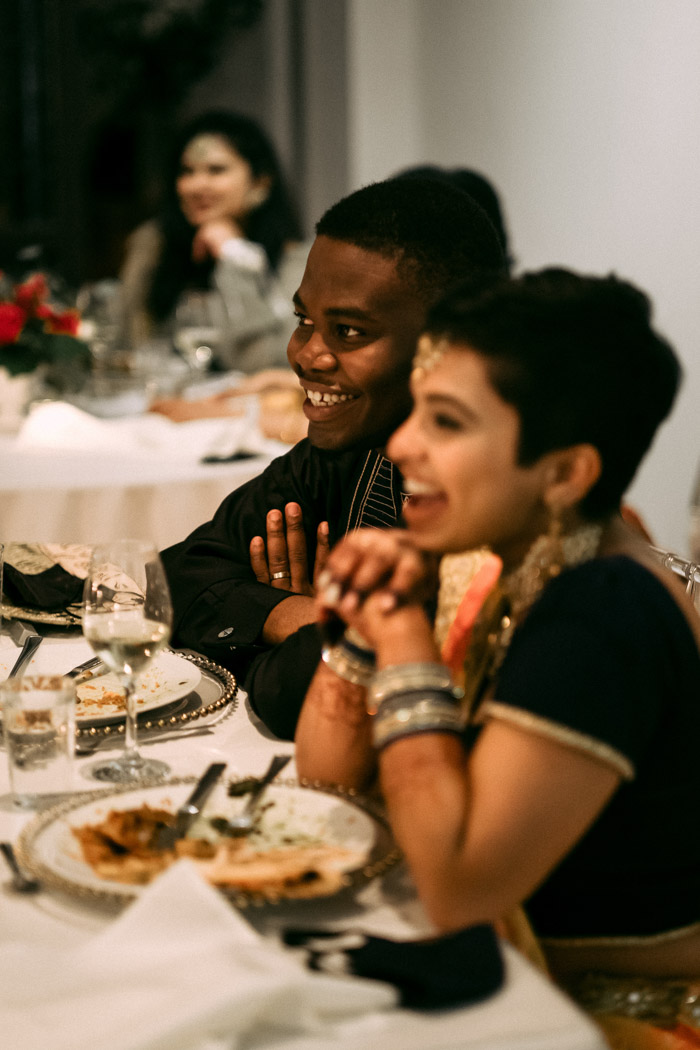 Image by Annabelle Agnew Photography . See more of this real wedding here
Tips For Giving Wedding Speeches and Toasts
Don't drink too much beforehand.
We love open bars at weddings as much as the next person, but you don't want to be slurring your words or drunkenly rambling in front of everyone. Just a couple of sips of liquid courage will get you through those few minutes in front of the crowd, we promise!
Don't make it about you
It's okay to be relatable by telling a story, but remember that this speech is about them . After you've introduced yourself, move on to talking about the newlyweds and their relationship.
Don't humiliate the couple
There's nothing wrong with jokes. In fact, some of the best toasts and speeches inject humor throughout. However, don't use crude language, tell inappropriate stories, or mention past relationships. The moral of the story is if there's even the slightest chance someone could feel uncomfortable about something you want to say, leave it out.
Keep it short and sweet
We mentioned this earlier, but it's an important one! Chances are there will be at least two other people giving speeches before or after you, so keep your speech to five minutes max . If you go any longer than that, the couple and their guests may start getting a little antsy. If you aren't sure how long your speech will take, our next tip will help.
Practice beforehand
You practice for speeches for school and work, why should a wedding be any different? Rehearse your speech with a friend or in front of the mirror. It will help get some of the nerves out and allow you to make sure it all flows before the big moment.
Keep in mind that you'll naturally speak more quickly when you're handed the microphone, so as you're practicing make sure you remind yourself to slow down.
Write your speech down
With all the excitement and nerves of the day, there is a good chance you'll blank out or forget parts of your speech. Even if you plan to memorize it, write it down and bring it with you just in case. Nobody will fault you for holding notes–just be sure to look up occasionally!
Pass these tips along to everyone giving a speech and toast at your wedding, and get ready for some pretty epic and heartfelt moments! Then start thinking about how to keep the party going all night with these wedding reception songs guaranteed to get your guests dancing .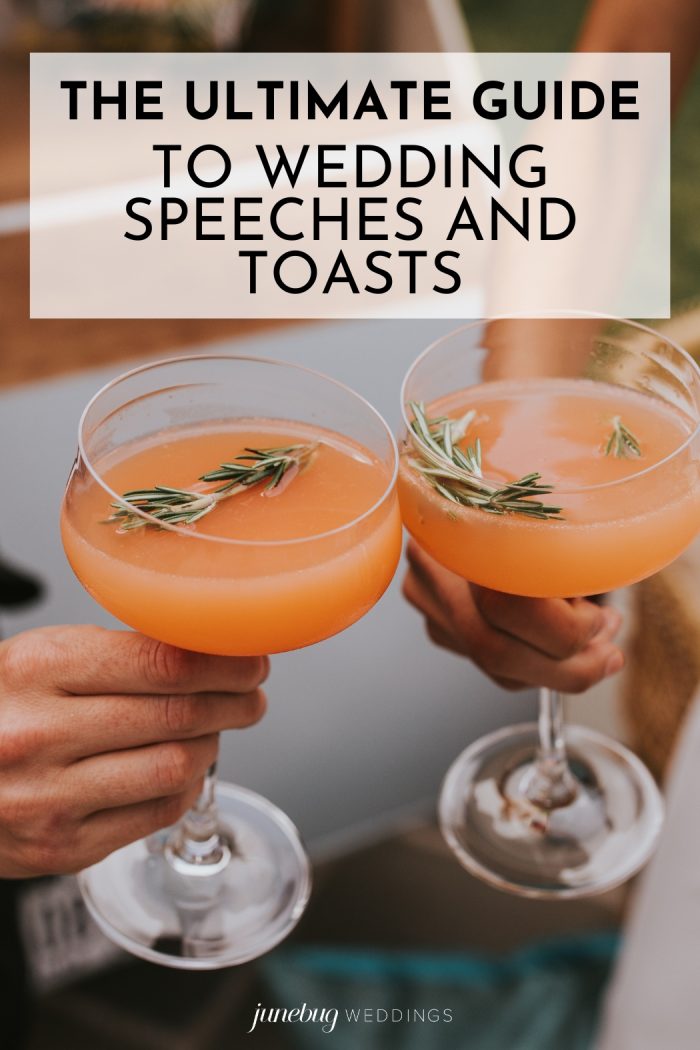 Image by Jordan Jankun Photography
You May Also Like...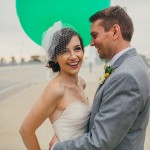 wedding planning tips , wedding reception ideas
One Comment
Being the standout at the wedding speeches and toast is quite tricky. You have to be funny for everyone, or even a heartfelt story to tell for the guest and couple. This guide really tick all the boxes for build an ultimate wedding speech.
Leave a Comment
Email * (will not be published)
XHTML: You can use these tags: <a href="" title=""> <abbr title=""> <acronym title=""> <b> <blockquote cite=""> <cite> <code> <del datetime=""> <em> <i> <q cite=""> <s> <strike> <strong>
Currently you have JavaScript disabled. In order to post comments, please make sure JavaScript and Cookies are enabled, and reload the page. Click here for instructions on how to enable JavaScript in your browser.
Subscribe To Our Love Letter
Receive our favorite weddings, trends, advice and giveaways!
Vendors Near You
Advertise With Us
Contact Us for blog ad rates!
Junebug Member Blogs
Get inspired by talent from around the world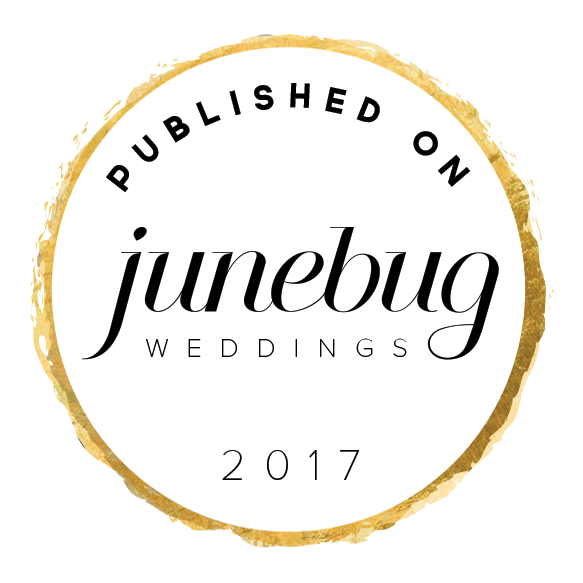 Published on Junebug?
Post our badge on your site to tell the world about it
Inspirations
Real Weddings
Wedding Guide
Tian Dot Com Pte Ltd © 2023 Disclaimer | Privacy Policy
Singaporebrides | Weddings 101
How to write an amazing wedding speech in 6 steps.
By Tansey Tang
Writing your wedding speech can be a daunting task. We have some wedding speech examples and tips to help you bring the house down!
Y our wedding is the perfect opportunity to tell your loved ones just how much you love and appreciate them, especially as they've gathered to celebrate your newest milestone and shower you with their blessings. While your heart may be full of emotion and gratitude on your wedding day, it can be difficult to convey them eloquently on the fly, especially if you're a little drunk and a lot nervous! Take some time to write your wedding speech beforehand, and practise delivering it too.
You can choose to give your wedding speech together as a couple, or thank the people in your lives individually; just be sure to figure out beforehand who's saying what and who's going first, so you don't end up being repetitive.
In your wedding speech, you'll want to thank and appreciate the most important people in your life, such as your parents, siblings, bridal party, and close friends, and also thank them for their help with the wedding. You should also thank your guests for taking the time to celebrate with you. You can share a sweet anecdote or two about your journey as a couple, and finally, end with a thank you and a toast to your new spouse.
Wedding speech examples
It can be daunting to write a wedding speech—not to mention delivering it! We break it down into manageable parts for you and offer some examples of how you might thank the people in your life.
1. Start your wedding speech with a welcome for your guests
"Good evening. Thank you for joining Jasmine and I on our very special day. Tonight, we're very happy and honoured to have you all with us. Seeing you all here together means the world to us both."
2. Thank your parents and your in-laws
"To Mum and Dad, thank you for your love and unconditional support my whole life. Thank you for making sure we never lacked anything growing up, including wise advice on our studies, careers, and relationships. You've taught me so much, and given me the freedom to grow into my own person. You're the best parents anyone could ever have, and I love you both deeply. Your marriage is an inspiration, and you've shown me how marriage is about understanding, patience, love, and forgiveness. I hope that what David and I build will be just as special as your marriage."
"To my new Ma and Pa, thank you for welcoming me into your family with such open arms. Thank you for all of the wonderful dinners you've invited me to, and for your patience when teaching David and me some of your delicious recipes. We also truly appreciate all of your help with the wedding. The tea ceremony you organised was so beautiful. And thank you for raising such a fine son. David's respect for family, his hard work, his strong character—they are a credit to you. I am blessed to have him as my new husband."
3. Shout out to your siblings
"To my big brother and partner in crime, thank you for always taking the heat when we get into trouble with Mum and Dad, for cracking me up with a lame joke even when I beg you not to tell it, and for helping me with all my un-IT-savvy questions. And of course, thank you for introducing me to David. I might still be on the shelf if it weren't for you."
"To my little sister, my built-in best friend, and my maid of honour, I love you. Thank you for being my support system and my listening ear. Thank you for all the frank fashion advice, and for always being my plus one to workshops and craft sessions when I ask. Thank you for all of your help planning this wedding and for staying up so many nights working on DIY projects with me; I couldn't have done this without you!"
4. Thank your bridesmaids and groomsmen, and everyone who helped you out
"To my groomsmen, thank you for standing by my side today and braving unnameable food and undignified challenges with me this morning. I also thank you in advance for all of the alcohol you're going to drink in my stead later."
"To my bridesmaids, you are my oldest and dearest friends, and I'm so honoured to have you in my bridal party. Thank you for your love and support over the years, and for all of your help during the wedding. Thank you for being here for me once again on this special day. I love you all."
"To all of our wonderful friends who helped us emcee, usher, coordinate, and decorate, thank you so much!"
5. Finally, share a little about your journey and thank your new spouse.
"Last but definitely not least, I'd like to thank my new wife. Jasmine, the day I met you, I knew my life was going to change forever, and today, you've made me the happiest man on earth. You are the smartest, most beautiful, and most caring woman I know. I'm so lucky you agreed to be my wife, even though you've seen me do the moonwalk. I can't wait to go on new adventures with you, and I know that together, we can brave anything."
6. End with a thank you for all of your guests
"Thank you, everyone, for joining us as we celebrate our new chapter. We hope you enjoy the rest of your evening!"
Wedding speech tips
Take note of these few extra pointers when preparing your wedding speech, and you'll be ready to slay your audience!
1. Write it down
Unless you're a Toastmaster with a lot of confidence and experience at public speaking, don't try to wing your wedding speech! Start writing your wedding speech at least a few weeks before your celebration to give yourself time to polish it.
2. Avoid inside jokes
Try to keep inside jokes to a minimum as a consideration to your other wedding guests who aren't privy to your punchline.
3. Keep it short and sweet
Time yourself giving your wedding speech and aim to keep it under five minutes, especially if there will be a number of other people giving speeches.
4. Don't overshare
Grandma going to be at your wedding? You might want to leave out your pregnancy scare story. If your boss and colleagues will be there, you might want to edit thanking your bridesmaids for listening to your work rants.
5. Coordinate
If you're each giving separate wedding speeches, remember to sit down and share your speech content so you don't have too much overlap, or have very different tones with someone being very formal while the other cracks a lot of jokes. Plan your time too, and try to have both speeches roughly equal in length.
6. Practice makes perfect
Finally, practise, practise, practise! Once you've edited and polished your wedding speech, it's time to stand in front of a mirror and practise delivering it. Get comfortable with the flow of phrases, and get familiar with which section comes next. With lots of practice, you'll feel less nervous once you're on stage.
7. Respond to other wedding speeches
While totally winging your wedding speech isn't recommended, a little improvisation is great and adds a candid touch to your speech. For example, if your speech is after your best man, feel free to defend yourself in the story he just maligned you with. Or, you can thank your dad or your bridesmaids for their sweet words.
We hope these wedding speech examples and tips help you write a killer speech!
Credits: Feature image from Yeon Hee and Pei Qian's Elegant Destination Wedding at Andaz Singapore by John15 Photography
All content from this article, including images, cannot be reproduced without credits or written permission from SingaporeBrides.
Follow us on Facebook , Instagram , and Telegram for the latest article and promotion updates!
Share on: Facebook
Published on: 26 April 2021
Category: Weddings 101
Tagged in: Wedding Speeches
Recommended Reading
How to write a heartfelt speech for your wedding.
Picture this: You're at your wedding banquet, and all your closest friends and family (probably a few hundred of them) are gathered to witness and celebrate your entry into marital…
How to Write Your Maid of Honour Speech
Follow this step-by-step guide to writing your maid of honour speech, or check out our sample maid of honour speech for a few ideas. Being the maid of honour or…
How to Conquer Your Wedding Speech
SingaporeBrides shares some useful tips and pointers on how to draft and deliver your wedding speech with the skill and stealth of a professional public speaker. A common tradition at…
Advertisement
Supported by
Struggling to Write a Wedding Speech? It's All in the Details.
If you've been charged with saying a few words about the newlyweds, here are some tips to help ease your anxiety and inspire you to speak from the heart.
By Dina Gachman
Massive parties with 10-piece bands and champagne fountains gave way to backyard microweddings and Zoom celebrations during the pandemic. But one tradition has stayed strong, and even thrived, over the last year: the wedding speech.
Love them or hate them, "a speech gives people something to talk about, and it's an amazing bonding juice," says Heidi Ellert-McDermott, the founder of Speechy , a British company that creates bespoke speeches for weddings around the world. "It can really kick-start a party."
Public speaking, whether it's in front of 10 people or 100, can be intimidating, and if you've ever sat through a lengthy, cliché-riddled wedding speech, you know it's not so easy to pull off a memorable toast.
"We're all so acutely aware that no one has any idea what tomorrow will bring," said Marisa Polansky, a founder of the Brooklyn-based speech writing service Speech Tank with Kristine Keller. "The fact that two people want to tackle that tomorrow together feels especially noteworthy. As such, there's more pressure on speeches to bring a weightiness or gravitas to the event, I think. But it's an opportunity, too."
If you've been charged with saying a few words about the couple, there are a few things to remember that will help you ease your anxiety and inspire you to speak from the heart.
Ask Yourself 'Why Me?'
If you're staring at a blank page, take a step back and think about your relationship to the couple. "Start by asking yourself why you're giving the speech," said Tess Barker , 38, a Los Angeles-based comedian who has a "deep résumé as a bridesmaid." Thinking about your relationship to the couple can help you focus on memories you share, and remind you that you're not giving a State of the Union address — you're simply speaking to someone you care about.
Don't Do It Alone
There's a tendency to think of the speech-writing process as something solitary, but Speechy's Ms. Ellert-McDermott suggests making it a group effort. "Don't confine it to this secret thing that has to be done in a dark room the night before when you're panicking," she said. Ms. Ellert-McDermott suggests inviting the couple or other friends to brainstorm with you. Gather stories or find out traits or quirks about the couple that other friends or family love.
Ditch the Thank Yous
Don't start your speech by thanking the guests, the DJ, the florist, the parents, and the band. "Anyone who has listened to an Oscars acceptance speech knows that thank yous are boring," Ms. Ellert-McDermott said. You can thank people individually, and instead center your speech on stories, humor and emotion. A quick, "Thanks for coming" won't ruin a speech, but it shouldn't be the focus.
Find a Theme
Instead of talking about everything there is to know about the couple , narrow it down by identifying a theme. "It will help you stay focused and not be too long-winded, and build an outline," said Carla Eustache, 38, the owner of Style Perfect Events , which is based in Charlotte, N.C. Ms. Eustache said she has noticed an increase in speeches about resilience and perseverance since the pandemic, but your theme doesn't have to be lofty. It can center on the bride's obsession with finding the perfect taco, or the groom's horrible singing voice. "If you can spot a theme in all the randomness, then that's how it all comes together," Ms. Ellert-McDermott said.
[ Sign up for Love Letter and always get the latest in Modern Love, weddings, and relationships in the news by email. ]
Cut the Clichés
It's easy to panic and Google a wedding speech template, but cut-and-paste jobs rarely make memorable speeches. If you find yourself writing a string of clichés, toss your speech and get down to basics, said Jason Mitchell Kahn , a New York-based wedding planner and the author of "Getting Groomed: The Ultimate Wedding Planner For Gay Grooms." "When a client comes to me," he said, "we focus on three points to hit: how you met, what you loved about them before they met each other, and how you've seen their lives enriched as they've commingled." Another tip: Don't say things like "they're perfect for each other," because, as Ms. Ellert-McDermott said, "nobody's perfect." Also, try to avoid quotes. "We've never heard a good speech that started, 'As Jane Austen once said,'" said Ms. Keller of Speech Tank.
Know Your Audience
The pandemic has caused many weddings to become smaller and more intimate, which means speeches can get more personal and casual. The key is to read the room, whether it's virtual or in person. "Don't talk about a wild night in Vegas on drugs," Ms. Barker said. "Remember there might be grandparents there." She also suggests addressing both of the newlyweds. "When someone just gushes over one of the parties, it can get awkward." Another key to avoiding awkwardness is not leaving people out. "Inside jokes always fall flat," Ms. Eustache added.
Keep It Short, and Speak Up
Longer doesn't equal better. Most speech-writing experts suggest three to five minutes, tops. "No one ever gets upset if a speech is too short," Ms. Keller said. Most experts also prefer holding a piece of paper to scrolling through a phone or device, since that can affect the flow of your speech. Leave the phone at the table, practice, memorize as much as you can, and don't forget to breathe. With the popularity of outdoor weddings becoming a post-pandemic trend, Mr. Kahn offers another important tip: "Always have a microphone," he said. "There's nothing more frustrating than a good speech that people can't hear."
Continue following our fashion and lifestyle coverage on Facebook ( Styles and Modern Love ), Twitter ( Styles , Fashion and Weddings ) and Instagram .
Weddings Trends and Ideas
Vendors: For many couples, working with businesses that share their values and support people from diverse backgrounds is an important part of the planning process .
Swimwear: Beaded and bedazzled, fancy and frilly, lacy and Lycra-fitted — bridal bikinis are here .
Weather Forecasts: Want to avoid a rainy ceremony? This expert can help .
Dress Shopping: As more brides seek personalized shopping experiences and distinctive designs, the bridal industry is shifting to accommodate their needs .
Wedding Night Sex:  If you fell asleep on the big night, don't worry: You are in good company .
Dry Weddings: Sober or in recovery? Here is how to organize an alcohol-free celebration  that is true to you as a couple and enjoyable for your guests.
Cakes: Ever scroll through a friend's wedding registry and feel uninspired? Consider going rogue and giving an unexpected gift: a homemade wedding cake .  
SUPPLIER IMAGES
The ultimate guide to writing a wedding speech.
February 4, 2023
POSTED IN: weddings
Having speeches at a wedding is about as traditional as you can get, but that doesn't mean that you can't veer away from the norm. Speeches can be fun, anecdotal, intimate… but public speaking is scary, which is why so many people avoid it! But when you're asked to make a speech for a loved one, it's time to assemble. What makes a great wedding speech? What makes some wedding speeches fun and memorable and others cringe and a bit boring.
In this blog, we've put together the ultimate guide for writing your wedding speech that'll keep everyone entertained and engaged.
If you are wondering how to write a wedding speech, there are a few things to keep in mind.
If you're not getting married yourself today, introduce yourself and how you know the couple
Congratulate the happy couple on their wedding day and compliment them!
Thank the hosts and any special mentions the couple have asked you to include
Consider your audience – are there going to be children or sensitive ears present? Plan accordingly!
Keep it short and sweet – leave everyone wanting more
It's okay to keep it simple but meaningful
As soon as you know you'll be giving a speech at a wedding, create a little document on your phone or buy a notebook and begin by jotting down your initial ideas. It'll be a great tool to keep coming back to whenever you're inspired by a thought or anecdote that may be worth retelling on the day. By the time you are sitting down to write your amazing speech, you'll have a pool of ideas to draw on.
Be prepared!
Begin writing the speech, at least a month before the wedding. You'll need time to revisit it, edit and practice! Plus in the run up to the wedding there'll likely be other wedding appointments you'll need to attend too – so don't leave it too late to start writing but do leave some space for any stories from the hen and stag do's or other wedding festivities that you may want to include.
You may decide to sit and write your wedding speech all in one go! This is fine too, however do make sure you sleep on it and come back to it with fresh eyes – and give it a couple of reads. You don't want just an 'okay' speech, you want your speech to be awesome. Give yourself enough time to fine tune and practice plenty of times.
Make it Personal
Whether you are the maid of honour, best man, father of the bride, friend or even more importantly you're the bride or groom you are giving a speech because of a close connection you have to the happy couple.
And since you know the couple as well as you do – you probably have a plenty stories to share! So
our next tip is not to hesitate to make it personal and share those stories. It'll help guests to know the couple even more – and also the other half of the couple they may not know as well, or perhaps are only meeting for the first time. All guests' love hearing entertaining and personal stories they may not have heard yet.
Another tip is to make sure you talk about both members of the couple. Perhaps you're a friend of only one of the couple, but part of the wedding speech is to ensure it circles back to the occasion at hand and to the two of them as a couple. Retell the story of the first time you met your friend or family members partner or how you remember them being described to you in the early stages of the relationship. If you don't know the partner too well, now's your opportunity to arrange a dinner or some days out with your friend and their partner, so you can all get to to know each other better.
And remember to talk about how great they are as a couple and how happy they both make each other!
Have a beginning, middle and end!
Remember when you were in school and you were told that your writing should have a beginning, middle and end. Good speeches have good flow and take the whole audience along with what they are saying.
Ensure your speech flows well by giving it a structure or an overarching theme. No, it doesn't need to be a novel or an essay but most people follow a story easier when there is a clear direction for the speech. Make sure there is a direction to where your speech or anecdote is going, and the destination, joke, anecdote or sentiment is achieved.
Consider Your Audience
This is the wedding speech, not the speech for the hen or stag do! There may be a wide range of people present from children to close friends of the bride and groom, perhaps even employers and work colleagues in the room too. Make sure the speech is free of anything too embarrassing or any crudeness that may not be fit for such a varied audience.
If entertaining and jokes aren't your thing – that's okay. Don't force it! Just be yourself, you are making a speech because you are important to the couple and they'll likely just want you to bring and be your own wonderful self on the day. Keep in mind when you write your speech that it's important you are genuine and heartfelt.
Hopefully, you found these tips for writing your wedding speech helpful. If you've liked this content and want more – make sure you follow our socials.
Happy Moments Co is a wedding photography company based in Cambridge, Cambridgeshire, in the East of England. Owner Carrieanne makes it her mission to capture the authenticity of your relationship so that she can produce one-of-a-kind photographs. With an adventurous spirit and a romantic heart, this talented professional goes the extra mile to achieve the perfect image. Whether you want to tie the knot underwater, go hiking as a couple, or have a photoshoot on the beach, Carrieanne is happy to oblige. She's available to travel all over the country to help with this and will go above and beyond to help you feel at home in front of the camera. Carrieanne will take an organised approach to your wedding day by understanding each request to ensure that each detail is beautifully documented.
Services Offered
Happy Moments Co offers comprehensive photography coverage of your wedding day, from the morning preparations to the dance-floor fun. Carrieanne's packages include fully edited images presented in a private online gallery for easy viewing and sharing. You can also receive a USB stick with your photos in a beautiful white vegan leather pouch. In addition to wedding photography, she is happy to offer engagement sessions in a location of your choice. Ultimately, this company aims to provide a premium customer experience and a comprehensive collection of memorable wedding-day photos and stunning albums.
Comments Off on The Ultimate Guide to Writing A Wedding Speech
« WEDDING DAY SPARKLER EXITS
Say 'I Do' in Style: How to Plan a Destination Wedding that's Both Memorable and Stress-Free »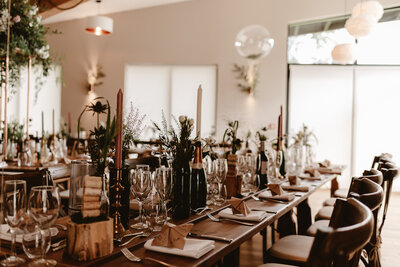 follow us on Instagram
pRIVACY POLICY