The Writing Initiative
Director's message.
The Writing Initiative at Binghamton University is home to a variety of courses and resources that foster the academic and civic literacies essential for success in the university and beyond. We help prepare students to articulate complex positions across a variety of genres and contexts. Designed by specialists and informed by current research, our courses and services promote writing as a way of learning about and engaging in the most important issues of our time.
We offer undergraduates a range of first-year and upper-division writing courses , which can lead to a Writing Studies Minor . We publish outstanding student essays in Binghamton Writes: A Journal of First-Year Writing . We provide writing tutoring for all Binghamton University community members, from first-year students, to graduate students and faculty. And we offer Campus-Wide Writing Support and Faculty Outreach to help bolster Binghamton University's commitment to the central role of writing to disciplinary learning.
We support our writing teachers by requiring all PhD candidates who teach in our program to take a course in rhetoric and writing studies and participate in an intensive mentoring program through our Composition Mentoring Groups. We also offer all of our faculty, including adjuncts and graduate students, the opportunity to attend conferences and professional development workshops in rhetoric and writing studies, to ensure our program stays current in the best practices of the teaching of writing. Our faculty include active researchers and writers that present at conferences, publish in a variety of genres, and host events.
Since its inception, the Writing Initiative has been committed to incorporating best practices in composition instruction in our efforts to support better writing and better writers in academic, personal, and civic contexts. In 2011, that commitment was recognized when the Writing Initiative was awarded the Conference on College Composition and Communication's prestigious Certificate of Writing Program Excellence. Since then, the Writing Initiative has continued to grow, offering more classes and services that help Binghamton University's students continue their life-long journeys as writers.
---Dr. Sean Fenty, Director
Events and Announcements
Share on Facebook
Share on Twitter
Share on Pinterest
Share on LinkedIn
Share by Email
Last Updated: 12/5/22
Become A Member
Remember Me Forgot Password?
CANCEL Login
Association of Writers & Writing Programs
Writing Programs & Pedagogy
Community & Calendar
Magazine & Media
AWP Conference
Writers' Conferences & Centers
Guide to Writing Programs

Advice Articles
Campus Visit Video Series
Binghamton University
New york, united states.
The creative writing program at Binghamton University is designed to foster in its students a powerful,disciplined and skilled creativity cultivated in a supportive environment.Through its dedicated faculty, students are introduced to all facets of their art — its traditions and masters, its pleasures and responsibilities, its materials and practices.
At the graduate level our program offers:
a MA in English with a concentration in creative writing
a PhD with a concentration in creative writing and a creative dissertation option.
At the undergraduate level, our program offers
· a BA in English with a specialization in creative writing
The areas of study include poetry, fiction, and creative nonfiction. The program relies on writing workshops and the study of literature to encourage the development of the students as writers. The program cultivates an active community of writers in many ways, including our Readers' Series, which brings writers to campus to read and to spend time with students in the class run in coordination with the series, and our Wrting Life series, which brings editors to campus to meet with and network with students.
Contact Information
PO Box 6000 English Dept. Binghamton New York, United States 13902-6000 Phone: 607-777-2327 Email: [email protected] http://www.binghamton.edu/english/creative-writing/
Bachelor of Arts in English/Literature +
The Department of English, General Literature and Rhetoric provides students the opportunity to study literature and language in their many manifestations. In addition to an English major, the department offers coursework in globalization and culture. Literature courses provide undergraduates with a foundation in literary history as well as an opportunity to explore a variety of genres, while fostering critical reading and research skills; courses in globalization and culture explore cultural and literary responses to the emergence of global culture and the questions raised by this process; creative writing courses hone students' writing abilities and develop their unique voices; rhetoric courses deal with both the theory and practice of communication, as well as the history of oral and written argument.
Bachelor of Arts in Creative Writing +
The Creative Writing Program at Binghamton University is designed to foster in its students a powerful, disciplined and skilled creativity cultivated in a supportive environment. Through its dedicated faculty, students are introduced to all facets of their art — its traditions and masters, its pleasures and responsibilities, its materials and practices.
Students in the creative writing program at Binghamton University learn critical thinking and reading in a creative context. For students who are strong writers and interested in writing fiction, poetry, and creative nonfiction, the chance to be part of a community of writers while working with our internationally recognized faculty is not just an opportunity to prepare for a career in a wide array of artistic and professional fields, it also develops an understanding of one's own voice and its place within the vital continuum of literature. Faculty currently teaching in the Creative Writing Program include: Tina Chang, Jaimee Wriston Colbert, Thomas Glave, Leslie Heywood, Liz Rosenberg, Joe Weil, and Alexi Zentner.
At the undergraduate level, our program offers a BA in English with a specialization in creative writing. The areas of study include poetry, fiction, non-fiction, memoir and children's literature. The program relies on writing workshops and the study of literature to encourage the development of the students as writers.
Master of Arts in Creative Writing +
Graduate program director.
At the graduate level, our program offers both an MA and PhD in English with a specialization in creative writing. MA students take courses in literature and writing and produce a creative thesis. PhD students take courses in literature and writing, complete the same field exams as literature students and produce creative work for their dissertations.
The Binghamton Center for Writers
The Binghamton Center for Writers is a State University of New York Organized Research Center associated with our Creative Writing Program. While academic courses are handled through the English Department, the Center for Writers cultivates an active community of writers through extracurricular offerings such as the Distinguished Writers series, Binghamton Poetry Project, Harpur Palate, Common Ground student reading series, Pedagogy Talks, Creative Writing Mentorship Program, Social Networks, faculty and alumni readings, student awards for creative writers, and other opportunities.
PhD in Creative Writing +
Thomas glave.
Glave is author most recently of the essay collection Among the Bloodpeople: Politics and Flesh (Akashic Books, 2013), which has just been named a finalist for the 2014 Lambda Award in Nonfiction. His previous books include the short fiction collection Whose Song? and Other Stories (City Lights), nominated by the American Library Association for their Best Gay/Lesbian Book of the Year award and by the Quality Paperback Book Club for their Violet Quill/Best New Gay/Lesbian Fiction Award and the experimental/political essay collection, Words to Our Now: Imagination and Dissent (2005, University of Minnesota Press) which was awarded the Lambda Award in Nonfiction in 2006. His edited anthology, Our Caribbean: A Gathering of Lesbian and Gay Writing from the Antilles, was published by Duke University Press in 2008, and received a Lambda Literary Award in 2009. The Torturer's Wife, also nominated for a Lambda Literary Award, was published by City Lights at the end of 2008. The recipient of numerous fellowships and awards, including an O. Henry Prize for fiction and fellowships from the National Endowment for the Arts and the Fine Arts Center in Provincetown, Glave was named a Writer on the Verge by The Village Voice in 2000. A contributing and advisory editor for Callaloo, Glave serves on the board of directors of the Center for Lesbian and Gay Studies (CLAGS).
http://www2.binghamton.edu/english/faculty/glave-t.html
Jaimee Wriston Colbert
Jaimee Wriston Colbert is the author of Shark Girls (2009, Livingston Press) (link has an excerpt), which earned a starred review in Booklist and was a Finalist for the USABookNews Best Books of 2010, and a Finalist for ForeWord Magazine's Book of the Year; a linked stories collection, Dream Lives of Butterflies (2007, BkMk Press), which won the gold medal (first place) in the 2008 Independent Publisher Awards in the Short Stories Fiction category, and was a Finalist in the USABookNews Best Books of 2007 Awards and the ForeWord Magazine Book of the Year Awards; the novel, Climbing the God Tree (1998, Helicon Nine Editions), winner of the Willa Cather Fiction Prize, and the short stories collection Sex, Salvation, and the Automobile (1994, Zephyr), winner of the Zephyr Publishing Prize. The title story from her new collection "Things Blow Up" won the 2012 Ian MacMillan Fiction Award and was published in Hawai'i Review. Another story from her new collection won the 2008 Jane's Stories National Short Story Award, and another was chosen for the 2009 Editors' Fiction Prize in Isotope. The Gettysburg Review, 2012, published an excerpt from her new novella, Ghosts. Her stories have been nominated six times for the Pushcart Prize, and awarded Special Mention in the Pushcart Prize Anthology, 2011; twice selected as a finalist for the Katherine Anne Porter Prize and the Julia Peterkin Fiction Prize, and have been published in numerous journals, including: TriQuarterly, Prairie Schooner, Tampa Review, Connecticut Review, New Letters, Green Mountains Review, Snake Nation Review, Louisiana Literature, The Evolutionary Review, Solstice, Natural Bridge, The Paterson Review and Rosebud. Several stories have been broadcast on NPR's "Selected Shorts," and anthologized in: Ohio Short Fiction; Peculiar Pilgrims - Stories From the Left Hand of God; Water's Edge – Open to Interpretation, and Deep Waters (Outrider Press – Second Place Prize). Her stories have been presented at the Boston Fiction Festival and performed throughout Maine by PCA Great Performances. Excerpts from her fiction along with interviews can be listened to at various NPR affiliate radio station websites, and New Letters On The Air. Originally from Hawaii, she is an Associate Professor of Creative Writing.
www.jaimeewristoncolbert.com
Leslie Heywood
Lost Arts: Poems (Louisiana Literature Press, 2013)
Natural Selection: Poems for an Environmentalist Century (Louisiana Literature Press, 2008)
The Proving Grounds: Poems
Pretty Good For a Girl: A Sports Memoir
http://www2.binghamton.edu/english/faculty/heywood-l.html
Liz Rosenberg
Liz Rosenberg is the author of the novels THE MOONLIGHT PALACE and HOME REPAIR and she has published five collections of poetry, THE FIRE MUSIC (winner of the Agnes Starrett Prize); CHILDREN OF PARADISE, a collection of prose poems from Mammoth Press, THESE HAPPY EYES and, in 2008, both a chapbook called THE LILY POEMS from Bright Hill Press and a new full-length collection DEMON LOVE from Mammoth . Her poems and stories have appeared in The New Yorker, The Nation, Poetry, The American Poetry Review, Harper's, The Atlantic Monthly, The Paris Review and elsewhere, as well as in numerous anthologies. She has published over twenty five children's books, from picture books for the very young (including MONSTER MAMA, winner of a Children's Choice award) to poetry anthologies for young readers (including LIGHT GATHERING POEMS, winner of the Lee Bennet Hopkins Poetry Priize) and two young adult novels. She writes a review column for The Boston Globe.
http://www2.binghamton.edu/english/faculty/rosenberg-l.html
Alexi Zentner
Alexi Zentner is the author of the novels The Lobster Kings (forthcoming May 2014) and Touch. He is published in the United States by W. W. Norton & Company, and in Canada by Knopf Canada. Touch has been published or is forthcoming in a dozen countries and ten languages, and The Lobster Kings will be published in at least six counties and five languages. The CBC has named Alexi as one of 12 Writers to Watch - "the future of this country's literature" - and one of six "fresh voices" for 2011. Touch was named one of the "best books" of 2011 from The National Post, Kobo, and Amazon.ca, and singled out for year-end praise by The Globe & Mail. Touch was shortlisted for The 2011 Governor General's Literary Award, The Center for Fiction's 2011 Flahery-Dunnan First Novel Prize, the 2012 VCU Cabell First Novelist Award, and the 2011 Amazon.ca First Novel Award, and longlisted for the 2011 Scotiabank Giller Prize, and the 2013 International IMPAC Dublin Literary Award.
Alexi's fiction has appeared or is forthcoming in The Atlantic Monthly, Narrative Magazine, Tin House, Glimmer Train, The Southern Review, Guernica, The Walrus, and many other publications. He is the winner of both the O. Henry Prize (jury favorite) and the Narrative Prize, and has been shortlisted for the Best American Short Stories and the Pushcart Prize.
http://alexizentner.com/
Joe E. Weil
Joseph Weil is an assistant professor who teaches poetry as well as fiction at both the graduate and undergraduate levels. Since 2008, four full length volumes of his poems have been published: What Remains (Night Shade, 2008) Painting the Christmas Trees (Texas Review Press), The Plumber's Apprentice (New York Quarterly books, 2009)), and most recently, The Great Grandmother Light, New and Selected (New York Quarterly books, 2013). Joseph Millar called The Great Grandmother Light, "a Fine, full blooded collection." The Toronto Quarterly featured The Great Grandmother Light in a full length interview with the author. The book was reviewed favorably in The American Reader, and is listed as one of the top 13 poetry collections of 2013 by the poet Sean Thomas Dougherty. Weil's poems, essays, reviews and stories appear or are forthcoming in The Paterson Literary review, MAGGY, Omnibus, The New Renaissance, The Saranac Review, Rattle, The Louisiana Review of Literature, Paddlefish, Best American Poems on line, the New York Times, and The Boston Review, among others. He has been featured on PBS' Fooling with Words with Bill Moyers, on NJPBS, in the Sunday section of the New York Times, and on Pacifica Radio. Weil also has the pleasure of having been quoted in the February 2009 issue of Notable quotes in the New Yorker. His work may be found in several anthologies, most recently Working Words by Coffee House press. He is fiction editor of Ragazine, former publisher/founder of Monk Books, current publisher of Cat in the Sun Press, and a frequent contributor to ThethePoetry.com, an international blog built by some of Weil's former students around his essays on poetry and literature.
Weil is a noted performer who has presented both poetry and music at such venues as the New Jersey State Performing Arts center, the Knitting Factory, the Detroit Opera house, the Walt Whitman Cultural Arts Center, Poets' House, the University of Pittsburgh, and at the Geraldine R. Dodge poetry festivals in 1992, 2002, and 2008. As a poet Weil has featured with Stephen Dunn, Allen Ginsberg, Gerald Stern, Louise Gluck, Wanda Coleman, Jan Beatty, and Patricia Smith. He has been nominated 10 times for the Pushcart, and is the 2013 winner of the Working People's Poetry Competition from Partisan Press for his poem, "The First Time I got Up Early." Weil has also won two NFAAA awards for outstanding teaching in the arts.
http://www.pbs.org/wnet/foolingwithwords/main_weil.html
Tina Chang is an American poet, teacher, and editor. In 2010, she was the first woman to be named Poet Laureate of Brooklyn and she continues to serve in this role. She is the author of three poetry collections: Hybrida (W. W. Norton, May 2019), Of Gods & Strangers (Four Way Books, 2011), and Half-Lit Houses (Four Way Books, 2004). Tina Chang received her MFA in poetry from Columbia University. She will serve as Director of Creative Writing at her alma mater, Binghamton University, beginning fall, 2020.
She is the co-editor of the seminal anthology Language for a New Century: Contemporary Poetry from the Middle East, Asia, and Beyond (W.W. Norton, 2008), which was hailed as, "One of the 10 greatest international anthologies, a timeless resource" by the Academy of American Poets, and was praised by the Financial Times, San Francisco Chronicle, Washington Post, Poets & Writers and many other periodicals. Of the anthology, poet Carolyn Forché said, "Read Language for a New Century as you would a field guide to the human condition in our time, a poetic survival manual."
Chang's own work has been published in The New York Times and Ploughshares among others, and has been featured in the anthologies Asian American Poetry: The Next Generation and Identity Lessons: Contemporary Writing About Learning to Be American (Penguin Books).
Born in Oklahoma to Chinese immigrants, Chang was a year old when the family moved to New York City; not long after she and her brother were sent to live in Taiwan with relatives for two years. "I started questioning even at a very young age, well, what is language?" she said. "What is the role of words?" In an interview given after 9-11, Chang said, "When pondering my identity as an American poet, it is more difficult than ever to place geographic restrictions on my influences and aesthetics…. Perhaps to acknowledge an American Poetry is to acknowledge the most human and fragile self living in and among a global community. The idea of the porous nature of boundaries (geographic, cultural, metaphoric) evades and invades my imagination. In short, I am not alone in the word."
https://www.tinachang.com/
Amir Ahmadi Arian
Amir Ahmadi Arian started his writing career as a journalist in Iran in 2000. He has published two novels, a collection of stories, and a book of nonfiction in Persian. He also translated from English to Persian novels by E.L Doctorow, Paul Auster, P.D. James, and Cormac McCarthy.
Amir left Iran in 2011 to undertake a PhD in comparative literature at the University of Queensland, Australia.
Since 2014 he has been writing exclusively in English. In this phase of his career, he has published short stories and essays in The New York Times, New York Review of Books, Paris Review, LRB, Lithub, Massachusetts Review, Michigan Quarterly Review, etc.
Amir is currently living in New York City where he earned an MFA in the NYU Creative Writing Program as The Axinn Foundation/E.L. Doctorow Fellowship recipient of 2016 - 2018. Now he is teaching literature and creative writing at CUNY City College and Baruch College, New York.
His first novel in English, Then The Fish Swallowed Him, was published by HarperVia/HarperCollins in March 2020.
https://www.amirahmadiarian.com/
Claire Luchette
Claire Luchette is the author of Agatha of Little Neon and a National Book Foundation 5 Under 35 Honoree.
Claire's fiction and non-fiction has appeared in Best American Short Stories, VQR, Ploughshares, The New York Times, Granta, Kenyon Review, Glimmer Train, Iowa Review, and Indiana Review. Their story "New Bees" won a 2020 Pushcart Prize.
Claire was the 2022-23 Rona Jaffe Fellow at the Dorothy and Lewis B. Cullman Center for Scholars and Writers at the New York Public Library. They've received grants and support from the National Endowment for the Arts, the.Wisconsin Institute for Creative Writing, MacDowell, Yaddo, the James Merrill House, the Elizabeth George Foundation, the Millay Colony, Lighthouse Works, John Carroll University, and the Virginia Center for the Creative Arts.
They studied at Brown University and the MFA program at the University of Oregon, and now they teach creative writing at Binghamton University in Binghamton, New York.
https://www.claireluchette.com/
Publications & Presses +
Harpur Palate
Reading Series +
Distinguished Writers Series ( https://www.binghamton.edu/english/creative-writing/binghamton-center-for-writers/distinguished-writers.html )
General Creative Writing Events ( https://www.binghamton.edu/english/creative-writing/binghamton-center-for-writers/creative-writing-events.html/index.html )
Share this page:
Terms of Use
Privacy Policy
Copyright © 2023 by AWP. All rights reserved.
Jump to navigation Skip to content
Search form
P&W on Facebook
P&W on Twitter
P&W on Instagram
Find details about every creative writing competition—including poetry contests, short story competitions, essay contests, awards for novels, grants for translators, and more—that we've published in the Grants & Awards section of Poets & Writers Magazine during the past year. We carefully review the practices and policies of each contest before including it in the Writing Contests database, the most trusted resource for legitimate writing contests available anywhere.
Find a home for your poems, stories, essays, and reviews by researching the publications vetted by our editorial staff. In the Literary Magazines database you'll find editorial policies, submission guidelines, contact information—everything you need to know before submitting your work to the publications that share your vision for your work.
Whether you're pursuing the publication of your first book or your fifth, use the Small Presses database to research potential publishers, including submission guidelines, tips from the editors, contact information, and more.
Research more than one hundred agents who represent poets, fiction writers, and creative nonfiction writers, plus details about the kinds of books they're interested in representing, their clients, and the best way to contact them.
Trying to get your work published can feel like wandering in a maze. If you are running into one dead end after another, not sure which way to turn, Poets & Writers can demystify the process and help you reach your destination—publication.
Every week a new publishing professional shares advice, anecdotes, insights, and new ways of thinking about writing and the business of books.
Stay informed with reports from the world of writing contests, including news of extended deadlines, recent winners of notable awards, new contest announcements, interviews with winners, and more.
Since our founding in 1970, Poets & Writers has served as an information clearinghouse of all matters related to writing. While the range of inquiries has been broad, common themes have emerged over time. Our Top Topics for Writers addresses the most popular and pressing issues, including literary agents, copyright, MFA programs, and self-publishing.
Our series of subject-based handbooks (PDF format; $4.99 each) provide information and advice from authors, literary agents, editors, and publishers. Now available: The Poets & Writers Guide to Publicity and Promotion, The Poets & Writers Guide to the Book Deal, The Poets & Writers Guide to Literary Agents, The Poets & Writers Guide to MFA Programs, and The Poets & Writers Guide to Writing Contests.
Find a home for your work by consulting our searchable databases of writing contests, literary magazines, small presses, literary agents, and more.
Poets & Writers lists readings, workshops, and other literary events held in cities across the country. Whether you are an author on book tour or the curator of a reading series, the Literary Events Calendar can help you find your audience.
Get the Word Out is a new publicity incubator for debut fiction writers and poets.
Research newspapers, magazines, websites, and other publications that consistently publish book reviews using the Review Outlets database, which includes information about publishing schedules, submission guidelines, fees, and more.
Well over ten thousand poets and writers maintain listings in this essential resource for writers interested in connecting with their peers, as well as editors, agents, and reading series coordinators looking for authors. Apply today to join the growing community of writers who stay in touch and informed using the Poets & Writers Directory.
Download our free app to find readings and author events near you; explore indie bookstores, libraries, and other places of interest to writers; and connect with the literary community in your city or town.
Let the world know about your work by posting your events on our literary events calendar, apply to be included in our directory of writers, and more.
Find a writers group to join or create your own with Poets & Writers Groups. Everything you need to connect, communicate, and collaborate with other poets and writers—all in one place.
Find information about more than two hundred full- and low-residency programs in creative writing in our MFA Programs database, which includes details about deadlines, funding, class size, core faculty, and more. Also included is information about more than fifty MA and PhD programs.
Whether you are looking to meet up with fellow writers, agents, and editors, or trying to find the perfect environment to fuel your writing practice, the Conferences & Residencies is the essential resource for information about well over three hundred writing conferences, writers residencies, and literary festivals around the world.
Find information about venues that host readings and author events, including bookstores, bars, cafes, libraries, literary arts centers, and more. The Reading Venues database includes details about how to schedule your own reading, admission fees, audience size, parking and transit information, and more.
Discover historical sites, independent bookstores, literary archives, writing centers, and writers spaces in cities across the country using the Literary Places database—the best starting point for any literary journey, whether it's for research or inspiration.
Search for jobs in education, publishing, the arts, and more within our free, frequently updated job listings for writers and poets.
Poets & Writers Live is an initiative developed in response to interviews and discussions with writers from all over the country. When we asked what Poets & Writers could do to support their writing practice, time and again writers expressed a desire for a more tangible connection to other writers. So, we came up with a living, breathing version of what Poets & Writers already offers: Poets & Writers Live.
Establish new connections and enjoy the company of your peers using our searchable databases of MFA programs and writers retreats, apply to be included in our directory of writers, and more.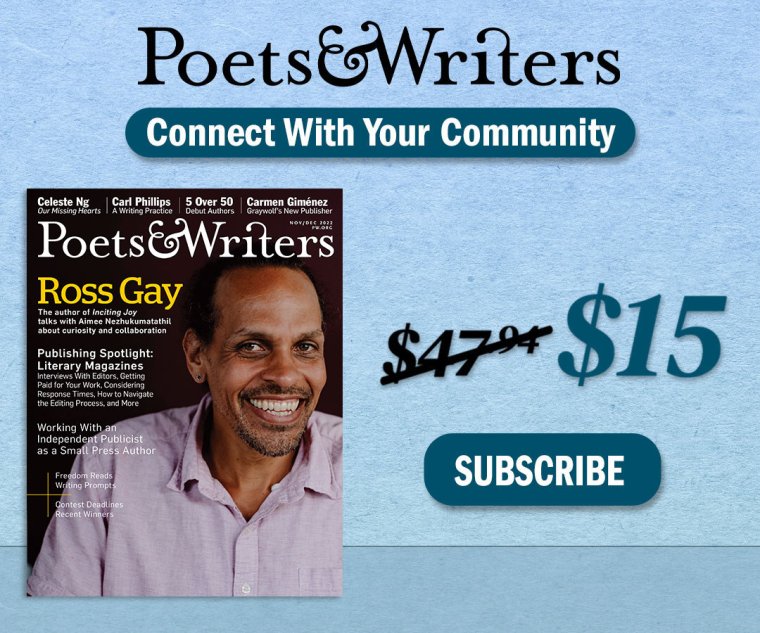 Bring the literary world to your door—at half the newsstand price. Available in print and digital editions, Poets & Writers Magazine is a must-have for writers who are serious about their craft.
View the contents and read select essays, articles, interviews, and profiles from the current issue of the award-winning Poets & Writers Magazine .
Read three decades of essays, articles, interviews, profiles, and other select content from Poets & Writers Magazine .
View the covers and contents of every issue of Poets & Writers Magazine , from the current edition all the way back to the first black-and-white issue in 1987.
In our weekly series of craft essays, some of the best and brightest minds in contemporary literature explore their craft in compact form, articulating their thoughts about creative obsessions and curiosities in a working notebook of lessons about the art of writing.
The Time Is Now offers weekly writing prompts in poetry, fiction, and creative nonfiction to help you stay committed to your writing practice throughout the year. Sign up to get The Time Is Now, as well as a weekly book recommendation for guidance and inspiration, delivered to your inbox.
Every week a new author shares books, art, music, writing prompts, films—anything and everything—that has inspired and shaped the creative process.
Watch videos, listen to audio clips, and view slideshows related to articles and features published in Poets & Writers Magazine .
Ads in Poets & Writers Magazine and on pw.org are the best ways to reach a readership of serious poets and literary prose writers. Our audience trusts our editorial content and looks to it, and to relevant advertising, for information and guidance.
Start, renew, or give a subscription to Poets & Writers Magazine ; change your address; check your account; pay your bill; report a missed issue; contact us.
Peruse paid listings of writing contests, conferences, workshops, editing services, calls for submissions, and more.
Poets & Writers is pleased to provide free subscriptions to Poets & Writers Magazine to award-winning young writers and to high school creative writing teachers for use in their classrooms.
Read select articles from the award-winning magazine and consult the most comprehensive listing of literary grants and awards, deadlines, and prizewinners available in print.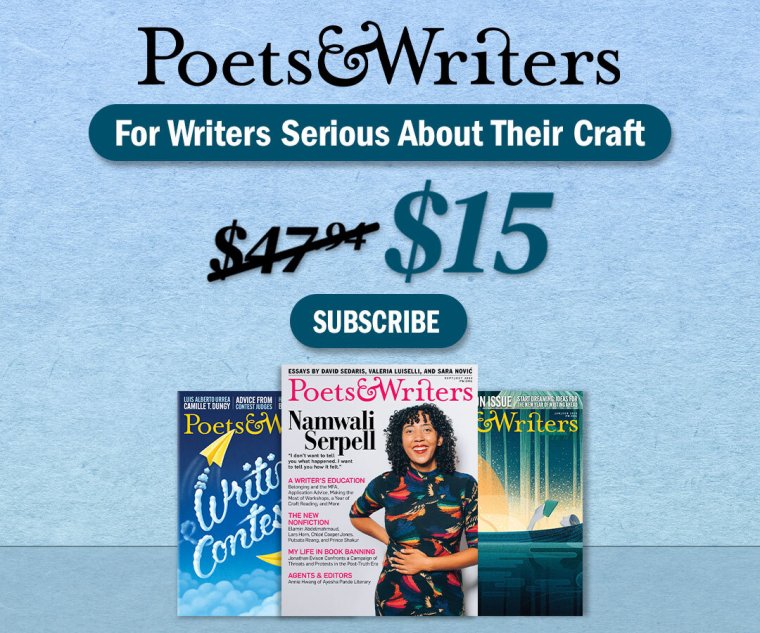 Each year the Readings & Workshops program provides support to hundreds of writers participating in literary readings and conducting writing workshops. Learn more about this program, our special events, projects, and supporters, and how to contact us.
Find information about how Poets & Writers provides support to hundreds of writers participating in literary readings and conducting writing workshops.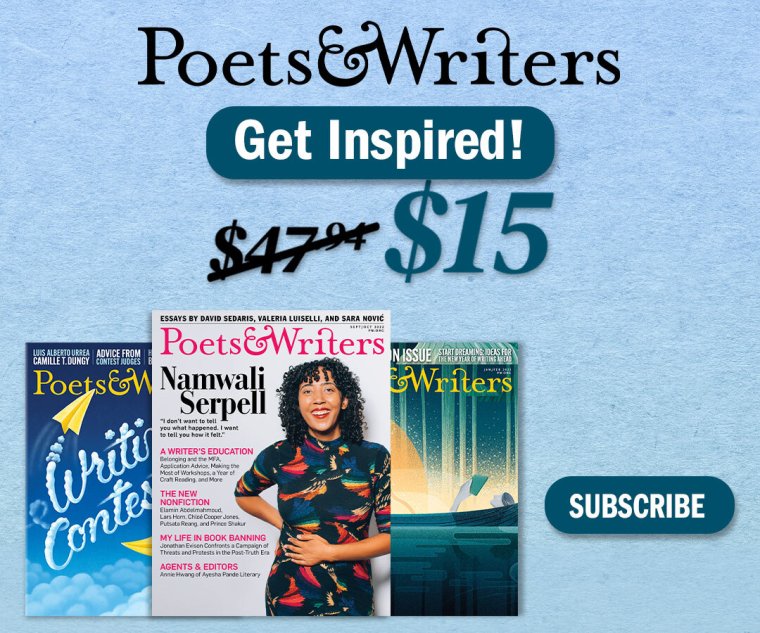 Binghamton University
Printable Version
Log in to Send
Log in to Save
PhD Program
Poetry: Tina Chang, Joseph Weil Fiction: Thomas Glave, Leslie L. Heywood, Liz Rosenberg, Jaimee Wriston-Colbert, Alexi Zentner Nonfiction: Leslie L. Heywood
Funding is competitive, and accepted students typically receive full tuition and a teaching assistantship.
Harpur Palate
Most students complete the PhD program in three to four years.
The university hosts conferences and workshops for creative writers, such as the popular Common Ground reading series, that provide a chance to interact with visiting professionals in a variety of writing fields.
Jason Allen, Greg Ames, Devon Branca, James Capozzi, Brian Finnelli, Margaux Fragoso, Jared Harel, Nicole Santalucia, Silas Dent Zobal
Serving Broome County and surrounding areas through arts and literacy education
Your home for local poetry, what's new at the binghamton poetry project, join our email list to stay up to date on workshops & events..
Read poems by participants in last season's workshops at our online anthology here .
The Binghamton Poetry Project partners with Binghamton public school's Mentor NOW program to bring poetry to kids and their mentors for the third season in a row! Student poems can be found in our anthology published here.
What is The Binghamton Poetry Project?
The Binghamton Poetry Project (BPP) is a literary service program of the Binghamton Center for Writers at Binghamton University. Founded by Nicole Santalucia in 2011, t he project supports and coaches adults, teens and kids in reading and writing poems in workshops that are free and open to the public . Our mission is to increase literary engagement and to strengthen the Broome County poetry community, while connecting the university and its students with county residents. In addition to open poetry workshops for adults, The Binghamton Poetry Project offers workshops to English-language learners through the American Civic Association and to Binghamton public school students enrolled in the Mentor NOW program .
We also provide leadership positions for Creative Writing graduate students and advance the efforts of the Binghamton Center for Writers. We are working to enhance the artistic and creative life of the community at large.
On this website, you can find schedules for the current workshops and contact information for any questions you may have. Under "Blog," you will find fun writing tips and more from our very own workshop participants and interns!
The Binghamton Poetry Project is made possible with public funds from the Decentralization (DEC) Program, a regrant program of the New York State Council on the Arts with the support of Governor Kathy Hochul and the New York State Legislature, and administered by The Earlville Opera House. Additional support for the Broome DEC Program is graciously provided by the Stewart W. and Willma C. Hoyt Foundation, Inc. Funding is also provided in part by a project grant from the Broome County Arts Council's United Cultural Fund. Binghamton University's English Department and the Binghamton Center for Writers give additional support.
Already have a WordPress.com account? Log in now.
Follow Following
Copy shortlink
Report this content
View post in Reader
Manage subscriptions
Collapse this bar
First visit? Register for an account .
Returning? Log in below.
Having trouble logging in? Reset your password .
Receiving unwanted texts? Remove your mobile number .
Looking for more information? View the announcements .
Announcements
The Writing Center offers friendly, qualified peer tutoring to all Binghamton University students! You can make up to two appointments per week (in-person or online) or come for walk-in hours Mondays 10:45-3:15, Tuesdays 12:30-2:30, and Fridays 2:15-3:15. All appointments after 4 p.m. are online and, if you give us at least a few hours' notice, we can convert in-person to online appointments, too.
Please remember that the Writing Center is closed when classes are not in session: we'll be closed for Fall Break and Thanksgiving.
The Writing Center offers free writing help to all Binghamton University students by trained tutors. We currently offer:
in-person tutoring in the Writing Center (Library North 2411--just around the corner from the Harpur Dean's office) Monday-Thursday 10-4 and Friday 10-3:15
synchronous (real-time) online tutoring appointments available normally after 4 p.m. Check whether your tutor's name is followed by "In-Person" or "Online."
Create an account if this is your first visit, or update your profile if you haven't been here this semester.
Select an appointment that suits your schedule. Keep track of it; you're busy, and our tutors are, too! Repeated no-shows or repeatedly failing to cancel with adequate notice will result in disabling of client accounts .
Fill out the intake form to help you and your tutor make the most of your time together.
Since appointments are no longer than 45 minutes, prioritize your concerns . You'll have a chance to do this with your tutor, too.
You can upload a file , but your tutor may not have a chance to read it ahead of time.
come to Library North 2411 a few minutes before your appointment, if it's an in-person appointment
if it's after 4 p.m., or for any online appointment, sign in again on WCOnline, click on your appointment, and follow the directions.
You can import a variety of file types, or a google doc link (sharing permission with your tutor), or you can cut and paste your document onto the whiteboard once you're inside your appointment. Your tutor will help you to save and export your revised document.
No appointments open on the day you're looking for? You can get on the waiting list by clicking the notice on the bottom right-hand side. If you've shared your cell phone number with us in your profile (which you can update anytime), you'll get a text notifying you that an appointment's become available.
Happy writing ! We look forward to seeing you soon.
Reset Your Password
Having trouble logging in? Enter your email address below and then select "Reset Password."
Remove Your Number
Receiving unwanted text messages from this system? Fill out the form below to remove your number.
Mobile Number
Remove Mobile Number
The Writing Center offers free online tutoring to all Binghamton University students. Our excellent peer tutors are available to assist you with any assignment from any class, as well as with critical reading and developing formal oral/visual presentations. We offer tutoring to every student from every college, program, and school, undergrads and grad students, native speakers and English language learners, to help them to become better writers. We will guide and advise as you work on your paper. While we're glad to work with you to understand and correct errors, it is not our role to proofread, to line-edit, or to comment on a paper without the author being present .
Come to Library North 2411 by the start of your appointment time
You may request that your appointment be moved online; please give 24 hours' notice, if you're signing up for a regular (in-person) appointment.
Drop-in appointments may be available, depending on tutor availability.
Synchronous online appointments can be scheduled 4-8:30 p.m. LOG IN, CLICK ON YOUR APPOINTMENT, THEN CHOOSE THE RED LINK . Your tutor will meet you there
You can sign up for the waiting list : if an appointment becomes available, you'll be notified. It's first-come, first-served. Simply update your profile and sign up for text-messaging.
You can cancel your appointment one hour or more before it's scheduled. You're busy, and our tutors are, too. If a student does not show up for an appointment they've scheduled, fails to cancel it at least an hour ahead of time, or shows up more than ten minutes late, the appointment will be recorded as a no-show. After two no-shows , or a no-show and excessive cancellations, the student will not be able to schedule appointments. Email [email protected] if you feel your account has been disabled in error.
Excessive cancellations (more than 1 per week or a total of 5 per semester) may also result in the disabling of accounts and the cancellation of future appointments. Clients whose accounts have been disabled due to no-shows may forfeit any future appointments already scheduled.
›› Binghamton University
›› The Writing Center