Writing Back, a fulfilling volunteering experience
The more good we do for others, the better we feel. Volunteering provides a sense of accomplishment and is likely to increase our self-confidence. At the same time, it can help us acquire new skills, gain experience and even discover something about ourselves. And giving it a try in another country (we are from Argentina and Malaysia, two places located around 10,000 miles from each other and from Leeds itself) sounded all too exciting!
These are some of the reasons we both found to apply to participate in Writing Back , an award-winning letter writing project which pairs students with older residents across the Yorkshire region in order to help tackle loneliness and social isolation. It may not surprise you that loneliness is an issue for many elderly people, especially those with limited mobility. But it also affects newer generations and, indeed, many young people who attend university do experience homesickness or a desire to better connect with others. With this topic in mind, Writing Back —established by Dr Georgina Binnie in 2014— aims to shed light on this issue and encourage cross-generational friendships by bringing together individuals from these two different demographics. Since 2019 Writing Back has been delivered by the University's Global Community Team. Let us tell you how it went for us:
Ken & Francisco
There was a time before emails and WhatsApp, Facebook or Instagram messaging in which people wrote letters to each other. Although it took a lot longer to reach the other person and some readers might have struggled with appalling calligraphy, there was some true magic to it. And penpalling —something I had never done before— is an attempt to keep alive this tradition of deep and meaningful communication.
Through my letter exchanges with Ken, who has lived in or around Middlesbrough for the past 50 years, I learned about his volunteer work at the local library and his passion for sports, in particular football and cricket. I learned about a time in England in which trams had not yet been replaced by buses. I learned about his fortnightly walks with his wife to the nearby national parks. I learned that they both have five grandchildren and, most importantly, that, together, they live a very happy life.
And I also learned about myself. The experience of telling Ken about my life in Argentina and about my decision to come study at the University of Leeds proved immensely fulfilling and rewarding. It helped me rationalise who I am, how fortunate I have been, and why I am here right now. It's been an absolute joy.
Lydia & Ngoi
It was a chilly autumn when I first received Lydia's letter. Holding the small envelope collected from the School of English, I kept wondering about the messages within. My name is written above the printed address. On the upper right corner is a blue stamp, a portrait of Queen Elizabeth II. Wearing a crown, she is facing the left of the envelope. Her demeanour of gazing to her front is calm and elegant, as though she is gazing through the ocean of time.
If the ocean of time was what lay between Lydia and me, then the letters we wrote were boats carrying our best wishes to each other. Very much like me, Lydia is a person who loves nature. Having a keen eye for animals, the avian friends are never some anonymous 'birds' in her observation. From her letters, I learned a new list of bird names, for instance, goldfinches, greenfinches, coal tits, hedge sparrows, and so on. She is also observant about the unfortunate incidents in nature, for instance, a bird hunted by the sparrow hawk and a badger which died on the road. Her affinity with nature is further manifested when she admits her delay in growing her spring flowering bulbs and tulips. This instance echoes the passion that my mother and I have for gardening. The cultivation of plants is, for us, the cultivation of joy. I believe this is how Lydia feels too, especially when plants and animals merge into harmonious pictures of her life. I could feel her happiness when encountering the migratory redwings in the garden. There must also be a smile on her face when she sees her neighbours' cats hiding in the undergrowth.
For Lydia, nature is not just 'the other' on the periphery of her life. The inspiration from nature, which she integrates so well into her writing, shapes the way she views the world. It is plausible to posit that she, who perceives nature as part of her life, also cares about other humans in her life. The everyday stories she shared paints her as someone who cares a lot about her family. Instead of just narrating stories about herself, she often shares her time with her family. She spends a lot of effort taking care of her mother-in-law and her husband due to certain reasons. Although the caring responsibilities are challenging, her life is still sprinkled with joy from her grandson. She loves sharing the moments spent with her grandson who loves Spiderman. I imagine it to be a loving scene when she describes how her shy grandson would at least thank the Santa for the gift received.
I was surprised to learn that Lydia had a commitment to the University of Leeds in a certain phase of her life in the past. Apart from showing how we are interconnected, the correspondence prompts me to examine the concept of time. Both Lydia and I are nature lovers associated with the University of Leeds, but it took us so many years to get to know each other through Writing Back. I could sense familiarity with the scenes depicted in her letters, as though her stories are, in one way or another, related to my unconscious.  I was only aware of the resemblance between her stories and certain pieces of my memories after reading her letters. Perhaps the significance of every choice made will only be revealed to us after some time.
The same conception can be translated into the act of writing letters and waiting for replies too. Because we know that we will have to wait for some time before receiving any replies, we will read the letters carefully and think properly of what we should write. However, how our pen pals interpret the sentences might vary from how we intended them to be. Again, this instance exemplifies how time will only illuminate the significance of the choices made after a period of time.
Indeed, the experiences of both Francisco and Ngoi as delineated are our reflections on Writing Back, which had unfortunately been suspended due to the lockdown. Nevertheless, we believe that we and our pen pals will develop some new understanding when we reread the letters a long time after this. To a certain extent, this process resonates with a kind of discovery, both internally and externally, as determined and constituted by time. The portrait of Queen Elizabeth II on the stamps is as composed as ever, which harks back to her reassuring Coronavirus broadcast.
Sadly, due to the Covid-19 pandemic, the traditional Writing Back Meet Up Event, where we would have met our pen pals, did not take place. But we are glad to know our English pen pals whom we have met through letters. We sincerely hope that they can stay healthy and live their lives to the fullest.
Writing Back: Spreading Kindness One Letter At A Time
Impact and research fellow and founder of Writing Back at the University of Leeds

A 2016 report by the British Heart Foundation and Co-Op found that 9 million people in the United Kingdom often or always felt lonely. Loneliness doesn't just affect older people. In a 2010 survey by The Mental Health Foundation , 36% of 18–34 year-olds worried about feeling lonely. Letter writing is routinely decried as a 'dying' art but, at the University of Leeds, students and older members of the community are helping to tackle loneliness and improve wellbeing by exchanging letters with another. In 2014, I founded Writing Back , an intergenerational letter writing project that matches University of Leeds students as pen pals with older Yorkshire residents. Having arrived at the University of Sheffield for my undergraduate studies in 2007, I found comfort in regularly exchanging letters with my grandma. Four years later, after teaching School of English students at the University of Leeds, and volunteering at a local care home, I decided that I wanted others to be able to experience the same solace that I had found in intergenerational letter writing. Just as the care home residents that I spent time with expressed a desire for greater communication and companionship, so too did my student cohort. In matching these two groups as part of the Writing Back programme, I have now facilitated letter writing between over two hundred people and have witnessed first-hand the generosity of spirit in their letters.
In Jo Cox's maiden speech , she advocated for a kinder society, arguing that 'We are far more united and have far more in common than that which divides us'. Writing Back adheres to this ethos of common human values. Despite the students and the older participants' differing ages and backgrounds, their letter writing frequently leads to the formation of long-lasting friendships. Reflecting on this relationship, student Olivia noted, 'I've become good friends with Val, my pen pal, and it's been a great chance to chat with someone very different that myself'. She further described the project as being 'a lovely way to get involved with the community in Leeds', writing, 'I really like the fact it makes a difference in elderly people's lives. It's opened my eyes to the experiences of people very different from myself'. At university, students can find themselves moving between their accommodation, the campus and the city centre, without always venturing further afield. Many of Writing Back's older pen pals have lived in Leeds and Yorkshire for the entirety of their lives, and they are able to share their wealth of knowledge with their younger partners. The students are also provided with historic photographs of Yorkshire and are encouraged to send these images with their letters. This exchange of words and images led one student, Ian, to comment, 'I have grown in confidence and learnt more about the surrounding area and how it's changed over the years, as well as being able to make use of some of the unique documents the Brotherton Library houses'. Ian further acknowledged of the project, 'Not only have I made some great friends across various different levels of English, but [I] have made a long-lasting friendship with my pen pal, Joyce, who I recently described as my 'Northern grandmother'!'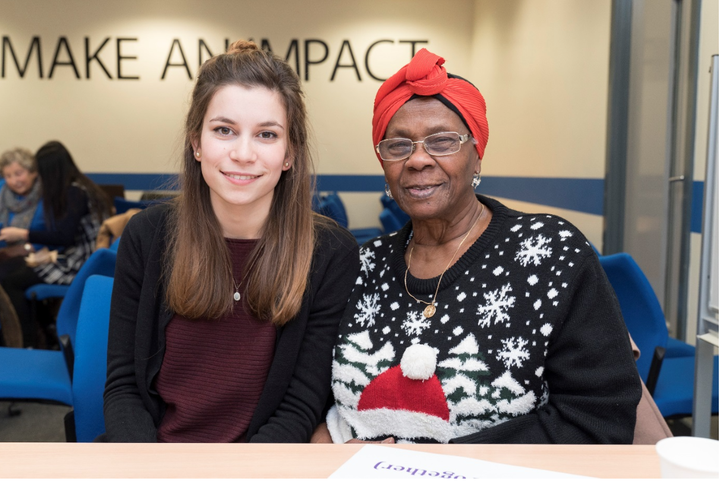 For the older participants, the benefits of the project can be profound. One of the older letter writers described how 'The Writing Back project has allowed me to write to someone whom I would otherwise never have come across. It is interesting to exchange letters with a much younger person, to hear her views, discover her interests and share topics of "written conversation" without necessarily having met one another'. There is something inherently personal about receiving a handwritten letter in the post, particularly when considerable care has gone into this correspondence. Reflecting on the benefits for the student participants, an older pen pal, Margaret, wrote, 'I think it helps them get over the early term homesickness knowing that a letter on the mat one morning for them shows some cares, someone is quietly supporting'. For Margaret, the scheme 'is breaking down barriers - there is no them and us'.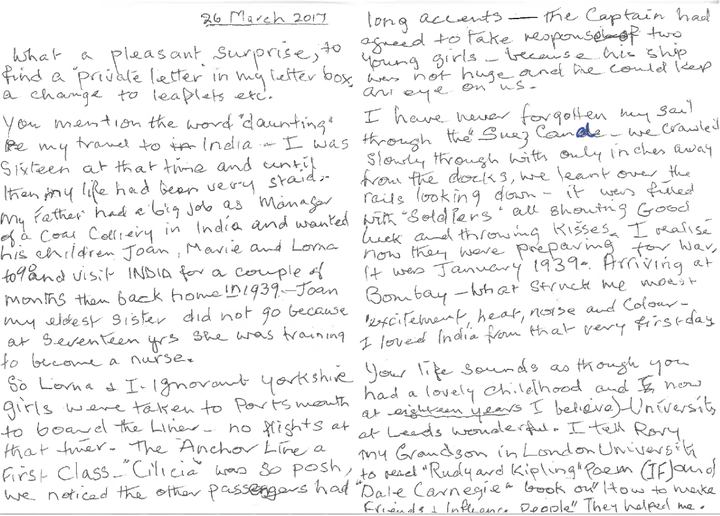 In putting pen to paper, what might initially seem like a small act of kindness has the potential to transform lives and communities. Many of the students who join Writing Back will have never had a pen pal, and some will have never written or received a handwritten letter. Writing Back challenges its participants to look beyond their initial differences and champions intergenerational correspondence as a tool for fostering a more tolerant and understanding society.
E ve ryone hates January. The post-Christmas comedown hits us hard, especially with 2017 being such a tough year. Kindness 31 is our antidote to that. Every day we'll share a good news story about someone (or a group of people) and their act of kindness or how they helped others. If you want to get involved, email [email protected]. Alternatively if you'd like to nominate someone to be featured, fill in this form.
Before You Go

Dr Georgina Binnie
Do you have info to share with HuffPost reporters? Here's how.
You May Like

Research Data Leeds Repository
Latest Additions
Research Data Management
Search site

Writing Back dataset
Binnie, Georgina (2019) Writing Back dataset. University of Leeds. [Dataset] https://doi.org/10.5518/613
Dataset description
This dataset contains letters exchanged between University of Leeds students and older, Yorkshire residents in 2017-18, written as part of the University's Writing Back Project. This includes letters written by School of English students and University-wide international postgraduate students. The international and undergraduate strands of the scheme relate to different participants and different data.
Documentation
Accessibility
Repository Policies
Notice and Take Down
Freedom of Information
Research Data Leeds Repository is powered by EPrints Copyright © 2023 University of Leeds
What is public engagement?
Who are the public?
Why does public engagement matter?
What does an engaged university look like?
Public engagement and the REF
REF 2014: the story so far
Public Engagement and the KEF
About quality engagement
Case studies
Pen portraits
How to choose a method
Media engagement
Social media
Presentations
Exhibitions and posters
Consultation
Target your audience
Young people
Policy makers
Partnership working principles
Working with festivals
Working with local communities
Working with museums and libraries
Working with schools
Working with science centres
Working with students
Working with student volunteers
Working with businesses
Project management
Social and ethical issues
Arts and humanities funding
Health and life sciences funding
Social sciences funding
STEM funding
Multidisciplinary funding
Pathways to impact
Evaluation resources
About the Manifesto
Sign the Manifesto
Manifesto signatories
The EDGE tool
Developing a strategy
Delivering your support programme
Public Engagement Professionals
How we can help
The culture change journey
Vision, mission and aims
Equity, Diversity and Inclusion (EDI)
Inclusion Advisory Group
Engage Academy
Leadership in Action: Online seminar series
Public Engagement Trainers' Network
Consultancy
Engage Live 2024
Engage Online 2023: Changing Practices
Past Conferences
About the Engage Watermark
Award levels
Assessment process
Current awardees
Images of Public Engagement 2018
Research for All Journal
Science Learning+
National Civic Impact Accelerator
PEP Insights Research Study
Enhancing Place Based Partnerships
Citizen Engagement on the Environment
National Forum for Public Engagement in STEM
Sciencewise
Wellcome Centre Support Programme
What Works: Public Engagement in Practice
Completed projects
Action learning - race equity
Contact the NCCPE
Public Engagement Professionals Network
Public Engagement Network
UK Community Partner Network
Engaged Practice Learning Exchange
Writing Back
This project tackles loneliness and isolation using a pen pal exchange between university students in Leeds and older residents in Yorkshire. The scheme is now in its fourth year, and part of its success has been its ability to re-evaluate and adapt as it grows.
Writing Back brings together students in their first year at the University of Leeds with older residents who are well established in the local community.
A common factor between the two demographics is the issue of loneliness. Students often feel the most lonely and vulnerable in their first year away from home, when they are unfamiliar with their new surroundings. While older people, many of whom may be living alone, can also fall victim to social isolation.
By brokering a penpal relationship between the two groups, Writing Back is able to foster unique friendships, while increasing the emotional well-being of the participant groups.
The project has grown each year, starting with 28 in its pilot year, rising to more than 200 in the third year.
In order to kick-start the written exchanges, participants were encouraged to share their interests, and were also provided with archive photographs by partner agencies. These pictures provide a source of inspiration for writing, with older residents able to explain to the new student arrivals how the area has changed.
One of the challenges faced by the research team has been how to accurately evaluate the effect of the project on loneliness. A questionnaire was devised using existing tools devised by the Campaign to End Loneliness. The results suggested that contrary to what the researchers predicted might be the case, it was in fact the younger people who appeared to be suffering most from the feeling of loneliness.
Project partners
Writing Back benefited from a strong lead role played by the main project officer, together with a solid base of support from both community groups and the University of Leeds itself
The project is led by Dr Georgina Binnie , Project Officer from Writing Back at the University of Leeds. The students she recruited to take part in the project were undergraduates from her department. The older participants were recruited through third sector organisations across Yorkshire.
The Leeds 'Libraries at Home' Service referred older participants to the scheme, as did the Leeds Neighbourhood Networks and charities from across Yorkshire.
Archive partners included the Brotherton Library, Leeds Central Library, the West Yorkshire Archive Service, ULITA – an Archive of International Textiles, and the M&S Company Archive (based on campus).
The aim of the project was to increase the emotional wellbeing of participants.
The purpose of the engagement was to encourage participants to hear what each did, to learn from each other and to change attitudes and behaviour.
It has created unique friendships, and from the students' perspective it has allowed them to challenge their views on older people, and indeed the role of the university in the community it serves.
A key aim was to attempt to measure the success of the act of letter-writing in helping alleviate feelings of loneliness and isolation.
There is some evidence that writing had a particularly positive effect on the young students' mental wellbeing.
The project came about as a result of project leader Dr Georgina Binnie's previous earlier experience with letter writing and its potential to ease loneliness.
As a student, Dr Binnie had exchanged letters with her grandmother throughout her time at university, and she became aware of the power of the letter as a tool to facilitate dialogue, and to foster emotional well-being. Dr Binnie recognised that students at Leeds might also benefit from exchanging letters with older and established members of the community.
It is not always the case that it is the older generation which suffers more from feelings of loneliness and despair.
A study in 2010 by the Mental Health Foundation showed that 18-34 year olds were more likely to feel lonely more often than their older counterparts.
At the same time, the British Red Cross say more than 3.7m people over the age of 65 are thought to live alone, and a third of British citizens over the age of 65 say they have nobody to turn to.
The project began with the Leeds 'Libraries at Home' Service referring older participants to the scheme, as did the Leeds Neighbourhood Networks and charities from across Yorkshire.
Their letters are matched with students who similarly express an interest in taking part. The matching is also based on common identified interests.
Letters are exchanged via a pigeonhole at the School of English Student Office at Leeds University and are photocopied to be included in a project archive.
The participants exchanged letters approximately once every two weeks. They write about a huge range of things – from hobbies, travel, poetry and music. In the initial pilot, the letters were themed, the topic being the First World War. This enabled some students to share their love of war poetry, for example.
In the early stages, the pen pals are encouraged to share historic photographs of Yorkshire which were provided for the project by the archive partners.
In the first year of the project, Special Collections at the Brotherton Library and the Leodis photographic archive provided copies of historic photographs of Yorkshire to be used with the students' letters. Meanwhile the west Yorkshire Archive Service also provided images, and also referred a group of older ex-miners to take part in the project itself.
These photographs prompted topics of conversation within the letters, enabling the older people to outline how their communities have changed over time, and for the younger students to gain a better understanding of life in their newly adopted area…and hence, a greater sense of belonging there.
For evaluation purposes, the letters then became a source of data in themselves. A questionnaire was devised to track any impact the act of letter-writing had on feelings of loneliness.
At the end of the project a closing event was held where those participants who are able to travel to the University are able to meet their pen pal in person. For housebound participants, the student will often visit their pen pal directly or phone them as a means of facilitating a virtual meeting.
The project is now in its fourth year and has seen the number of participants grow each year. In the pilot year 28 participants took part, which included the letter writing and an optional meeting at the end. In the second year, 112 people took part, rising to 202 participants in the third year.
There are two ongoing strands of research.
The first focus is investigating loneliness and social isolation in the student and older demographics. By using the loneliness measurement tools devised by the national Campaign to End Loneliness the project is able to evaluate how letter writing functions as a tool to aid emotional wellbeing.
Second, the project examines how to encourage engagement with Yorkshire archives. Students are given copies of historic photographs of Yorkshire by the Brotherton Library, Leeds Central Library and the WY Archive Service, the M&S company library and ULITA, which they share in their letters to their pen pal.
The letters are copied as part of the scheme and became a form of data in themselves, as did the number of participants that take part in the project and attend the events.
Loneliness is notoriously difficult to evaluate. However, using loneliness measurement tools developed by the Campaign to End Loneliness a questionnaire was devised to use with participants. These voluntary questionnaires were given out at lunch events - which were held in order for the pen pals to meet up - or they were sent to housebound participants in the post.
Of the participants who opted to return the first questionnaires, 25% of the older pen pals sometimes or often felt lonely and 62% of the students sometimes or often felt lonely. However, given that not all participants returned the survey this is not representative of the whole cohort of pen pals (something which the project hopes to address in the following year).
At the end of last year, 94% of students indicated that writing to their older pen pal had a positive effect on their mental wellbeing and 6% gave a neutral response. 95% of older participants advised that writing to their student pen pal positively impacted their mental wellbeing and 5% did not respond to this question.
The questionnaires offer a positive indication as to the impact of letter writing on the emotional welfare of the participants. The project will now compare data between the different years.
Lessons learned
There was a presumption that it would be the older participants who would be keener to take part than the students. The opposite proved to be the case. Recruitment became easier when the project focused on selling the mutual benefits of taking part. In order to engage more, older pen pals, an emphasis was placed on how they might help the students familiarise themselves with their new environment. The elder participants saw this offered genuine benefits to the students and were more willing to take part.
The project demonstrated the impact students can have on the local community via their engagement in volunteering. Georgina Binnie believes that it has provided real evidence of the need to engage the local, older populations surrounding the University in our research, with their participation in the project having made a vast impact on the wellbeing of our students.
A future ambition is to enhance the digital profile of the project so that a digital online repository of letters could be created.
It is clear from the results of the questionnaires that the project is not necessarily recruiting the most lonely participants to take part. Older people who attend the Leeds Neighbourhood Network groups are already creating social links in their local area. Going forward the project aims to work with more housebound participants via a collaboration with Leeds Social Services.
The participants indicated that they would like a better understanding as to the relevance of the use of archives. In response to this, participants can bring in images of Yorkshire to be digitised and recorded along with their own stories regarding these images.
In the summer of 2017, letters from the project were dramatized and turned into a new production which was performed at the Headingley Arts Centre in Leeds.
The project has attracted some positive coverage in the media, with a large feature, for example, in the Yorkshire Evening Post, which was also in the process of running a loneliness campaign and made a virtue of linking the two initiatives.
A wealth of friendships now exist that would not have been possible without Writing Back. The project leader believes that impact on the emotional wellbeing of participants has been profound. One older participant said: 'Writing to my student friend change[s] my day-to-day way of living'. Pen pals regularly meet up with one another outside of the project.
The cultural contribution offered by the archive of letters provides a permanent reminder of the legacy of the student contribution and their ability to make a difference.
The experiences of current participants suggest that there is a significant scope for cross-generational communication to be used to target homesickness, to encourage mutual learning and to aid the development and formation of friendships.
The letters exchanged during Writing Back indicate that the letter has a universal and nostalgic function that cannot be readily replicated in an alternative technological form. As universities increasingly look to enhance their impact profile, the student and older participants provide a successful example as to the emotional and physical benefits of facilitating engagement via the act of local, letter writing.
For further information, please see the Writing Back website or listen to our interview with Dr Georgina Binnie .
Writing Rebooted Aims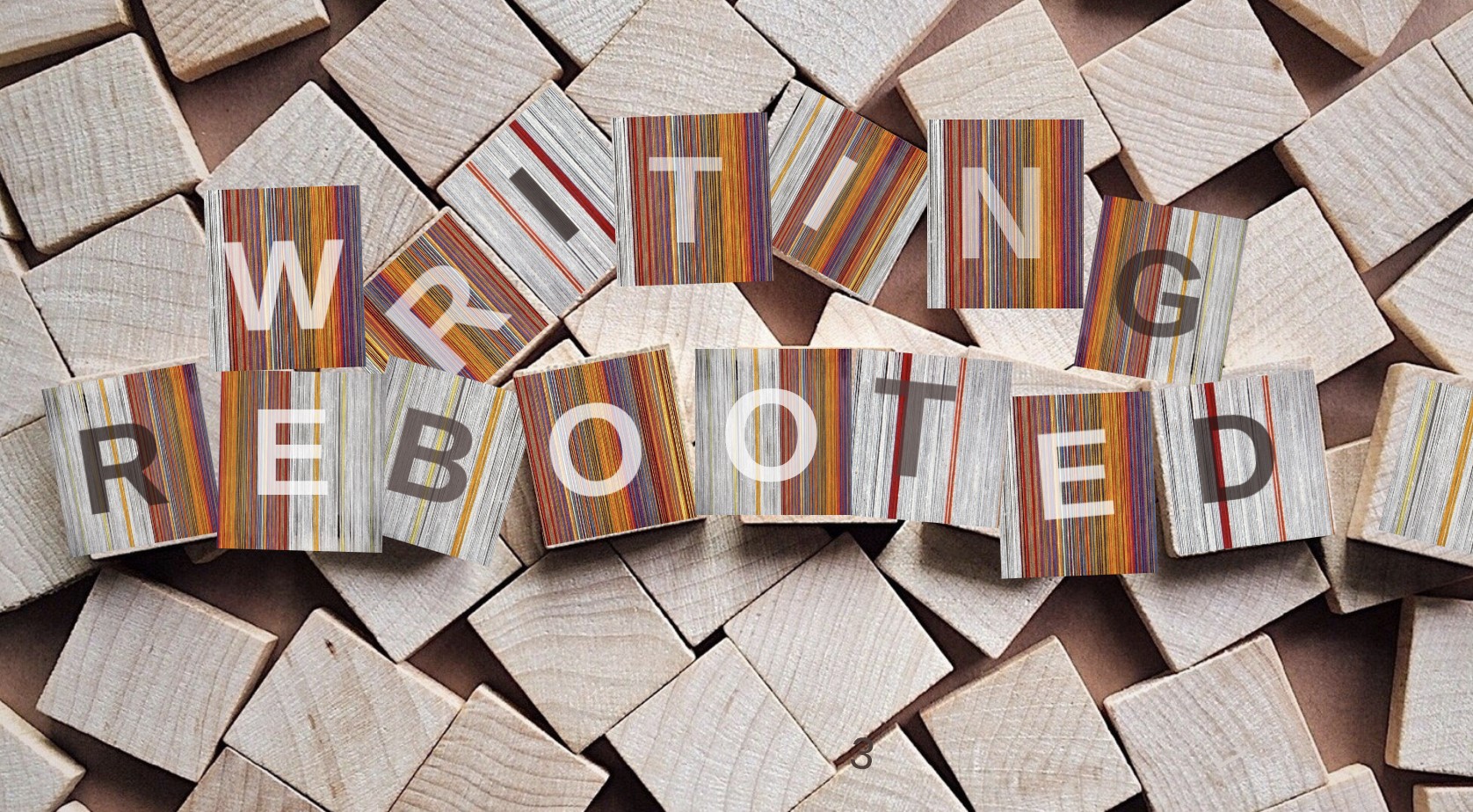 You may have already seen that LAHRI's Writing Rebooted returns this coming Friday - 22nd September at 10am.  Writing Rebooted - get your pens/keyboards ready... | Leeds Arts and Humanities Research Institute
Thinking ahead to this welcome return, LAHRI Manager, Hilary Potter , reflects on why she is happy to be hosting the sessions as well as what she aims to get out of them.
What's so good about Writing Rebooted? 
Writing Rebooted provides the time, space and community support to help you to get on with your writing. It is really easy to fall out of the habit, to let other jobs take over, meaning the thought of writing can also become just stressful. It can also be really challenging to get back into writing when you've had a period away. Also I think there is something just wonderful about spending time immersing yourself in a world of ideas. Writing Rebooted offers the chance to do just that.
What are your aims for the sessions? 
Personally, aside from facilitating others, I aim to finish my half-written book - a how to guide on turning your PhD thesis into a monograph, as well as writing up a long overdue article. I'm in need of that easing back in after a period away. I'm in the middle of a house move, which is wreaking havoc on my writing time, so the return of Writing Rebooted makes me really happy.
When are the sessions and why have you changed the times? 
For this semester they are every Friday online from 10-1pm. We previously alternated between morning and afternoon sessions but we want to test out how having a fixed slot works.
How do we join?
The sessions are run on Zoom and you can access the session via the   LAHRI Hub SharePoint page or our LAHRI What's On page . If for any reason you cannot access the link then email the LAHRI inbox [email protected]
Get involved
Accessibility
Writing Back Penpal Programme
Writing Back is an award-winning University of Leeds letter writing project matching School of English undergraduate students as pen pals with older Yorkshire residents. Now in its third year, the project has seen 140 people write to one another so far. Our students are often away from home for the first time and welcome the chance to write to someone new.
Letters are sent via the School of English so that addresses do not need to be exchanged. The scheme is fully funded, with optional meet-up events being held during the course of the academic year. Students are given historical images of Yorkshire at the start of the project and are encouraged to share these images in these letters. Participants can choose to have their letters added to our project archive.
Writing Back are keen to reach more potential letter writers. One of the aims of the project is to tackle loneliness and social isolation in both the student and older demographics, although many of our letter writers would not class themselves as 'lonely'! Optional questionnaires will be distributed as part of the project. This is a great opportunity for older members of the community to share their knowledge and experiences with our student population.
The students say: "I feel especially now it is important that the generation gap be bridged as, much as would like to think there is, there is not much difference between us."
The older participants say: "It's such a great idea getting young and old ages staying up to date with how they're tackling life. Writing to my student friend change[s] my day-to-day way of living."
Anyone who is interested in finding out more should contact:
Georgina Binnie [email protected] School of English University of Leeds Leeds LS2 9JT 07398 759 479
English Literature BA
Year of entry 2024, visit us in 2023.
Our 2023 Open Days have now finished, but you can still explore life at Leeds by joining a campus tour. Book your place
Course overview

Throughout this course, you'll explore richly diverse literary texts across different genres, including fiction, poetry and drama, and will see these in the context of a variety of historical periods, places and cultures. You'll consider how and why these texts are produced, read, and understood and analyse the impact of their creativity and power. 
Reading and understanding literature can help us to find out about ourselves and see the world from other perspectives. 
Through engaging with different kinds of texts from across the globe and from different periods of history, you can learn how language reflects and shapes human experience. 
You'll also develop your skills as a critical reader, a clear thinker, and a persuasive writer. 
Our modules explore themes relevant to how we live today, including race and ethnicity, gender, climate change and nature, social class, disability and wellbeing. 
The School of English supports a vibrant community of researchers and creative practitioners. It is home to the Leeds Poetry Centre, and we regularly host readings and talks by well-known and emerging contemporary writers. 
The School also produces a literary magazine, Stand, and publishes the best in new creative writing.
The world-class Brotherton Library has an array of archive, manuscript and early printed material in its Special Collections, including letters by Charles Dickens, manuscripts by the Brontës, a Shakespeare First Folio, and extensive archives of prominent contemporary poets including Simon Armitage and Tony Harrison. 
You'll also have opportunities to learn traditional printing and typesetting techniques using our period printing presses and learn more about print and publishing history.
Take a look around our libraries:
Brotherton Library Laidlaw Library Edward Boyle Library
The University also has four performance and rehearsal spaces, fully equipped with lighting and sound, as part of our impressive theatre offering.
Explore the Workshop Theatre
Course details
The course information shown below represents typical modules/components studied and may change from time to time. Read more in our terms and conditions .
Most courses consist of compulsory and optional modules. There may be some optional modules omitted below. This is because they are currently being refreshed to make sure students have the best possible experience. Before you enter each year, full details of all modules for that year will be provided.
At Level 1, students will take Reading Between the Lines and Writing Matters, which introduce them to university-level study, equipping them to read critically and write with rigour and persuasion. A further compulsory module on Race, Writing and Decolonisation draws upon the School's long history of teaching Black and Asian British writing and literature in English from around the world. Optional modules focus on poetry, fiction and drama. Students may also take Discovery modules from across the University.
At Level 2, students will take two core modules, Writing Environments and Body Language. These modules explore two urgent contemporary challenges, the climate crisis and personal wellbeing, and will examine how these issues can be understood and expressed through literary texts. Students will also select four further modules from a choice of eight, ranging historically and geographically from Medieval to Contemporary, and from Postcolonial to American. Level 2 will deepen and enrich subject knowledge and intellectual skills, preparing students for more independent learning at Level 3, where they can select from a range of specialist modules. A final year project, which may be a dissertation or a textual edition, further enhances active research skills, enabling students to define, plan and produce an extended piece of work.
After their second year of study, students may apply for transfer to an International Degree at one of a wide range of universities with which the University of Leeds has established links. They may also spend a year in industry on a work placement as an optional third year of their degree programme.
In your final year, you will choose from a wide range of specialist modules taught by research experts in their fields. You might study literature from Arthurian legends to postcolonial narratives, from Jane Austen novels to contemporary crime fiction, from Romantic poetry to the digital humanities. Alongside these specialist research modules, you'll start work on your own final year project. Based on a topic of your design, this individual project will showcase your development as a critical thinker and researcher and demonstrate your ability to manage a large project and communicate effectively. 
With seminar discussions and workshops, access to outstanding resources on campus, and expert staff to guide and support, you'll be able to broaden your knowledge and build your skills for the future.
For more information please read BA English Literature in the course catalogue .
Year 1 compulsory modules
Race, Writing and Decolonization (20 credits) - Current hashtag movements from Black Lives Matter to Why is My Curriculum White? to Fees Must Fall suggest that the project of racial decolonisation is far from over. Focusing on African-American, South African, Caribbean and Black British writing, this module offers the chance to look at some of the most explosive black writing on race and how it informs our current 'decolonial' moment. We will move from the writing that helped dismantle the British Empire, usher in the civil rights era in the US, and bring an end to apartheid in South Africa, through to contemporary writing that confronts ongoing structures of racism. The question of exactly what constitutes blackness and black writing will be at the heart of our discussions.
Writing Matters (20 credits) - Writing and communication skills are vital to most professional careers, but they are especially valuable in the field of English studies. This module explores debates around a canonical literary text, examining theoretical approaches and rhetorical strategies used to write about literature. Students will hone their own writing skills by engaging ethically with the text and the ideas of others, developing structured arguments, expressing ideas clearly and concisely, working with feedback, and practising writing as a process. As a result, students will cultivate a deeper understanding of how writing works, learn how to share insights with greater efficacy and sophistication, and practice how to transfer this knowledge to future workplace contexts.
Reading Between the Lines (20 credits) - This module equips students with a critical vocabulary for sophisticated literary study, introducing the creative, argumentative and exciting discipline of 'English Studies'. Through close analysis of specific texts across a range of periods and forms, students will encounter some of the varied theories that have shaped and continue to underpin the discipline. Students will find out how an English degree might change the way we read and see the world, while developing their academic skills through guided critical reading, collaboration with peers in group presentations and seminar discussions, and a variety of assignments designed to introduce them to the different formats of assessment required throughout the degree.
Year 1 optional modules (selection of typical options shown below)
Poetry: Reading and Interpretation (20 credits) Drama: Text and Performance (20 credits) Modern Fictions in English (20 credits)
Year 2 compulsory modules
Writing Environments: Literature, Nature, Culture (20 credits) - This module examines what it means to live as human beings on a more-than-human planet. We'll investigate how literary texts from different times and places have understood the relationship between nature and culture. We'll address human impacts on the environment in relation to historical phenomena such as colonialism. And we'll explore the insights that literature can offer at a time of concern about climate change and other environmental issues.
Body Language: Literature and Embodiment (20 credits) - This module explores the relationship between embodiment, language and representation across a range of literary forms, genres, and periods, addressing questions such as: what does it mean to be 'human'? Can technology change who we are? How do we navigate the relationship between the body and the mind? It examines how critical theorists and creative writers and life writers have treated and imagined this relationship between material bodies and literary representation, in order to better understand both the possibilities and limitations of literary expression.
Year 2 optional modules (selection of typical options shown below)
Renaissance Literature (20 credits) Medieval and Tudor Literature (20 credits) Modern Literature (20 credits) Postcolonial Literature (20 credits) The World Before Us: Literature 1660-1830 (20 credits) Other Voices: Rethinking Nineteenth-Century Literature (20 credits) American Words, American Worlds (20 credits)
Year 3 compulsory modules
Final Year Project (40 credits) - This module encourages independent, self-directed learning, providing a culmination to the research strand emphasised in other modules. It fosters a wide variety of responses to the challenges it offers students, since any final year project might take one of a number of forms. Most importantly, it promotes academic creativity and the exploration of individual intellectual interests.
Year 3 optional modules (selection of typical options shown below)
Sex and Suffering in the Eighteenth-Century Novel (20 credits) Prose Fiction Stylistics and the Mind (20 credits) Quiet Rebels and Unquiet Minds: writing to contemporary anxiety (20 credits) Milton (20 credits) Contemporary South African Writing (20 credits) Forensic Approaches to Language (20 credits) Writing America (20 credits) Transformations (20 credits) Children, Talk and Learning (20 credits) Trial Discourse - The Proceedings of the Old Bailey 1674 - 1913 (20 credits)
Discovery modules
Throughout your degree you will benefit from a range of opportunities to expand your intellectual horizons outside or within your subject area.
This course gives you the opportunity to choose from a range of discovery modules. They're a great way to tailor your study around your interests or career aspirations and help you stand out from the crowd when you graduate. Find out more about discovery modules on our Broadening webpages .
Learning and teaching
We use various teaching and learning methods to help you benefit from our tutors' expertise. Group seminars are at the heart of this degree. 
You'll also encounter:
One-to-one tutorials and supervisions
Online learning through Minerva, our Virtual Learning Environment.
Independent study is a vital element of this course since it enables you to develop your research and critical skills and form your ideas. 
Our globally recognised research feeds directly into your course and shapes what you learn at Leeds with the latest thinking.
You'll be taught by inspirational academics who are experts in their field and share your passion for your subject. Some may even have written textbooks and research articles you'll use on your course.
On this course you'll be taught by our expert academics, from lecturers through to professors. You may also be taught by industry professionals with years of experience, as well as trained postgraduate researchers, connecting you to some of the brightest minds on campus.
English Literature modules are assessed using various methods, including exams, essays and shorter written assignments. 
Some modules will also include wikis, podcasts, research exercises or oral presentations.
This range of assessments will help you develop your communication skills, improve your digital literacy, and enhance your ability to deliver different projects. 
Entry requirements
A-level: AAB including A in English (Literature or Language and Literature)
Where an applicant is taking the EPQ in a relevant subject this might be considered alongside other Level 3 qualifications and may attract an alternative offer in addition to the standard offer. If you are taking A Levels, this would be ABB at A Level including A in English (Literature, or Language and Literature) and grade A in the EPQ.
We welcome applications from mature students with Access qualifications, and from students with a wide range of qualifications.
Alternative qualification
Access to he diploma.
Pass diploma with 60 credits overall, including at least 45 credits at level 3, of which 30 credits must be at Distinction and 15 credits at Merit or higher. The Access course must follow a Humanities pathway and include English modules. An interview and a piece of written work may be required.
We will consider the level 3 QCF BTEC at Subsidiary Diploma level and above in combination with other qualifications. Please contact the Admissions Office for more information.
Cambridge Pre-U
D3, M1, M2 including D3 in English
International Baccalaureate
35 points overall with 16 at Higher Level including 6 in English at Higher Level
Irish Leaving Certificate (higher Level)
H2, H2, H2, H2, H3, H3 including H2 in English
Scottish Highers / Advanced Highers
AB in Advanced Highers (including A in English) and AABBB in Highers, or A in English Advanced Highers and AABBB in Highers
Welsh Baccalaureate
The Welsh Baccalaureate is not typically included in the academic conditions of an offer made to you for this course. If you choose to undertake the Welsh Baccalaureate we would strongly encourage you to draw upon these experiences within your personal statement, as your qualification will then be taken into account both when your application is initially considered by the selection panel and again when reviewed by the admissions tutor at the time your A-level results are passed to us.
Other Qualifications
European Baccalaureate: 80% with 8.5 in English
Read more about UK and Republic of Ireland accepted qualifications or contact the School's Undergraduate Admissions Team.
Alternative entry
We're committed to identifying the best possible applicants, regardless of personal circumstances or background.
Access to Leeds is an alternative admissions scheme which accepts applications from individuals who might be from low income households, in the first generation of their immediate family to apply to higher education, or have had their studies disrupted.
Find out more about Access to Leeds and alternative admissions .
Typical Access to Leeds offer: BBB including English (Literature or Language and Literature) at A Level and pass Access to Leeds
EPQ and Access to Leeds offer: BBC at A Level including B in English (Literature or English Language and Literature) and A in a relevant EPQ and pass Access to Leeds
Arts and Humanities with Foundation Year
If you would like to study arts, humanities, and cultures at university, but don't currently meet the typical entry requirements for direct entry to a degree, you might be eligible to apply for the Arts and Humanities with Foundation Year course .
International
We accept a range of international equivalent qualifications. For more information contact the School of English admissions team .
International Foundation Year
International students who do not meet the academic requirements for undergraduate study may be able to study the University of Leeds International Foundation Year. This gives you the opportunity to study on campus, be taught by University of Leeds academics and progress onto a wide range of Leeds undergraduate courses. Find out more about International Foundation Year programmes.
English language requirements
IELTS 6.5 overall, with no less than 6.0 in any component. For other English qualifications, read English language equivalent qualifications .
Improve your English If you're an international student and you don't meet the English language requirements for this programme, you may be able to study our undergraduate pre-sessional English course , to help improve your English language level.
UK: £9,250 (per year)
International: £24,500 (per year)
Tuition fees for UK undergraduate students starting in 2023/24 and 2024/25 Tuition fees for UK full-time undergraduate students are set by the UK Government and will remain capped at £9,250 for 2023/24 and 2024/25. The fee may increase in future years of your course in line with inflation only as a consequence of future changes in Government legislation and as permitted by law.
Tuition fees for international undergraduate students starting in 2023/24 and 2024/25 Tuition fees for international students for 2023/24 and 2024/25 are available on individual course pages.
Tuition fees for a study abroad or work placement year If you take a study abroad or work placement year, you'll pay a reduced tuition fee during this period. For more information, see Study abroad and work placement tuition fees and loans .
Read more about paying fees and charges .
There may be additional costs related to your course or programme of study, or related to being a student at the University of Leeds. Read more about additional costs .
Scholarships and financial support
If you have the talent and drive, we want you to be able to study with us, whatever your financial circumstances. There is help for students in the form of loans and non-repayable grants from the University and from the government. Find out more in our Undergraduate funding overview .
Apply to this course through UCAS. Check the deadline for applications on the UCAS website .
Read our guidance about applying.
International students apply through UCAS in the same way as UK students. Our network of international representatives can help you with your application. If you're unsure about the application process, contact the admissions team for help.
Read about visas, immigration and other information in International students . We recommend that international students apply as early as possible to ensure that they have time to apply for their visa.
Admissions policy
University of Leeds Taught Admissions Policy 2024
This course is taught by
School of English
School of English Undergraduate Admissions
Email: [email protected] Telephone:
Career opportunities
A degree in English gives you a range of valuable skills and attributes.
Our graduates have gone on to find success in areas such as the creative industries, marketing, education, journalism, law, publishing, media, business charity work, civil service, management consultancy and leadership.
Many have also progressed to postgraduate study. 
On this course, you'll develop your abilities as an excellent communicator who can present well-reasoned arguments and conclusions. Learning in groups with others and reading about human problems and social situations will develop your interpersonal skills and understanding of ethical and cultural complexities. 
You'll have strong organisational and time management skills and you'll be able to conduct research, interpret complex information, think critically and express yourself clearly. Employers are always looking out for people with these critical skills. 
Careers support
We encourage you to prepare for your career from day one. That's one of the reasons Leeds graduates are so sought after by employers.
Leeds for Life is our unique approach to helping you make the most of University by supporting your academic and personal development. Find out more at the Leeds for Life website .
The Careers Centre and staff in your faculty provide a range of help and advice to help you plan your career and make well-informed decisions along the way, even after you graduate. Find out more about Careers support .
Study abroad and work placements
Study abroad.
On this course you have the opportunity to apply to spend time abroad, usually as an extra academic year. We have over 300 University partners worldwide and popular destinations for our students include Europe, the USA, Canada, Australia, New Zealand, Singapore, Hong Kong, South Africa and Latin America.
Find out more at the Study Abroad website .
Work placements
Practical work experience can help you decide on your career and improve your employability. On this course you have the option to apply to take a placement year module with organisations across the public, private and voluntary sectors in the UK, or overseas.
Find out more about work experience on the Careers website .
Related courses
English and comparative literature ba, english and film studies ba, english language and linguistics ba, english language and literature ba, english literature and theatre studies ba, rankings and awards, qs world university rankings 2022.
32nd in the world for English Language and Literature
Complete University Guide 2023
9th in the UK for English
Student profile: Malgorzata MacDougall
There is so much choice and freedom with what you study, and everyone in the school is so lovely. I really couldn't recommend it enough. Malgorzata MacDougall, BA English Literature
Related content
Course terms and conditions.
Find further information in the course terms and conditions
fr Français
it Italiano
pt Português
Writing Back
Writing Back aims to tackle loneliness and improve wellbeing by matching University of Leeds students as pen pals with older Yorkshire residents.
Description Tackling loneliness and improving wellbeing by matching University of Leeds students as pen pals with older Yorkshire residents.
Awards 'Positive Partner in Society Award' at the University of Leeds Sustainability Awards 2017 National Coordinating Centre for Public Engagement: Shortlisted as a Finalist in the 'Individually-led Project Category' for Writing Back, 2016 Outstanding PE/PPIE during Execution of Research Stage at the University of Leeds, 2015 Winner of the Leeds for Life Foundation Award, 2015 Awarded an Engagement Excellence Fellowship by the University of Leeds for 2015-16
Founded 01/09/2014
Education in Leeds, United Kingdom
Similar places nearby.
School of Earth and Environment - University of Leeds
University of Leeds, Leeds, LS2 9JT, United Kingdom
University of Leeds BMA
Leeds University Geography Society 2018/19
University of Leeds, Leeds, United Kingdom
Leeds Beckett Biomedical Sciences
Leeds Beckett Univerisity, Leeds, LS1 3HE, United Kingdom
Radiography at Leeds
Leeds, United Kingdom
Michael Sadler Building, University of Leeds, Leeds, LS2 9JT, United Kingdom
UoL PG Talks
Terrorism and Political Violence Association
POLIS, Social Sciences Building, University of Leeds, Leeds, LS2 9JT, United Kingdom
School of Design - University of Leeds
School of Design, University of Leeds, Leeds, LS2 9JT, United Kingdom
Leeds Festival of Science
Leeds Doctoral College
Marjorie and Arnold Ziff building, University of Leeds, Leeds, LS2 9JT, United Kingdom
University of Leeds Study Abroad
Print & Copy Bureau
Leeds University, Leeds, LS2 9JT, United Kingdom
Museum of the History of Science, Technology & Medicine
Parkinson Ct, Leeds, LS2 9JT, United Kingdom
Leeds School of Healthcare
Baines Wing, University of Leeds, Leeds, LS2 9JT, United Kingdom
SHED Talks, School of Healthcare, University of Leeds.
Leeds, LS2 9UT, United Kingdom
University of Leeds - School of History and IMS
Michael Sadler Building, Leeds, LS2 9JT, United Kingdom
The Language Centre at the University of Leeds
Parkinson Building, Leeds, LS2 9JT, United Kingdom
The University of Leeds, Leeds, LS2 9JT, United Kingdom
Students as Scholars at the University of Leeds Faculty of Arts
Don't miss a chance to attract more people to your location!
"Academic language … is no one's mother tongue" (Bourdieu and Passeron, 1994, p.8).
In this section, you will find tips and guidance on how to process complex ideas and develop your academic voice at Masters level. It also includes information on how to express your voice in an effective manner - one that is structured, concise and precise.
Dealing with complexity
As a Masters student, you will have to deal with a large amount of academic literature and many sources of information. It can be challenging to process a large volume of complex information and, at the same time, develop a coherent and cohesive argument of your own. You may feel like you need to read more before you can start writing. This is perfectly normal at Masters level, where the complexity of the issues you are exploring means that it is necessary to accept that there is often no one, clear, solution.
A useful way to combine thinking and writing about a topic, is by setting boundaries for your assignments. It is also important to determine what is achievable within your word limit. Your ability to measure this should improve as you become more familiar with your subject.
Students will often change their thoughts about a topic during the process of writing. This is perfectly common at Masters level. Factoring in enough time for such changes when planning for your assignment is key to avoid last-minute panic. Don't forget, as well as your knowledge and understanding of the topic, you are being assessed on your ability to deal with complexity, and to accept ambiguity, when developing your arguments.
Accept ambiguity - a topic may be approached from a number of different, but equally valid, perspectives by different authors
Develop your own line of argument through research and reading on a topic
Set boundaries for your assignments, taking into account timescales and word limits
Developing your voice
'Your voice' at Masters level is demonstrated by your ability to present a clear line of argument based on appropriate evidence. Your tutor will not instruct you to argue specific points, and there is no "correct" answer. In certain science and data-related disciplines, while there will be correct answers to certain equations, your tutor will often be interested in seeing how you arrived at your answers. You will be expected to read a wide range of material, both texts recommended by your tutors and texts which you have identified yourself, to develop an evidence-based perspective.
Your academic voice is established through your interpretation and creative application of sources in the construction of your arguments. These arguments may be based upon a combination of academic literature, data and laboratory or fieldwork findings. You will develop confidence in your academic voice as you research and read about a topic. At Masters level, it is common to devise your own assignment questions. This will generally involve identifying an area of investigation, agreeing it with your tutor, and then pursuing it independently.
Your academic voice will develop and become more refined as you progress through your Masters degree, culminating in your final project, when you will have the opportunity to undertake comprehensive academic research independently.
Video - Leeds academics discuss what they think 'your voice' means for a Masters student. View video using Microsoft Stream (link opens in a new window, available for University members only). Click to download a full transcript of this video.
Accept ambiguity - a topic may be approached from a number of different, but equally valid, perspectives by different authors, and remember, there is no single 'correct' answer to a question
Compare and contrast a wide range of sources when approaching a topic
Note down questions that arise during your reading, and explore which of them could be developed into assignment questions, or even the topic of your research project
Structuring your argument
Given the intensity of the workload and the complexity of academic information, it is crucial that you plan and approach assignments in a structured way. Your line of argument needs to be based on targeted research and reading, and should have a clear and logical structure, so that the readers can follow its development easily. Remember, clarity in your planning and thinking process will likely translate into well-structured writing.
The key stages of planning and structuring an argument are:
Break down your question into keywords/phrases and ensure that you research every key element
Based on your initial research, plan an outline of how you will answer the question and develop your argument
Read actively, make notes and cross-check between different sources to make connections
After more in-depth research and reading, think of the different points that would support your argument and organise them into paragraphs
Consider points that counter your argument and note how you would respond to them
Through the development of your argument, you will be expected to synthesise sources. Synthesis involves bringing together various viewpoints into a coherent and cohesive argument. In this way, you can demonstrate a high level of criticality and show that you have evaluated the information, rather than accepting it at face value. You may want to go back to the Thinking Critically section of this resource for more tips on how to evaluate and to show your critical engagement with the sources.
Video - Leeds academics discuss the importance of constructing a well-structured argument in academic writing at Masters level. View video using Microsoft Stream (link opens in a new window, available for University members only). Click to download a full transcript of this video.
Ensure that you construct an argument based on relevant evidence, rather than merely demonstrating everything you know about a topic
Signpost the development of your argument. Check the links between paragraphs are clear and logical
Do not separate reading from writing. Make notes and build your paragraphs as you read
Leave plenty time to draft and re-draft your work
It is common to become very interested in particular ideas during your Masters study and research. Sometimes, this can take up too much of your time, which may negatively impact on your workload balance. Be aware of this potential risk and find a balance between pursuing specific ideas and being realistic with what you can achieve at Masters level. Remember, there is always time after your Masters to pursue your areas of interest (perhaps through doctoral study here at Leeds)!
Academic writing tips
When writing at Masters level, students often feel the need to use complicated language in order to come across as "more academic". Doing so often dilutes the central argument. Effective academic writing should be clear and concise. Note, for example, the difference between the two extracts below:
"Due to the fact that access to internet resources is actually at the present time very easy to get hold of in many places, the vast majority of users seek to have those kinds of devices that are most easy to carry around with them wherever they go" (48 words).
"Now that internet access is available in most places, users often prefer to use portable devices" (16 words)
The second extract concisely presents the findings of the first, in a third of the word count. While conciseness increases the effectiveness of academic writing, it is also important to be precise. For example, although the sentence below is grammatically sound, it is academically poor:
"The policy has been discussed by many theorists over the years."
There are three items in the above sentence that are not clear: which policy, who are the theorists under discussion, and since when.
Here is a better example:
"The Advance HE wellbeing agenda (2017) has been scrutinized by Allen (2017) and Furedi (2017)."
This sentence is concise, precise and well referenced. Demonstrating an effective academic voice at Masters level does not require the use of over-complicated sentences. Instead, shorter and simpler sentences can often convey better understanding.
Use clear, precise and simple language whenever possible
Avoid using vague expressions, for example, "Many thinkers discuss this". Instead, be specific
Choose appropriate reporting verbs, adjectives and hedging language to articulate your evaluation of sources
Familiarise yourself with our advice on academic writing and attend relevant Skills@Library workshops to develop areas that you are unsure about, for example, essay structuring or academic language
Video - Leeds students share their experience of academic writing at Masters level and how they have developed their academic voice and confidence. View video using Microsoft Stream (link opens in a new window, available for University members only). Click to download a full transcript of this video.
Faculty of Arts, Humanities and Cultures
School of Performance and Cultural Industries
Leeds graduates take double-award winning theatre production to Edinburgh Festival Fringe
School of Performance and Cultural Industries news Thursday 3 August 2023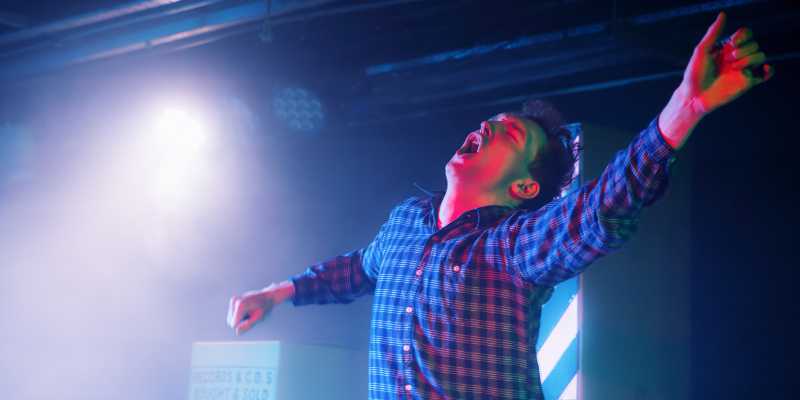 H it show A Manchester Anthem, winner of VAULT Festival 'Show Of The Week Award' and Pleasance 'Pick of VAULT Award' was developed by an emerging team of creatives and University of Leeds graduates.
Rebecca Lyle, Nick Dawkins and Charlie Norburn graduated from BA Theatre and Performance in the School of Performance and Cultural Industries between 2016 and 2018. Tom Claxton was a BA History graduate from the School of History in 2017.
The show was co-produced by Rebecca Lyle for Lyle Productions, and ramblemill in association with Pleasance and VAULT, written by Nick Dawkins and directed by Charlie Norburn. After a multi award-winning, sell-out success at VAULT Festival, they present 'A Manchester Anthem' at Pleasance Courtyard during Edinburgh Festival Fringe throughout August.
Solo actor Tom Claxton delivers a high-energy performance as working-class Mancunian Tommy, bidding a final farewell to his hometown before moving down south to study at a prestigious university. The themes explore northern working-class culture, the journey of leaving home, and the complexities of pursuing higher education among peers with greater privilege.
Producer Rebecca Lyle, said: "Being at Pleasance Courtyard (often described as the very heart of the Fringe) this summer is the perfect place for us. We are excited to have an opportunity to raise the profile of this show and our brilliant team of emerging artists at the Edinburgh Festival Fringe. Bringing this show gives Lyle Productions and ramblemill a unique platform as makers of excellent, riotous, heartfelt storytelling from underrepresented early career artists and we can't wait to share Tommy's stories with festival audiences."
Lyle Productions is a new London based theatre company specialising in creating work for emerging artists through new plays.
ramblemill was set up by Claxton, Dawkins and Norburn in 2021 with the core value of creating heartfelt, riotous regional storytelling.
For more info visit www.pleasance.co.uk
'A breath of theatrical fresh air' ★★★★★ BroadwayBaby.com 'This is new writing that's impossible to resist' ★★★★★ TheatreWeekly.com ★★★★★ BingeFringe.com 'This is a truly masterful one-person performance' ★★★★★ Lost in Theatreland 'We'll hear of this creative team for years to come' ★★★★ Broadway World 'Often hilarious and periodically gut-wrenching' ★★★★ All That Dazzles 'An ingenious piece of theatre' There Ought To Be Clowns
Related News
See all School of Performance and Cultural Industries news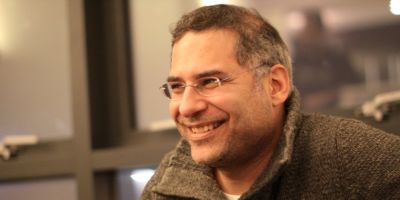 Professor George Rodosthenous publishes in new special issue "Contemporary Directions in Director Training"
School of Performance and Cultural Industries - Monday 30 October 2023
Sculpture, theatre and textile innovation: supporting World Water Week at Leeds
School of Performance and Cultural Industries - Tuesday 22 August 2023
Summer Music Festival uncovers untold stories
School of Performance and Cultural Industries - Wednesday 21 June 2023
Exams and transcripts
Find out how exams work for study abroad students at the University of Leeds and when you will receive your results and transcript.
Whilst you are studying at the University of Leeds, you will need to follow the exam policies and procedures set out by the Exams Office and your teaching school/s. This includes what to do if something has affected your studies or if you need to take a resit.
If you are a semester 1 only student and the examinations in January clash with teaching at your home institution, you can apply to take your University of Leeds exams at your home institution .
Receiving your results
Full-year students.
You will be able to view your provisional January exam results on Minerva. These results remain provisional until the external exam board meetings in late June, so you will receive your final marks on an official transcript after results are published in the summer.
If your home institution wishes to see your exam results at the end of semester 1, you should send them a print-out of the information on Minerva.
Semester 1 students
Even if you leave Leeds in January, we cannot produce your official transcript until after results day in the summer. This is because the January exam results remain provisional until external exam board meetings in late June. We will email your official transcript to you and your home university.
We will produce a provisional transcript for all students who are studying at Leeds for semester 1 only. We will email this to your personal email address (as it is listed in the University's computer system) in March.
Students taking postgraduate modules and IDEA33**
Results for postgraduate modules (coded 5xxxM) and modules coded IDEA33** are not usually made official until the November following the end of your stay in Leeds. This is because these modules are externally moderated in late October before the official finalised marks can be released in November. If you are taking postgraduate modules only then you will not receive an official transcript until November.
If you have taken a mixture of undergraduate and postgraduate modules, we will send you a transcript with your module marks in summer, but the postgraduate results will be provisional and could change.
We will automatically send you another transcript in November, which will show all your official results.
Transcripts
Receiving your transcript.
We will email your official University of Leeds transcript to your personal email address as well as to your home university after final results are published.
If you have applied to Leeds via an agent or you are a student who has studied at Leeds via an Enhanced Partner Mobility Agreement (EPMA), we will email your transcript to your agent or EPMA partner institution, who will ensure you receive your Leeds transcript.
Students taking August resit exams
Your parent school will contact you after results day in July if you are eligible to resit any of your assessments.
If you apply to resit any examinations during the August resit period, we will send you a transcript in summer and an updated transcript showing your resit marks in October.
Understanding your transcript
Find out more about the University of Leeds marking scale for transcripts.
You may also find useful information on US-UK grade conversions on the Fulbright Commission website. Please bear in mind that the transfer of credit ultimately rests with your home institution.
Copies of transcripts
Former students can order printed and extra copies of their transcripts. For more information about this, visit our life after study abroad page.
Related links
Related content, leeds international summer school.
Study at the University of Leeds as part of this exciting short-term programme.
Visas and immigration
Find out which visa you will need to study abroad at Leeds.
Academic life
Registration
Module Enrolment
Making changes
Attendance and Absences
Academic Dates and Deadlines
Study Support
Leeds for Life
Plus Programme
Higher and Degree Apprenticeships
School of Medicine
School of Medicine Attendance and Absence
Professionalism
School of Medicine Assessment
School of Medicine Placements
School of Medicine Curriculum Overview
School of Medicine support
Lifelong learning centre
Online learning support
Navigating online learning systems
Key dates and locations
Preparing for your assessments
Online assessments
On-campus assessments
I need help during the assessment period
What happens after the assessment period?
Classification
Academic Integrity
Postgraduate reseach
Starting your research
During your research
Thesis Submission and the Viva
Postgraduate researcher policies and procedures
Funding for postgraduate researchers
The Doctoral College
Prepare for your graduation ceremony
Leaving the university
Official documentation and regulations
Feedback and complaints
Responding to your feedback
Research student policies and procedures
Taught student policies and procedures
Paying fees and charges
University scholarships and funds
Leeds Bursary
University Financial Assistance Fund
External funding
Student loans
American and Canadian student funding
Funding for medics and dentists
NHS Learning Support Fund
Study abroad and work placements
Finding work
Opportunities
Languages for All
The Turing Scheme
Leadership programmes
Funding your idea
Support and wellbeing
Counselling and wellbeing
Groups and workshops
Togetherall, resources and self help
Your emotional wellbeing
Healthy relationships with yourself and others
Dealing with academic challenges and life stress
Academic stress and challenges
Life stress and challenges
Support for our diverse students
Disabled student support
Who we support
Setting up your support
Funding for disabled students
Support for disabled students
Your safety
Bereavement
Medical services and what to do if you're ill
Harassment and misconduct
Your campus experience and life in Leeds
Study abroad
Where can I go?
Prepare to apply
Get ready to go
Study Abroad funding and costs
During your Study Abroad year
Returning to Leeds
Summer abroad
International students
Prepare for Leeds
Your first weeks at Leeds
International orientation
Complete start-up processes
Opening a bank account
Settle into life at Leeds
Global Community
Intercultural work and volunteering
Intercultural experiences
Explore Languages and Cultures
Living in the UK
International families
Work volunteering and your visa
Student Life
Your time in Leeds
Finding Your Way Around
Children and Family
Staying Safe
Fraud and scams
Health and wellbeing
The Leeds Partnership
Laidlaw Leadership and Research Programme
Undergraduate research opportunities
Applications and interviews
Career options
Starting your own business (SPARK)
Jobs and work experience
Discover your future
Final year support
Leadership programme
Writing Back
Writing Back is an award-winning pen pal project which pairs students with older residents across Yorkshire to help tackle loneliness and social isolation.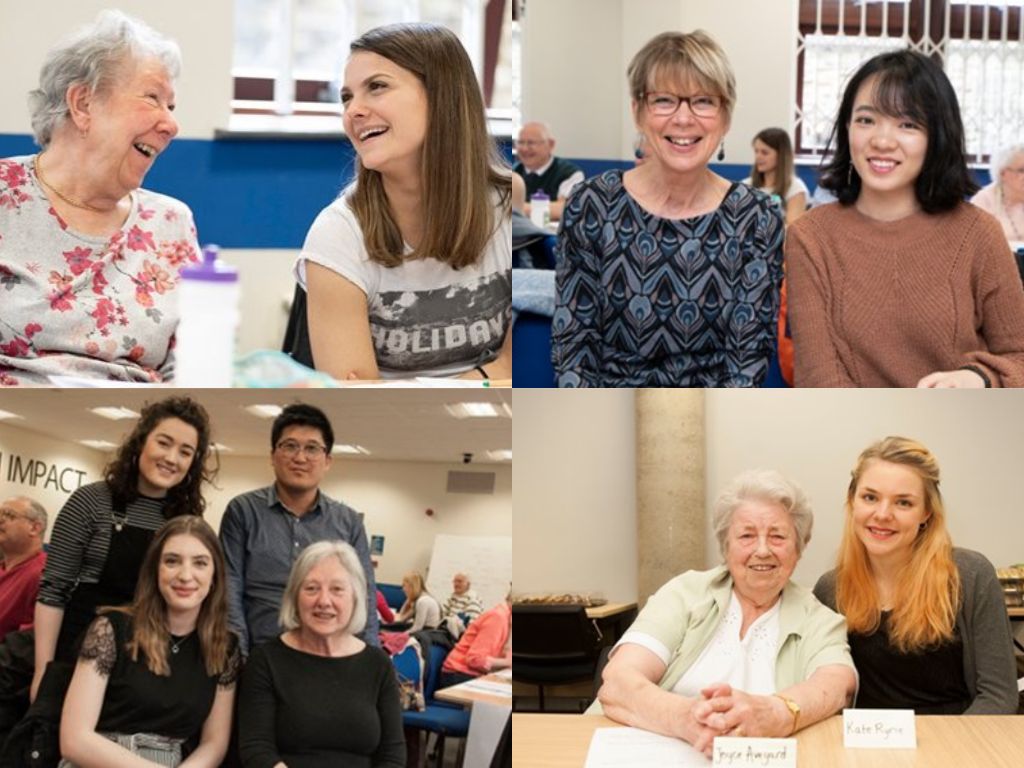 Writing Back – tackling loneliness one letter at the time
Loneliness is an issue for many older people, especially those with limited mobility; equally, many university students may experience homesickness or a desire to better connect with others. The project will match you with a pen pal based on your interests and encourages you to exchange emails at least once a fortnight.
Writing Back Leeds is part of the wider Writing Back model founded by Dr Georgina Binnie.
How to sign up
Applications for the Writing Back project are now closed and will re-open in October 2024. Register your interest in the programme to be notified when applications open.
If you have any questions, please email: [email protected]
How we manage your data
Writing Back data privacy notice : For the purposes of administering the scheme we have a legitimate interest in processing your data (e.g. name, email, address).
Your data will be stored securely and used by staff to administrate the scheme. Your data is treated confidentially and will not be shared with any third parties without your permission, unless there is a safeguarding risk.
We will delete your details after 6 years, except where we have to keep a record of a safeguarding issue. We will only contact you in relation to your participation in the scheme. If you would like to access, amend or remove your data from our records, please contact the Writing Back Team at [email protected].
The Library
Leeds University Union
Terms & Conditions
Accessibility
Privacy and cookies
Freedom of Information
© 2023 University of Leeds, Leeds, LS2 9JT