Create mode – the default mode when you create a requisition and PunchOut to Bio-Rad. You can create and edit multiple shopping carts
Edit mode – allows you to edit or modify an existing requisition (prior to submitting). You will be able to modify only the cart that you have PunchedOut to, and will not have access to any other carts
Inspect mode – when you PunchOut to Bio-Rad from a previously created requisition but without initiating an Edit session, you will be in this mode. You cannot modify any Cart contents
Login | Register
MyCycler™ Thermal Cycler System #1709703
These pages list our product offerings in these areas. Some products have limited regional availability. If you have a specific question about products available in your area, please contact your local sales office or representative .
  Bio-rad LinkedIn   Bio-rad Antibodies LinkedIn
  Bio-rad YouTube   Bio-rad Antibodies YouTube
  Bio-rad Twitter   Bio-rad Antibodies Twitter
  Bio-rad Facebook   Bio-rad Antibodies Facebook
  Bio-rad Instagram
  Bio-rad Pinterest
BIO-RAD MyCycler
Laboratory equipment
Need help? +31(0)180 321 820
No products in the cart.
Autoclaves and Sterilizers
Balances and scales
Blood gas analysis
Centrifuges
Chromatography
Clinical and Chemical analysis
Consumables
Density or Specific Gravity
Dissolution, stirring and shaking
Dosing, pipetting and titration
Electrophoresis
Fermentation
Film and decor material
Filtering and extraction
Flow cabinets
Flow Cytometry
FPLC / Äkta
Freezing and cooling
Fume cupboards
Glassware and plastic
Hotplates, heating, etc.
Laboratory furniture
Laboratory Process Equipment
Laboratory Washing Machines
Life Sciences
Meltingpoint and Flashpoint
Microplate reader, washer, shaker
Microscopes and Microtomes
Mills, sieves and mixers
Nitrogen Kjeldahl method
Ovens, incubators and Climate
Particle size analysis
pH, EC and O2 meters etc.
Physical analytics
Polarimeter and Refractometer
Robotics and Liquid Handling
Rotary evaporators
Spectrophotometers
TOC Analysers
Viscometrics and Rheology
Water, oil, sand and thermostat Baths
Waterpurification
Agent for all brands and types of lab equipment, instruments and furnishing
Renting your laboratory inventory
Set up a laboratory
Sales of ​​laboratory glassware and consumables
Appraiser of Laboratory Inventory
Repair and maintenance of your laboratory instruments
Renting out laboratory space
Consignment LabMakelaar Benelux B.V.
Quicktest safety cabinet
Vision and mission
Laborama 2023
LabTechnology 2023
How does this salesplatform work?
General conditions
Platform Terms and Conditions
How do I search?
How can I buy?
How can I pay?
How to send a query
Place a search
Warranty conditions
How can I sell?
How do I sent information?
About payment
Product overview
PCR and Thermal cyclers
Bio-Rad MyCycler Thermal Cycler System 1709703
€ 2.950,00 excl. tax
Status: Not available
The Biorad MyCycler is a sleek 96 well PCR system used for gene amplification. The Bio-Rad MyCycler comes equipped with a large graphical display and a self-adjusting heated lid which accurately maintains temperature level across each well. The PCR comes with easy to use intuitive controls which allow the end user to program their own PCR runs with a few click of buttons. In addition, the BioRad MyCycler comes with built-in programs to quickly allow you to run the Thermal Cycler within minutes of startup. The fixed 96 well block accommodates 0.2ml PCR tubes, strips or standard 96 well plates. The BioRad MyCycler comes with USB ports situated on the rear of the machine to allow the user to save their data and take with them as they go. Moreover, there a number of built-in utilities included with this Thermal Cycler including a self-diagnostic featuring showcasing the health of the instrument. This reliable PCR system has a ramping rate of 2.5°C per second and temperature accuracy of ±0.5°C.   Contact us today to learn more about our BioRad MyCycler PCR system.   Capacity : 1 x 96 well (0.2ml) Heating rate : Up to 2.5°C/sec Cooling rate : Up to 1.5°C/sec Temperature Range : 4–100°C Accuracy : ±0.5°C Uniformity : ±0.5°C Heated lid : Up to 110°C Temperature gradient Range : 40–99°C
220-240 V | 4 A | 50/60 Hz | 910 VA
This unit is in excellent working condition and very clean cosmetically. Feel free to contact with any questions.
Related products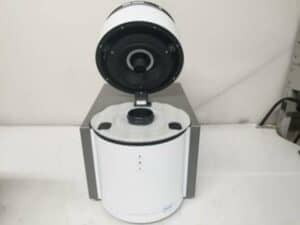 Roche LightCycler 1.5 PCR System
SKU: SME 13055
BioBase Gradient Thermal Cycler
SKU: LM 15029
Applied Biosystems GeneAmp 9700 PCR System
SKU: LM 9349
Perkin Elmer GeneAmp PCR System 9600
SKU: EXT 8525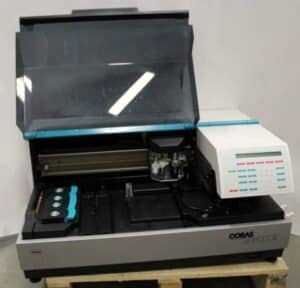 Roche benchtop clinical analyzer
SKU: LM 5679
Bio Rad PTC-200 Thermal Cycler
SKU: LM 11742

Applications
Manufacturers
News & Insights
New and used Bio-Rad Laboratories, Inc. MyCycler Personal Thermal Cycler's for sale on LabX below. Find the ad listing you need and get price quotes from a variety of vendors.
Bio-Rad Laboratories, Inc. MyCycler Personal Thermal Cycler
Price range, listing type, manufacturer.
Скидки дня
Справка и помощь
Адрес доставки Идет загрузка... Ошибка: повторите попытку ОК
Продажи
Список отслеживания Развернуть список отслеживаемых товаров Идет загрузка... Войдите в систему , чтобы просмотреть свои сведения о пользователе
Краткий обзор
Недавно просмотренные
Ставки/предложения
Список отслеживания
История покупок
Купить опять
Объявления о товарах
Сохраненные запросы поиска
Сохраненные продавцы
Сообщения
Уведомление
Развернуть корзину Идет загрузка... Произошла ошибка. Чтобы узнать подробнее, посмотрите корзину.
Oops! Looks like we're having trouble connecting to our server.
Refresh your browser window to try again.
Largest Selection of Used and New Lab Equipment
BioRad MyCycler Thermal Cycler
$ 750.00
Out of stock
Description