Log in or sign up for Rotten Tomatoes
Trouble logging in?
By continuing, you agree to the Privacy Policy and the Terms and Policies , and to receive email from Rotten Tomatoes.
By creating an account, you agree to the Privacy Policy and the Terms and Policies , and to receive email from Rotten Tomatoes.
Email not verified
Let's keep in touch.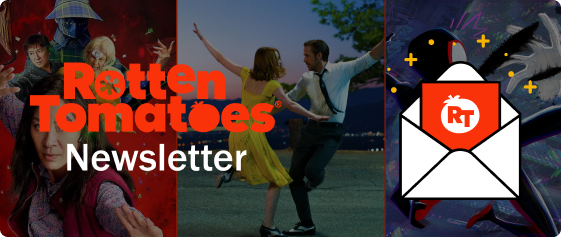 Sign up for the Rotten Tomatoes newsletter to get weekly updates on:
Upcoming Movies and TV shows
Trivia & Rotter Tomatoes Podcast
Media News + More
OK, got it!
Movies / TV
No results found.
What's the Tomatometer®?
Login/signup
Movies in theaters
Opening this week
Coming soon to theaters
Certified fresh movies
Movies at home
Netflix streaming
Amazon prime
Most popular streaming movies
What to Watch New
Certified fresh picks
Flora and Son Link to Flora and Son
Fair Play Link to Fair Play
No One Will Save You Link to No One Will Save You
New TV Tonight
Krapopolis: Season 1
Gen V: Season 1
The Irrational: Season 1
Castlevania: Nocturne: Season 1
The Amazing Race: Season 35
Survivor: Season 45
Hell's Kitchen: Season 22
The Voice: Season 24
Love in Fairhope: Season 1
The Kardashians: Season 4
Most Popular TV on RT
Sex Education: Season 4
Dear Child: Season 1
The Continental: From the World of John Wick: Season 1
One Piece: Season 1
The Fall of the House of Usher: Season 1
Star Wars: Ahsoka: Season 1
The Gold: Season 1
Wilderness: Season 1
The Bear: Season 2
Top TV Shows
Certified Fresh TV
Most popular TV
Certified fresh pick
The Fall of the House of Usher: Season 1 Link to The Fall of the House of Usher: Season 1
All-Time Lists
Binge Guide
Comics on TV
Five Favorite Films
Video Interviews
Weekend Box Office
Weekly Ketchup
What to Watch
The 125 Essential Spanish-Language Movies
RT Recommends: 46 Hispanic Movies to Watch With the Whole Family
Celebrating Hispanic Heritage
2023 Fall TV Survey
Latest Tomatometer Scores: Ratings on New and Upcoming Movies and Shows
The Creator First Reviews: A Timely, Visually Jaw-Dropping Spectacle
Trending on RT
The Creator
Sex Education
The Fall of the House of Usher
No One Will Save You
Home > The Witcher
The Witcher (2019 - Present)
The witcher, series info.
The witcher Geralt, a mutated monster hunter, struggles to find his place in a world in which people often prove more wicked than beasts.
Starring: Henry Cavill, Anya Chalotra, Freya Allan, Joey Batey, MyAnna Buring
TV Network: Netflix
Premiere Date: Dec 20, 2019
Genre: Drama
Executive producers: Lauren Schmidt Hissrich, Tomek Baginski, Jarek Sawko, Jason F. Brown, Sean Daniel, Piotr Sikora
Where to watch The Witcher
Watch The Witcher with a subscription on Netflix.
You might also like
Rate and review, the witcher videos, the witcher photos, cast & crew.
Henry Cavill
Geralt of Rivia
Anya Chalotra
Freya Allan
MyAnna Buring
Eamon Farren
Mimi Ndiweni
Royce Pierreson
Anna Shaffer
Mecia Simson
Filavandrel
Mahesh Jadu
Graham McTavish
Cassie Clare
Phillippa Eilhart
Hugh Skinner
Wilson Mbomio
Lars Mikkelsen
Terence Maynard
Simon Callow
Lauren Schmidt Hissrich
Executive Producer
Tomek Baginski
Jarek Sawko
Jason F. Brown
Sean Daniel
Piotr Sikora
News & Interviews for The Witcher
The Most Anticipated TV and Streaming Shows of 2023: New and Returning Shows We Can't Wait to See
5 Things To Watch If You Love Henry Cavill
What to Watch This Week: Twisted Metal , Talk to Me , and More
View All The Witcher News
International edition
Australia edition
Europe edition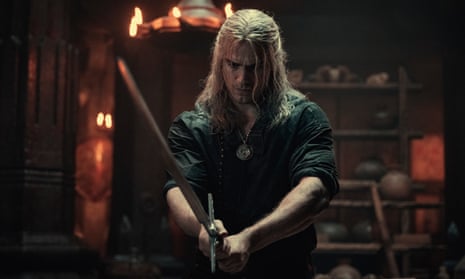 The Witcher review – the granite-muscled monster-slayer is back!
Why do the forests spend half their time on fire? What's with the medieval game of Total Wipeout? Because it's time for more fun with Henry Cavill's swords-and-horses fantasy saga
T V's foremost peripatetic monster-slayer is back. Season two of The Witcher (Netflix) lets us settle again into the granite-muscled embrace of Henry Cavill as Geralt of Rivia, a wandering warrior looking for his place on the Continent – a faux-medieval land full of awful creatures, scheming rulers and forests that spend half their time on fire.
Last time out, the epic Battle of Sodden Hill coincided with Geralt finally meeting magical princess Ciri (Freya Allan), with whom he shares both a destiny and a love of coloured contact lenses. Now he must look after his new ward, while pining for up-and-coming sorceress Yennefer (Anya Chalotra), whom he wrongly thinks dead. Meanwhile, politics on the Continent become more complex. Basically, elves are up to something.
This is a full-bore fantasy saga with a sprawling world of antagonists to keep track of, including the smaller details of elven bloodlines, and knowing who's Vizimir and who's Vesemir.
The Witcher has ways of keeping your interest up, though. Naked bodies are the standard sweetener in the swords-and-horses genre, along with freely pouring blood, and this show does have both. But it prefers to deflate its own pomposity with blunt comedy, often provided by Joey Batey as Jaskier, an annoying bard in an unlikely purple leather jacket who helps see us through some mid-season episodes that get bogged down in straightening out the show's mythology.
Even the three main characters, much as they gravely go on about prophecies and dynasties and whatnot, can display an admirable economy of speech – which offsets the grandeur of the landscapes, the palaces and the protagonists' voluminous capes. "Fuck!" says Yennefer when she finds herself regaining consciousness in captivity. Geralt himself has a prosaic answer to Ciri's naive suggestion that they seek refuge in a place called Skellige: "You'd be married off to the nearest Lord of Bad Breath."
The Witcher also loves to treat us to a top British character actor, the sort who makes you say: "Oh good, it's … whatshisname. From thingummy." Here's Kevin Doyle (Downton Abbey) as a cowardly elf! There's Graham McTavish (Outlander) as an intimidating intelligence officer! Look out, it's Simon Callow and Liz Carr (Silent Witness) as a pair of private investigators, poring over parchments in a book-lined hovel!
If all this is a distraction from The Witcher never really amounting to much, that's not necessarily a problem. Season one was based on Andrzej Sapkowski's short stories, since that was initially the Witcher author's favoured format. In turn, The Witcher in its TV guise began as a monster-of-the-week show and it sticks with that for the first of the new episodes, sending Geralt and Ciri to stay in the mansion of eccentric beast-man Nivellen (Kristofer Hivju). He's a raconteur who can make a roast dinner or a hot bath fall magically from the ceiling, but who struggles to find love due to his hairy, tusked face. A horror-tinged twist on Beauty and the Beast develops, which could happily be watched in isolation.
After that, though, season two bases itself largely on Sapkowski's 1994 novel Blood of Elves and is more concerned with slow scene-setting. It has to take every opportunity to have fun among quite a lot of scenes of kings, queens, generals and magicians debating the nuances of their possible next moves. Much of the season is given over to Ciri training to fight alongside Geralt, which happens while they lodge with a senior Witcher named Vesemir (as opposed to Vizimir – he's the churlish king of the Redanians). He's played by Killing Eve/The Bridge star Kim Bodnia, who gives us his usual twinkly uncle with a dark side, enhanced by a ridiculous slicked-back long mullet. Ciri's coming of age also involves an obstacle course that's like an amusing medieval version of Total Wipeout, and there are some monsters to be slain, from a vengeful tree-man to a huge winged insectoid. When it needs them for a big dust-up, The Witcher's special effects are flawless.
But it's mostly marking time, with Geralt barely ever driving the action as he surely should. Careful as one must be in the Time of Covid not to be too harsh on shows that return feeling constrained and underpowered, that is how The Witcher feels, at the point where you might have expected it to widen into a grand spectacle. It's a between-the-wars season that works hard to keep us entertained while we wait for Big Gerry to be given something momentous to do. We're waiting a little too long, though.
Fantasy books
Henry Cavill
Most viewed
Advertisement
Supported by
Review: 'The Witcher,' a Netflix Heavy Hitter, Finally Returns
Still ranking in the service's Top 5 in viewership, the medieval fantasy is back for a second season after a two-year hiatus.
By Mike Hale
Before "Squid Game," before "Bridgerton," there was "The Witcher."
In late 2019, it was by some measures the most popular television show in the world, and it was Netflix's second most-viewed TV debut to that point. Then Covid-19 set in, and two years passed without more "Witcher." A few shows, notably "Squid Game," overtook it in the all-time Netflix rankings. But Season 1 of "The Witcher" is still hanging in there , comfortably in fifth place.
That's impressive, and a little surprising, for a "Game of Thrones"-on-a-budget sword-and-sorcery adventure whose visual and dramatic quality ranged from "hey, not bad" to "[helpless giggle]." Maybe it was a testament to the popularity of the source material, a cycle of stories and novels by the Polish writer Andrzej Sapkowski that has also inspired a successful video-game franchise. Maybe the audience for sprawling medieval fantasy, even when it's medium grade, is simply that large.
Or maybe people were just drawn in by the show's charms, of which it had several: a playful sense of humor (an area in which it scored quite a bit higher than "Game of Thrones"); a refreshingly straightforward episodic structure; and an amusing, minimalist performance by Henry Cavill as the witcher, Geralt, a mutant mercenary charged with hunting down all manner of C.G.I. beasts.
Now the show's pandemic-delayed second season is here, premiering Friday on Netflix, and based on six of the eight episodes, a lot of what made the series charming has been set aside. But that may not stop it from racking up equally impressive viewership numbers this time around.
Picking up in the wake of the scorched-earth battle between kingdoms that ended Season 1, the show takes Geralt away from peripatetic monster-slaying for hire and puts him on a narrower path, as bodyguard and teacher to Ciri (Freya Allan), the refugee princess with mysterious powers. The third major character, the mage Yennefer (Anya Chalotra), has lost her magic and is also on the run. Jaskier (Joey Batey), the traveling bard — the 13th century's version of a fabulous cabaret star — who was responsible for much of the sniping humor is offstage in the early episodes.
It feels as if, after the good times of Season 1, the series's creator and showrunner, Lauren Schmidt Hissrich, decided it was time to get serious — to start incorporating more of the elaborate mythology and terminology of Sapkowski's books.
Now there are more and longer conversations filling in the history of the story's setting, called the Continent, and of the various species who inhabit it, including elves, dwarves and humans. Geralt and Ciri come off the road and hunker down in a witcher fortress where she trains to be a warrior, leading to discussions of whether she's a savior or a destroyer. (There's also a sheen of topicality, with elves representing an oppressed Indigenous population.)
We also get a raft of new characters, some of whom seem to pop up out of nowhere; keeping track of all the faces and folklore, not to mention beasts — a grisly central European menagerie of wyverns, strzygas, chernobogs and the like — starts to feel like studying for a final exam without any notes.
On the positive side, the influx of new cast members includes Simon Callow and Liz Carr as a pair of paranormal investigators, Kim Bodnia of "The Bridge" as a veteran witcher and the "Game of Thrones" alumnus Kristofer Hivju as a tusked nobleman in a subplot recalling "Beauty and the Beast." The story lines begin to coalesce, and the action begins to pick up, around the fifth episode.
Cavill, who's as lethal with a disappointed sigh or a sidelong glance as Geralt is with a dagger, is still a steady, engaging presence at the center of the action. Geralt's scenes with his new sidekick, the somewhat grim young Ciri, don't have the kick of his banter in Season 1 with Jaskier, though. The new season also finds less time for heart-to-hearts between Geralt and the one character who really understands him, his horse, Roach.
Overall, you probably know whether you're the kind of viewer who's willing to add another complicated Brothers Grimm-meets-Middle Earth saga to your schedule. And if you like your costumed fantasies mythology-forward and you find the mechanics of world building to be an end in themselves, then this new, more mysterious and portentous season of "The Witcher" may be for you. Plan accordingly.
Mike Hale is a television critic. He also writes about online video, film and media. He came to The Times in 1995 and worked as an editor in Sports, Arts & Leisure and Weekend Arts before becoming a critic in 2009. More about Mike Hale
Explore More in TV and Movies
Not sure what to watch next we can help..
As co-hosts of "Live With Kelly and Mark," Kelly Ripa and Mark Consuelos are tasked with enacting a version of their marriage on-camera. Where does that performance begin and end ?
The queer sex comedy "Bottoms" subverts the hero vs. bully template made famous in the '80s. Here's how .
From Agnieszka Holland's agonizing "Green Border" to Richard Linklater's fizzy "Hit Man," here are the highlights from the Toronto International Film Festival .
​Greg Whiteley's sports docu-series deliver high-stakes drama on and off the field. His latest, "Wrestlers," explores a regional pro wrestling outfit .
If you are overwhelmed by the endless options, don't despair — we put together the best offerings   on Netflix , HBO Max , Disney+ , Amazon Prime  and Hulu  to make choosing your next binge a little easier.
Sign up for our Watching newsletter  to get recommendations on the best films and TV shows to stream and watch, delivered to your inbox.
Tickets & Showtimes
Trending on RT
News & Guides
Premiere Dates
Renewed & Cancelled
The Witcher Season 3 First Reviews: Henry Cavill Mesmerizes in His Final Run as Geralt, Critics Say
"funny, bloody, and sexy" — check out what the critics have to say about the third season of netflix's hit fantasy series..
TAGGED AS: Netflix , streaming , television , TV
Henry Cavill makes his triumphant return as Geralt of Rivia in the third installment of The Witcher , which just hit Netflix. Continuing the adventures of the brooding monster hunter and sometime-companions Ciri of Cintra ( Freya Allan ), Yennefer of Vengerberg ( Anya Chalotra ), and Jaskier ( Joey Batey ), the new run of episodes (which draw from Andrzej Sapkowski's second "The Witcher" book, "Time of Contempt") will find Geralt doing anything he can to protect his found family – and Ciri's growing powers – against an onslaught of dark forces.
Joining Cavill, Allan, Chalotra, and Batey in the new season are MyAnna Buring as Tissaia; Mahesh Jadu as Vilgefortz of Roggeveen; Anna Shaffer as Triss Merigold; Royce Pierreson as Istredd; Lars Mikkelsen as Stregobor; Eamon Farren as Cahir; Mimî M. Khayisa as Fringilla Vigo; Mecia Simson as Francesca Findabair; Cassie Clare as Philippa Eilhart; Graham McTavish as Sigismund Dijkstra; Robbie Amell as Gallatin; Meng'er Zhang as Milva; and Hugh Skinner as Prince Radovid.
Season 3 marks Cavill's final run as the titular hero (Liam Hemsworth will take on the role in season 4) and is being broken up into two parts, with Volume 2 set to drop on Thursday, July 27. Needless to say, the anticipation is high for the new season, but do these new episodes deliver the goods?
Here's what critics are saying about season 3 of The Witcher :
How does it compare to previous seasons?
This latest season is far and away The Witcher's most political outing yet, trading in gnarly monster fights for exposition-heavy negotiations, secretive plotting, and backroom dealing between a wide variety of elves, mages, and human kings, all with their own goals and agendas. — Lacy Baugher, Paste Magazine
One of the major complaints about The Witcher (at least in Season 2) was how much it deviated from the plot of Blood of Elves. Although the third season at least tries to broadly follow Time of Contempt, its past deviations from the source material really hinder the show as it wades more and more into the geopolitics of the world. — Christian Hoffer, ComicBook.com
The opening entry of the third season continues that fast-out-the-blocks trend and is, in many ways, the volume at the height of its powers – but sets a standard that is rarely reached again in the remaining episodes. — Bradley Russell, Total Film
The sprawling universe that has been established in the first two seasons feels just as expansive as ever in its third run of episodes. But where in the past the multitude of characters has felt unwieldy, this time around the various plotlines are finally beginning to converge on one another. — Amon Warmann, Empire Magazine
The first half of the season gets back to what made the show so successful in the first place. — Andrew Webster, The Verge
How is Henry Cavill?
Really, it falls to Cavill to carry the whole thing, which he does with aplomb. The man utterly sells it: you care about Geralt, and when he is not on screen, the whole thing suffers. This series will be poorer without him. — Vicky Jessup, London Evening Standard
As far as swan songs go, Season 3 of The Witcher is an unexpectedly exceptional one for Cavill's Geralt… — Carly Lane, Collider
Over the course of the first five episodes, viewers are reminded just how much Cavill's brooding but compelling take on Geralt elevates the show from the standard fantasy B-show fare that is Netflix's bread and butter to one of the platform's top shows. — Christian Hoffer, ComicBook.com
What about the rest of the cast?
A great showcase for the chemistry between Henry Cavill, Anya Chalortra, and Freya Allan. — Jarrod Jones, IGN Movies
Joey Batey does a fine job at bringing a sense of resigned anguish to the jovial and quippy Jaskier, but Anya Chalotra is too subdued playing the now humbled Yennefer and Freya Allan feels a bit too one-note at times when capturing Ciri's defiance. — Christian Hoffer, ComicBook.com
Jaskier (Joey Batey) hams it up big time, and watching him and Geralt spar with each other is always a joy, even as he's struggling with his own loyalties. — Vicky Jessup, London Evening Standard
Chalotra and Allan wholeheartedly bring the weight necessary to these scenes, as Yennefer discovers that she can still be a mother to someone even if it isn't how she originally hoped or planned for while Ciri begins to think of the sorceress as someone to look to when she needs help — just like she already does with Geralt. Allan, especially, carries one Season 3 episode entirely on her shoulders, ensuring that the future of this series rests with her character in particular. — Carly Lane, Collider
Freya Allan continues to shine in The Witcher's most underappreciated role, imbuing Ciri with a potent mixture of heart and grit that makes her endlessly compelling to watch. — Lacy Baugher, Paste Magazine
Do the action sequences deliver?
There's action aplenty, a monster or two, and a solid emotional core. — Jonathan Wilson, Ready Steady Cut
The strongest bits of The Witcher is when Cavill gets to draw his sword to face weird and horrifying monsters. The monsters are definitely terrifying this season and one thing the show does well is make Cavill look believable as a professional monster hunter who is equally proficient at killing people. The fight choreography and direction during these scenes in The Witcher are still a highlight, although the show's plot somewhat regrettably means we have fewer of those fights this season. — Christian Hoffer, ComicBook.com
That long goodbye, though, carries plenty of promise. The combat has gone up a notch, no doubt bolstered by the return of fight coordinator Wolfgang Stegemann. The fantasy series also sets up plenty of fearsome roadblocks that viewers will surely delight in seeing Geralt eagerly crash through when the second volume drops in July. — Bradley Russell, Total Film
The fight scenes are as beautiful and gruesome as they've ever been, but they feel particularly great when Ciri gets into the mix and holds her own. — Jen Lennon, AV Club
How is the writing and directing?
(Photo by Netflix)
The Witcher may desire to be the next Game of Thrones … but the kind of character writing it wants to emulate was done a hundred times better by the real successor, House of the Dragon. The Witcher can't even hold a candle. — Akhil Arora, AkhilArora.com
even seasoned watchers might be hard-pressed to keep up with this season's knottier twists and even more bloated character roster – to the point that they might find themselves yawning through frequent detours into clunky plot development chit-chat just to get to the fun stuff. — Jarrod Jones, IGN Movies
The Witcher Season 3 is an immense political and magical story cleverly woven through five episodes, with the actors appearing well settled in their roles by this point — a quality that could prove troublesome once Cavill leaves the series. — Shannon Connellan, Mashable
But there's also so much going on that it feels burdensome to navigate, as we're whipped frustratingly to and fro by the needs of a screenplay that has left loose ends dangling since the very first season. — Jonathan Wilson, Ready Steady Cut
The Witcher quickly becomes bogged down in warring kingdoms and a battle that never dares make its way on-screen. The show often struggles under the weight of juggling these plots, with the continual back-and-forth between Geralt's protection of Ciri and the attention given to the world around them gifting the season an uneven shape. — Bradley Russell, Total Film
Any final thoughts?
It's a shame that Cavill won't be present to see the show through to its conclusion, but given what Season 3 of The Witcher establishes in terms of mounting conflict, rich character growth and relationships, and phenomenal performances, there's still plenty worth tuning in for into a fourth season and beyond. — Carly Lane, Collider
Can the show cope without Henry Cavill? It will be painful, but The Witcher has enough going on for us to imagine life without him. — Jack Seale, Guardian
The Witcher show made its name based on Cavill killing monsters, but its underlying source material used those fights as a way to introduce Geralt to readers, but the show has failed to pivot to match the source material and is running out of time. — Christian Hoffer, ComicBook.com
Geralt and Ciri's latest outing is a spectacular odyssey of family and destiny set within a world as brimming with history as it is in political schemes. — Andrew Murray, The Upcoming
In the meantime, the first half of The Witcher Season 3 remains a frustratingly messy adventure that still can't quite capitalize on the franchise's obvious potential. — Jonathan Wilson, Ready Steady Cut
Season 3 retains much of what makes The Witcher so enjoyable, mixing over half a dozen major characters, complicated relationships, and blockbuster storylines together to form something that's simultaneously smart, self-aware, and loads of fun to watch. — Lacey Baugher, Paste Magazine
A return of form of sorts, bringing The Witcher back to the things that make it unique — it's funny, bloody, and sexy. There's even a bath scene, which is as Witcher as it gets. — Andrew Webster, The Verge

Related News
TV Premiere Dates 2023
Star Wars: Ahsoka Exclusive Sneak Peek: Sabine and Ezra Flee with Blasters Blazing
25 Most Popular TV Shows Right Now: What to Watch on Streaming
The Creator First Reviews: A Timely, Visually Jaw-Dropping Spectacle
Movie & TV News
Featured on rt.
September 26, 2023
The 125 Essential Spanish-Language Movies
RT Recommends: 46 Hispanic Movies to Watch With the Whole Family
Top Headlines
The 125 Essential Spanish-Language Movies –
RT Recommends: 46 Hispanic Movies to Watch With the Whole Family –
25 Most Popular TV Shows Right Now: What to Watch on Streaming –
Best New Movies of 2023 Ranked –
100 Sexiest Movies Of All Time –
Best Horror Movies of 2023 Ranked – New Scary Movies to Watch –